now accepting scholarship applications!
The Illinois Club provides scholarships to outstanding students in the areas of global studies, humanities and social sciences, science and engineering, education, and art. You must be an undergraduate at UIUC who will have earned 60 credit hours by the Spring 2024 semester and be planning to graduate no earlier than December 2024. A minimum GPA of 3.0 is also expected. The application portal is now open and will be live until 5pm CST on October 14th, 2023. More information is available at Illinois Club Scholarships.
congrats!
Congratulations to English major Ariah Booker, who was among the winners of the Spring 2023 Rhetoric Program Student Essay Contest!
If you are taking RHET this fall and would like to throw your hat in the ring, the next deadline for submissions will be December 15.
need career wear?
The UIUC/JCPenney Suit-Up Event on Sept 9 from 5:00 – 8:00 pm can help you get ready. Clothes suitable for a variety of professional settings will be available at a discount.
Fall Into Success!
Stop by the "Fall into Success" fair at the library to learn more about different support services to help you in your academic and personal success. Talk to representatives from the following:
The Speaking Center
Writers Workshop
The Counseling Center
Research Consultations
Sexual Health Peers
Stress Management Peers
Talk to everyone and be entered into a raffle to win a plush squirrel or a library tote bag!

Tuesday, September 12, 2023, 2:00pm – 4:00pm
Main Library Orange Room
Student Panel hosted by LAS career services
Sept 13 @ 4 pm – Internships: Student Panel – virtual. Hear from current students about their internship experiences (summer gigs or other jobs), both on and off campus. Discover how internships can help you prepare for your future and learn about these opportunities right here in the College of Liberal Arts and Sciences.
Author Talks and Book Signings at urbana free library
Saturday, September 23, 2023, 1:30 p.m. & 3:00 p.m.
Stop by the Urbana Free Library, where authors Allison Boot and Francesca T. Royster will be discussing their works and signing books. Boot is a writer who specializes in novels featuring characters who are disabled, and Royster is a scholar and author who will talk about her new memoir. Books will be available for purchase at the event.
For a full list of events (some of which feature members of our own Creative Writing Program!) check out the Pygmalion website.
All Pygmalion events at the Library are free and open to the public.
Lisnek Hub
The Hub is open again! Stop by Tuesday- Thursdays from 10 am to 3 pm. Under the Lincoln Hall theater is the Lisnek Hub where you can chat with peer mentors.
employment opportunity
Are you interested in topics related to diversity, inclusion, and social justice? Do you have experience leading difficult conversations? Do you want to become a diversity leader on campus? I-Connect peer educators are university students who lead I-Connect Interactive Workshops in the Spring. This is a paid student position with Diversity & Social Justice Education for Spring 2024. Workshops occur in the evenings from 6:00 – 9:00 PM throughout the Spring 2024 semester. Workshops are held on Zoom. This is a remote work opportunity. Apply at https://go.illinois.edu/iconnectjob (application window opened September 4 and will stay open until all positions are filled).
coming up!
The first event in the "Dinner and Development" series (see previous round-up for a full description of the series) is coming up soon:
Dismantling Professionalism
Cherisse Smith
September 13 at BNAAC (1212 W. Nevada St)
6:00-7:30pm
Register today: https://go.illinois.edu/wrc_DD
find a workshop for you!
If you're struggling in one or more of your STEM courses, perhaps there's a workshop that could help. Check out the LAS Success Workshop Schedule, and be sure to click on "see more" at the bottom for the full list of options.
Tuesday@7 Workshops
Each week, undergraduate Counseling Center paraprofessionals offer interactive workshops on various topics. Please visit our website for login information and upcoming topics.
Here are our workshops for September:

September 5 | Your Declassified College Survival Guide (Noyes Room 157)
September 12 | Cultivating Confidence: Challenging Your Inner Critic (BIF 1041)
September 19 |Building Campus Friendships Where You Alma Mater (Lincoln 1022)
September 26 | Intuitive Eating: You Can Have Your Cake and Eat It Too (ISR 94AB)
writers workshop
Writers Workshop drop-ins are available beginning 4-9 p.m. Sunday-Thursday, 100b Main Library. These sessions are best for brainstorming, specific questions, or shorter documents (1-3 page papers, application materials, etc.). These sessions are first-come, first-serve.
Don't forget these!
UNDERGRADUATE RESEARCH OPPORTUNITIES
Want to keep up with research-related opportunities and events hosted by the Office of Undergraduate Research (OUA)? Subscribe to OUA's monthly newsletter and you won't miss a thing!
You might also want to learn more about the Humanities Research Institute (HRI), particularly opportunities for undergraduates (did you know that they hire student interns and that some of them are English or creative writing majors?) in which case you should check out the Undergraduate section on the HRI website.
HRI PRINDABLE INTERNSHIP IN OUTREACH AND COMMUNICATION
HRI's Communications and Outreach internship offers real world experience for undergraduate humanities majors.
Are you passionate about the humanities? Undergraduate majors in humanities disciplines are invited to apply for a paid internship in communications and undergraduate outreach at the Humanities Research Institute (HRI), the campus humanities hub. The successful candidate will assist HRI with its communications, including social media, event calendar maintenance, and research and writing projects, in addition to serving as an undergraduate ambassador and a strategist for HRI on undergraduate engagement. For application guidelines see here. Application Deadline: September 15!
INVITATION FROM THE PROVOST'S OFFICE
Dear Students,
Are you looking for opportunities to get involved and work together with peers and campus leadership to strengthen our community? If so, we have the perfect opportunity for you!
The Office of the Provost is now accepting applications for appointment to the 2023-2024 Student Success Undergraduate Advisory Board.
The board is a group of diverse undergraduate students who volunteer to serve as advisors to the Office of the Vice Chancellor for Academic Affairs & Provost and Student Success @ Illinois. They aim to accurately portray the current realities of the undergraduate experience by articulating the highlights and challenges of being a student at the university. As representatives of the undergraduate population at Illinois, their objective is to convey what could make a successful undergraduate student experience.
The Application can be accessed here: https://forms.illinois.edu/sec/2104101941
If selected to participate as a Board member, appointments will be for one full academic year. All applications are due Friday, September 8, 2023, at 11:59 PM CDT.
We hope you will consider applying because your voice is a critical part of the work that we do to ensure your success while at Illinois and beyond graduation!
Sincerely,
Kathy Martensen
Associate Provost for Educational Programs and Success Initiatives
2ND ANNUAL MENTAL HEALTH FAIR
TUTORING SERVICES
Take advantage of tutoring services on campus
Many departments within the College of LAS offer tutoring. Find the right fit for you.
ACCESSIBLE COUNSELING RESOURCES
It can be hard to take the first step when you're in need of counseling, so for ease of access the College of LAS has its own embedded counselor, Andy Novinska and you can contact him directly to schedule an appointment at anovinsk@illinois.edu.
Students can also access Counseling Center services by calling 217-333-3704 between 8 a.m. and 5 p.m., Monday – Friday to set up an appointment via the same-day scheduling system. There is also an online scheduling system (please note that appointments are limited via this option so if you try to schedule online and cannot find anything that works please call the office or email Andy).
Workshops for Test Anxiety, ADHD Symptoms, Perfectionism, Body Image, etc. can be found here.
PSA–HEARD ABOUT 211?
CREATIVE WRITING CLUB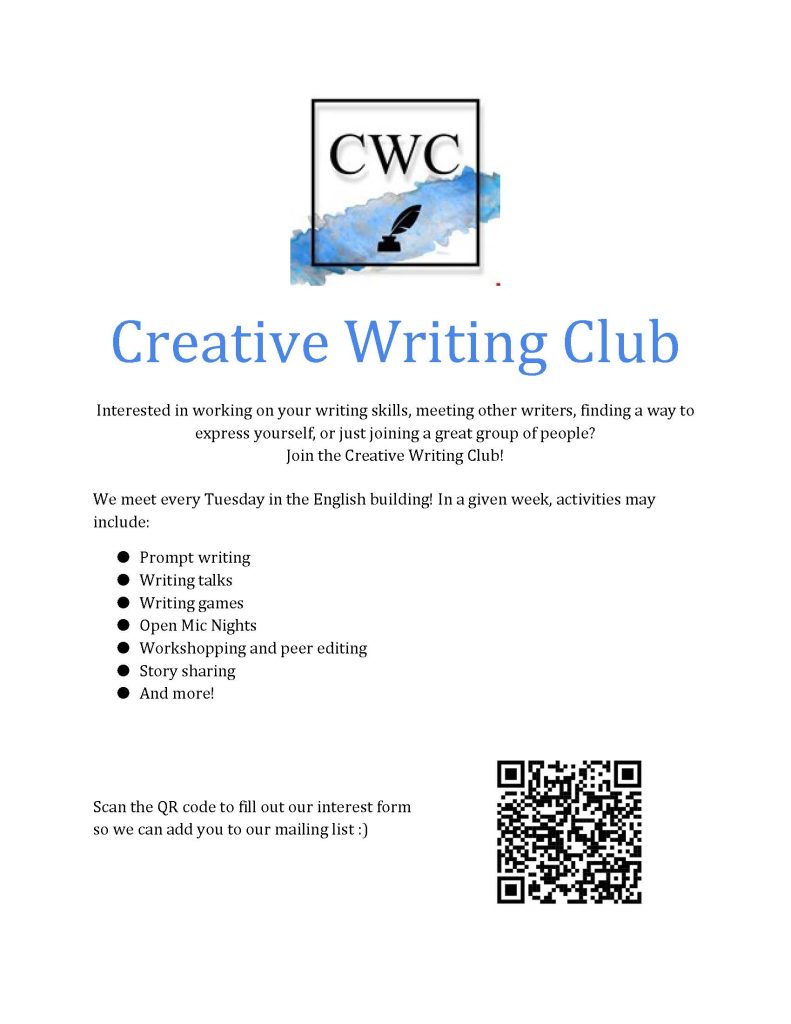 DATES & DEADLINES
Deadline to drop, CR/NCR, or elect grade replacement in a POT A (first-8-week) course
Friday, Sept. 15
ICT/Curriculum changes for Spring 2024
Oct. 2-27
Deadline to drop, CR/NCR, or elect grade replacement in a FULL-SEMESTER course
October 13