"Grad school" can mean a lot of things. Your English or Creative Degree prepares you to succeed in a lot of different kinds of grad programs.
The upcoming University of Illinois Graduate and Professional School Fair on October 17 can help you explore some of your options. It's in the Illini Union, from 11am to 4pm.
When English and Creative Writing majors ask about grad school, they are often asking,
"What about additional education after I graduate from college? Everyone says I'll need a graduate degree to succeed in the world. How should I get started on that?"
Let's start with the premise behind the question: that you will NEED a grad degree to get ahead.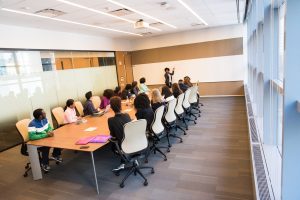 Do you?
In some fields, yes.
If you want to be a lawyer, you need a law degree. The U of I's excellent pre-law advising program, directed by former English major and lawyer, Jamie Thomas-Ward, can help you on that path.
If you want to go into one of the health professions (and yes, English/CW majors become doctors, nurses, physical therapists, and lots of other things), you'll need the relevant credential. The U of I's health professions advising can help you with that.
Other fields offer entry-level positions that you can attain with your four-year undergraduate degree, but you will need a master's degree in the field to advance, for example:
There are fields, like journalism, human resources, museum studies, and communication where you CAN be professionally employed and advance in your career with a four-year degree, but graduate school can give students (particularly those with other undergraduate majors) the opportunity to get greater exposure to the field and networking opportunities. Note that there are graduate degree programs for a wider range of fields in this category than I can list here.
You can probably find an institution willing to take your money for pretty much any topic you care to study in depth. Such programs will give you deeper insight into a subject and exposure to other professionals in the field. Will they make you more employable to an extent that offsets the costs of the program? Hard to say.
There are a lot of paths to a career in primary or secondary education for those who didn't get a teaching credential as part of their four-year degree. MAT programs, EdM programs, and alternative pathways like Teach for America and Indianapolis Teaching Fellows can help you get a teaching credential. There are also ways to teach without seeking certification: teaching abroad, working in after school or tutoring programs, teaching at some private schools.
Opinions vary on how crucial an MBA is to success in business. "Business" also means a lot of things: nor just accounting and finance, but also marketing, management, and operations. Our alumni mentoring network includes a number of former English/CW (or Rhetoric, as it used to be) majors who have succeeded in business, some with and some without MBA's. Some MBA programs require that you work for a time before applying. It's worth noting that the full-time GIes MBA program has an "Illinois X 2 Scholarship" that offers half-price tuition to Illinois graduates who meet certain criteria.
A degree in library or information science can point you in a number of different directions, from running a school library program to organizing digital archives to performing data analytics for a Fortune 500 company. The best school of library and information science in the country is just a couple of blocks away from the English Building, and there are a lot of resources there to help you figure out which degree program might help you achieve your goals.
An MFA in creative writing will give you time and opportunity to hone your craft in the company of other writers of literary fiction, nonfiction, and poetry. The degree can qualify you to teach writing at the college level. Note however that "qualified to teach writing at the college level" is not the same thing as being able to find a full-time, well-paid job teaching writing at the college level. At the moment the supply of college-level writing instructors far exceeds the demand.
An MA in English or similar field like history is a cool thing to have — if only because it means you get to spend another couple of years taking interesting classes, but it may not improve your employment prospects, and in some cases it can hurt them (as when, for example, the additional degree makes you more expensive to hire than someone with just a BA).
Mostly, though, an MA in English is the gateway to a Ph.D. in English, which will qualify you to teach English at the college level. Be warned, though: there are not a lot of jobs available teaching English at the college level, particularly if you want to teach full-time and get paid a professional-level salary for it. Jobs for those with Ph.D.'s in Writing Studies or Rhetoric and Composition are somewhat more plentiful, but not so much as to guarantee a reasonable return on the investment of five or more years that go into most Ph.D. programs.
Bottom line? Don't assume that a master's degree, any master's degree, will help you succeed. Figure out first which kind of degree is relevant to your goals and then whether or not having the degree is necessary for achieving them.
Talk to people in the fields you're interested in. Our alumni mentoring network is an excellent resource.
Look for opportunities to volunteer or job-shadow to get a better sense of what that career path feels like day-to-day.
Get work experience. An entry-level professional job after college can help you figure out what kind of grad school you want to go to and whether grad school is really necessary for your particular goals.