Follow us on social media!
       
Join HPRC for a panel discussion on The Gentle Art of Persuasion: Careers in Development, Sales, and Recruitment featuring Rachel Thompson (History '19), Keena Griffin (English '12), Jack Schwalbach (Communications, '15), and Meghedi Tamazian (English '18).
Wed., Feb. 23, 5pm
207 Gregory Hall
Empower yourself in professional negotiations!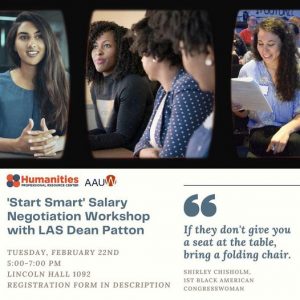 LAS Dean Venetria Patton is partnering with the HPRC to present an exclusive workshop: Start Smart Salary Negotiation Workshop for College Students. 
Feb 22 (5 pm to 7 pm)
Lincoln Hall 1092  
Seating is limited, so pre-register at https://forms.illinois.edu/sec/1440533902  to secure your spot!
ESA presents . . .
Come join ESA on February 27th to celebrate Black History Month! We'll discuss the history of black poetry and read aloud poems by black poets. Please bring a poem written by a black poet if you are comfortable sharing it! Original poetry is always welcome.
We'll be starting at 6:00 pm on Zoom. Hope to see you there!
https://illinois.zoom.us/j/7763187140?pwd=Qm1JR05BWnRkdWFDNUhYZEE3ZFBOUT09
department of history colloquium lecture
Professor Rosalyn LaPier of the University of Montana will be presenting a lecture titled "Why Write?" on Wednesday, February 23rd at 3:30pm in the Krannert Art Museum Auditorium. Professor LaPier will discuss why there is no better time in history for Indigenous people to be telling and writing their own stories. 
research park internship panel
Come to a virtual panel event on  Friday, February 25 at which Research Park employers will talk about how to land an internship and make the most of the opportunities there. 
Students can register at https://go.illinois.edu/ResearchParkPanel.  
2022 UNDERGRADUATE CREATIVE WRITING AWARDS
The English Department is pleased to announce its annual undergraduate literary competitions in Short Fiction and Poetry. Depending on available funding, there will be 2-3 prizes in Fiction and 2-3 in Poetry this year. Past prizes have ranged from $100 to $1500.  The deadline for submission is 12:00 Noon on Monday, February 28.
Contest rules are as follows:
Short Fiction: Submit no more than one unpublished story (7500 words, maximum length)
Poetry: Submit up to 5 unpublished poems in a single document.
Only University of Illinois undergraduate students are eligible. To be considered for a prize, submissions must adhere to the following rules:
All submissions must be sent via email as an attachment to: jdudek4@illinois.edu.  The subject line of your email message must read as follows: "UNDERGRAD POETRY: Last name" or "UNDERGRAD FICTION: Last name".  If you enter in both categories (poetry and fiction), you will need to send separate emails.
In the body of your email, please include:
Your name
address
phone number
e-mail address
status (undergraduate student)
UIN
Your entry is to be contained in one attached .docx file. The name of this file must be the contest category followed by your last name, such as "FICTION JONES.docx" or "POETRY JONES.docx" Your name should not appear within the document itself.
Please direct any questions to John Dudek, Associate Director of Creative Writing at Jdudek4@illinois.edu
Junior Quinn Submissions OPEN | Deadline March 1
The Junior Quinn Award recognizes achievement and potential in Creative Writing MAJORS AND MINORS with junior class standing by awarding one or more recipients with financial support to attend a writing workshop or conference. We hope the prize will be used to fund future conference attendance, contest submission fees, or other creative-writing related application costs—but because of the worldwide pandemic limiting travel and conference schedules, this year's prize will be issued as a flat $1000.
We recognize that it is not always easy to determine eligibility. If you are not technically a Junior this academic year but plan to graduate no earlier than December 2022 and no later than December 2023, you may be eligible. If you have any questions about your eligibility, check with Anna Ivy or Keshia Atkins in Undergraduate Advising (englishadvising@illinois.edu). You may apply for the Junior Quinn only once. If you have other questions about the award, email John Dudek, Associate Director of Creative Writing, at jdudek4@illinois.edu.
hispanic scholarship fund
Founded in 1975, HSF has awarded over $675 million in scholarships. HSF Scholars have access to valuable Scholar Support Services and, as funding permits, scholarships ranging from $500 to $5,000. The 2022-2023 HSF Scholar Program Application is now open and closes in 2 weeks on March 1, 2022, 5:00 PM PT. 
Every year, HSF selects 10,000 outstanding students as HSF Scholars from a broad and talented pool of applicants
HSF Scholars have access to a full range of invaluable Scholar Support Services, including career services, mentorship, leadership development, knowledge building, and wellness training
Career services include access to internships and job opportunities with HSF corporate partners
HSF Scholars are eligible to apply for all Scholar Conferences including, the STEM Summit, Finance Conference, Media & Entertainment Summit, Entrepreneurship Summit, Healthcare Summit, and Alumni Symposium
Exclusive access to the HSF Insider which shares invaluable information and select career opportunities with HSF corporate partners
Finally, and importantly, HSF awards more than $30 million in scholarships annually and, depending upon available funds, HSF Scholars may also be eligible to receive a scholarship, which ranges from $500-$5,000 and awarded directly to students
Must be of Hispanic heritage
U.S. citizen, permanent legal resident, or DACA
Minimum of 3.0 GPA on a 4.0 scale (or equivalent) for high school students; minimum of 2.5 GPA on a 4.0 scale (or equivalent) for college and graduate students
Plan to enroll full-time in an accredited, public or not-for-profit, four-year university, or graduate school, in the U.S., for the 2022-2023 academic year
Submit the FAFSA or state-based financial aid forms (if applicable)
Additional Important information:
check out this POTB (aka 2nd-8-week) course!
ENGL 199, Section X
Writing to Get That Job!
Part of Term B  /  1 credit hour
MW 12:00-12:50 (online)
Through conceptual development and context-sensitive lessons/assignments, students will develop/improve writing skills particularly germane to successfully applying for an internship, a post-baccalaureate job, or an advanced-degree program.  They will then apply those skills to create a polished set of recruiter-ready texts relevant to their career plans and a career-relevant, currently-advertised job/internship/program. Use Moodle website for access to meeting location (learn.illinois.edu)
Creative writing club
Do you know about Creative Writing Club?  Open to students in all majors, this group meets weekly on Tuesdays from 6:30pm-7:45pm in room 259 of the English Building.  If you would like to be kept apprised of upcoming meetings and other activities, send a message to creativewritingclubatuiuc@gmail.com  and ask to be added to the mailing list.  You can also follow CWC on Facebook/Instagram, both @creativewritingclubuiuc.
get help at the writers workshop
Check out the upcoming Writers Workshop events.   The Writers Workshop provides feedback on all kinds of writing including course papers, job application materials, and personal statements. We have appointments and drop-in hours, and we're available in-person at the Undergraduate Library and online.
DGS hiring summer peer advisors!
See the position description for DGS summer peer advisors in the most recent issue of the DGS newsletter.  DGS is looking to hire 10-12 students to assist us during New Student Registration this summer. If you will be in the CU area over the summer, please consider applying. It's great if the student is a former DGS student, but not required.
call for submissions
Collision Literary Magazine at the University of Pittsburgh is currently open for submissions of undergraduate fiction, nonfiction, poetry, and art. By submitting to the annual magazine, students will be considered for our writing and cover art contests. Submissions for the annual magazine close Friday, February 25, but we read on a rolling basis. You can find more information about the magazine and our submission guidelines at https://www.collision.pitt.edu. If you have any questions, please contact collisionlitmag@gmail.com.
UIUC UX Day – March 25, 2022
Are you interested in a career in User Experience Design (UX)? Please see the information below about the first annual UIUC UX Day:
Siebel Center for Design and College of Fine and Applied Arts have come together to create UIUC UX Day, a half-day event scheduled for 12-7pm on Friday March 25 at the Siebel Center for Design.
UX Day as been designed to help UIUC students gain an understanding of different directions they could pursue in the broad UX industry. Invited to speak will be professionals representing three types of design jobs – design done in-house, Big Tech design teams, and consulting firms that work with industry on design-related content. In parallel throughout the day, we will also be hosting 30 minute 1:1 sessions between professionals and students.
Interested students should register at this link!
Undergraduate Research Opportunities!
legal humanities symposium
You can now apply to participate in the HRI-Mellon Legal Humanities Undergraduate Symposium to be held from 12:00PM to 4:00PM on April 29, 2022 as a part of Undergraduate Research Week. Students of all majors are encouraged to present their research on legal humanities through oral presentations.
Interested students are invited to submit a 300 word abstract and explanation of the project's connection to legal humanities. The field of legal humanities can be defined as the exploration of law through applications of historical, philosophical, literary, and visual thinking. Students must submit the application form by midnight on February 22, 2022. Students will be notified of the outcome of the review process by March 1, 2022.
Apply Here: https://forms.gle/3NjoiGRaPG5pEn4b7
office of undergraduate research workshops
The Office of Undergraduate Research announces its Spring 2022 workshop calendar.  Information for each workshop including how students can register can be found here .
For all workshops, OUR will be offering both virtual and in-person dates. Participation is by advance registration only; there are a limited number of spots available for each workshop, so please sign up as soon as possible. Workshops will be added throughout the term based on demand.
undergraduate research symposium
This Office of Undergraduate Research is accepting submissions to present at the 2022 Undergraduate Research Symposium set for Thursday, April 28 at the Illini Union. For more information, including answers to frequently asked questions, follow this link.  Application deadline: Tuesday, March 15
grants supporting research and travel
Research Support Grant (RSG)
Research Support Grant (RSG) This grant provides students from all disciplines with the funds necessary to conduct research or creative projects during the academic year both on and off campus (including summer terms). Awards will be up to $2,000 and are meant to cover research travel costs, living expenses incurred during academic breaks (i.e., winter break and summer terms, NOT regular semester living expenses), and materials or other ancillary costs. We hope that this competition will both broaden and deepen the types of research being conducted by undergraduate students on campus, and that the recipients are able to use this opportunity as a way of engaging with their fields. For details, eligibility requirements, and link to the application please visit: http://go.illinois.edu/OUR_RSG.
The deadline to apply is March 11, 2022 at 11:59pm.
Conference Travel Grant (CTG)
Conference Travel Grant (CTG) This grant provides undergraduate students with awards of up to $350 to subsidize costs associated with presenting their research posters, papers, or creative works at in-person and virtual professional conferences. Please note, the Office of Undergraduate Research does not provide funds for conference attendance only; grants are meant for students who will present their work. For details, eligibility requirements, and link to the application please visit: http://go.illinois.edu/OUR_CTG.
The deadline to apply is February 24, 2022 at 11:59pm.
Don't Forget about These!
text anxiety workshops
Could you benefit from a workshop that provides strategies for managing anxiety around taking tests? The Counseling Center hosts drop-in workshops throughout the semester with tips on:
Remaining calm during tests and exams
Getting the most from your study time
Preparing effectively for tests and exams
To find out more about individual workshops and to register, please visit counselingcenter.illinois.edu/TestAnxiety.
There are simple, effective ways that can help you perform well on tests and not let anxiety get the best of you! These workshops are free for students. If you have any questions about this group, please contact Dr. Kathy Wierzchowski at wierzch1@illinois.edu.
LAS Success Academic Workshops
Check out the Spring LAS Success Academic Workshop Schedule here:
All workshops are open to all students
All are offered in-person in Lincoln Hall
Our website lists events by month so you can't access anything past February yet, but those events will become visible as the earlier events pass
Workshops – Tuesday @ 7 Starts
The Career Center – Spring 2022 Workshop Calendar
selected Dates and deadlines
March 11: Deadline to drop a full-semester course without a W
March 12-20: Spring Break
March 21: POT B courses begin; registration time tickets visible
March 25: Deadline to add POT B course
April 4: Priority registration for Summer and Fall 2022 begins
POT B = Part of Term B (aka "2nd-8-week")