Check out the Campuswide Microbial Events Calendar for all microbial systems-related seminars, workshops, and networking opportunities.
Microbe Mondays and MSI Coffee Hour
MSI is hosting two monthly community-building events during the 2022-2023 academic year. Microbe Mondays will feature two 10-minute presentations from MSI trainees or early-career faculty with time for discussion and networking over a pizza lunch. MSI Coffee Hours will stimulate new connections and foster a vibrant community while enjoying coffee and cookies in an informal setting.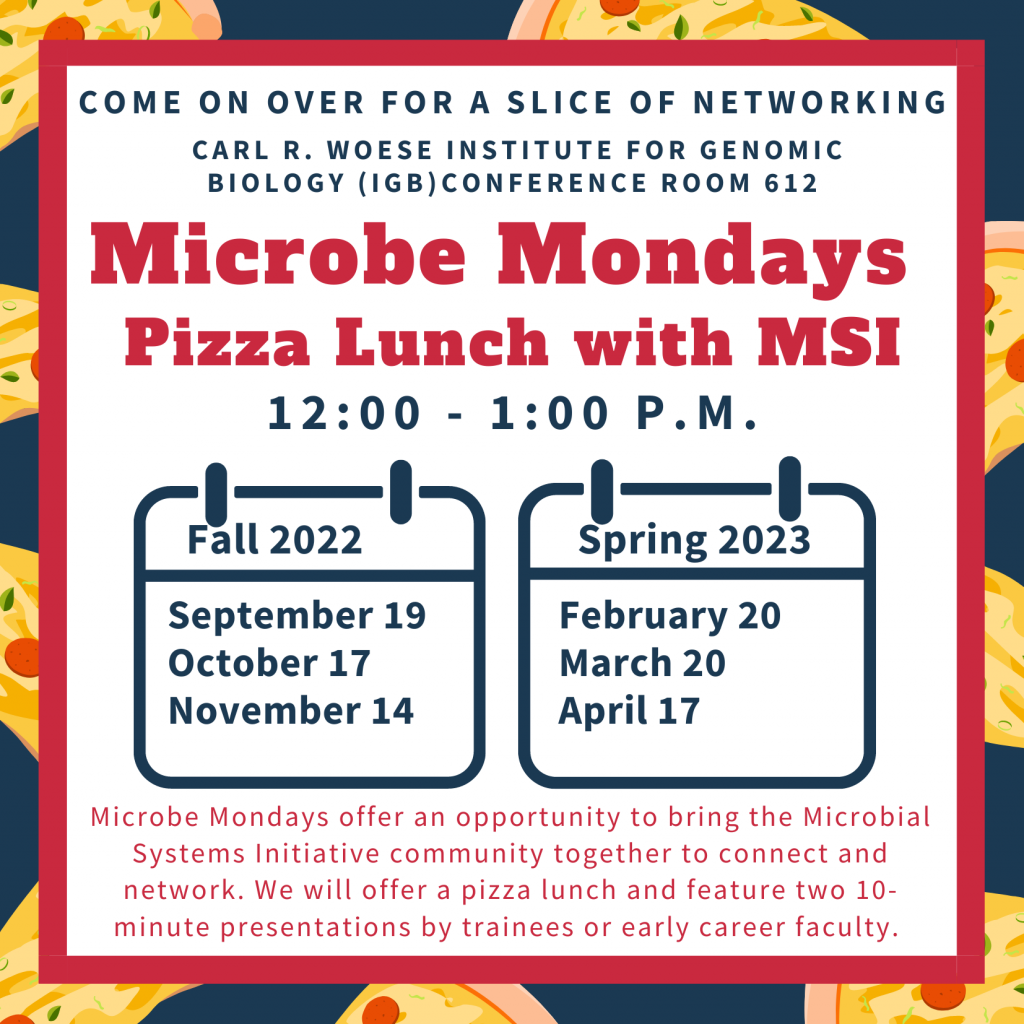 Save the Date: MicroERA Spring Symposium – April 3, 2023
The Microbial Early-Career Researchers Association (MicroERA) 3rd annual Research Symposium will be held Monday, April 3. Details to be announced.
Save the Date: MSI Microbial Multiverse Symposium – September 14-16 
The Microbial Multiverse Symposium will be on September 14–16, 2023! This symposium will showcase the breadth of microbial systems research on campus and how this work is driven through collaboration. The symposium will feature a public lecture by Margaret Mcfall-Ngai, presentations from invited speakers, and a panel discussion on microbes in society. The Microbial Multiverse Symposium is co-hosted by the Department of Microbiology, the Institute for Genomic Biology, the School of Molecular and Cellular Biology, the College of Veterinary Medicine, and the Personalized Nutrition Initiative, and made possible by the Olga G. Nalbandov Lecture Fund. More details to come! 
Past Events
MicroERA Spring Symposium – April 11, 2022
The Microbial Early-Career Researchers Association (MicroERA) 2nd annual Research Symposium was held in-person Monday, April 11, from 1-6 p.m. at the Carl R. Woese Institute for Genomic Biology (IGB). The MicroERA Research Symposium highlighted interdisciplinary microbial systems research among trainees. Learn more about the event by visiting the MicroERA page
Cancer and Microbes Workshop
On Sept. 17, the Cancer Center at Illinois (CCIL) and the Microbial Systems Initiative (MSI) held the Cancer and Microbes Workshop as part of a new partnership formed between the CCIL and the MSI to promote collaboration at the interface of microbial sciences and cancer research.
The Cancer and Microbes initiative will promote the continued development of collaborations established at the event through an online directory providing information on research topics and areas of expertise, regular meetings and seed funding to support new projects that will stimulate future multi-PI funding awards in Cancer and Microbes. If interested, contact Maggie Berg (MSI) or Margaret Browne Huntt (CCIL) for more information. Learn more.
2021 Microbial Systems Initiative Virtual Symposium
The 2021 symposium brought the MSI community together to showcase microbial systems research at Illinois and plant the seeds for new collaborations. The program featured our new MSI faculty and included research talks, discussions, and networking opportunities.
Did you miss the some or all of the symposium or want a refresher? Contact Maggie Berg to get access to recordings of the talks and final panel discussion: "Lessons from the Pandemic."