Here you can find updates on conferences, social events, lectures, tutoring, etc.
NOBCChE Fall Lecture
2020 – Dec. 11th, Prof. Steven Townsend (Vanderbilt University)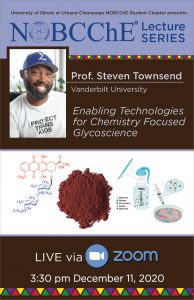 ---
Tutoring Program
NOBCChE offers tutoring for undergraduate students in General Chemistry, Organic Chemistry and Introduction to Chemical Engineering Courses. Time vary between semesters, so be on the lookout for the updated flyer.
---
Annual Black History Month Event (Friday, Feb. 19th – Saturday, Feb. 20th, 2021)
Friday, February 19th, 2021, 5:00pm – 7:30pm CST
5:00 – 6:00pm: Opening Remarks and St. Elmo Brady Lecture (Prof. Tyrone Hayes)
6:15 – 7:15pm: Panel Session (Panelists TBA)
Post-Grad Career
Personal Branding
Mental Health/Wellness
Saturday, February 20th, 2021, 9:00am – 1:00pm CST
9:00 – 10:00am: Keynote Address – Dr. Sibrina Collins
10:15 – 12:30pm: Research Presentations
12:40 – 1:00pm: Closing Remarks
---