Preservation happens every day…
Please check out our daily blogs during Preservation Week.
---
Friday, April 29th – Brittle Books Reformatting
Lisa Vallen, Collections Care and Reformatting Graduate Assistant, explores the importance of digitizing brittle books and difficulties that they can face.
The Preservation Department is digitizing brittle books in an effort to provide a usable surrogate for books that can no longer circulate due to their brittleness and fragility.  Once our workflow is finished, a digitized version of the book will be available in HathiTrust Digital Library and the physical copy will be box and stored at Oak Street, our remote storage, and will no longer need to be circulated.
All of the books that we are digitizing are unable to withstand handling and many items severely damaged.  In many cases, we hold the only copy of record and it is incredibly important to this copy be preserved and readily accessible to our users.   Once paper has deteriorated to the point of brittleness there is not anything that we can do to cure it.  Given our capabilities, digitizing these brittle books is the best solution for preserving and providing access to our users.
One example of the damage that we face is Volume 1 of Économiste européen.  Pages 653-675 are in pieces as seen in the pictures below.  This volume is only held in 20 libraries worldwide, which we consider to be rare.
In order for us to digitize this book we need to repair the pages.  We will do our best to repair the pages with the minimal amount of text loss.  We hope to have this book available to you in HathiTrust in the near future.
---
Thursday, April 28th – Media Preservation –
Preserving the Vet Med Films
Cristina Kühn, Media Preservation Graduate Assistant describes efforts to preserve audiovisual materials created by first class of the College of Veterinary Medicine at the University of Illinois at Urbana-Champaign enrolled in 1948.
The first class of the College of Veterinary Medicine at the University of Illinois at Urbana-Champaign enrolled in 1948.  They were 24 men, all World War II veterans.  They didn't have power point presentations, digital videos and unlimited internet access to inform themselves of veterinary advances in sections of the country, much less the world.  Instead they had films.  It's hard to imagine a time when there wasn't YouTube but it existed.  The first veterinary students experienced projected films in the classroom as part of their visual learning.  I don't know how many there originally were but what has survived are 85 films ranging from the 1940's up to the 80's.
And therein lies the goal.  In the media preservation department, we are making efforts to make sure the films outlive us and then some.  The reality is that film is subject to decay over time (especially when improper storage and unfavorable environments come into play).  More so, decay is an inherent vice in the organic film bases and it cannot be cured once it shows its face.  The good news is we can keep it bay through proper conservation treatment and storage.
The Vet Med films, what we affectionately the group of 85 films, are in such a state.  Thorough inspection has revealed that all the films have an acetate base and the signs of vinegar syndrome, ranging from vinegar odor (courtesy of acetic acid fumes), warpage, residue, shrinkage and brittleness have taken hold.  In addition, there's other problems: dye fading, perforation / edge damage, holes, poor splices and surface contamination.  All these factors help to determine the kind of conservation treatment each film will undergo.  But all will get standard re-housing.  That is, being taken off their reels to be cored, given new head and tail leaders, being placed in new archival film cans, and given molecular sieves to be housed alongside each film within the can (the sieves help to absorb the acetic fumes).
---
Wednesday, April 27th, 2016 – Digital Content Creation
Angela Waarala, Digital Collections Project Manager in Digital Content Creation (DCC), unravels the length of theses and dissertations oversized graphs.
The library is digitizing its entire collection of dissertations and theses produced by students in masters and doctoral programs at the University of Illinois at Urbana-Champaign.
Click here to view the digitally stitched image of all the scrolls.
Digital Content Creation discovered a specific item containing 9 very long graphs which were rolled in triplicate and stuffed very tightly into a small box.  The graphs were very dirty and Conservation could not humidify them without cleaning them first.  Instead,  Digital Content Creation decided to proceeded with digitization by first flattening them with weights for several weeks.  They were digitized in pieces and stitched together in Adobe Photoshop.
The graphs were transferred to a larger box for temporary rehousing and will later be cleaned, humidified, flattened and stored with other oversized content.
The collection of digitized theses and dissertations can be found in IDEALS at https://www.ideals.illinois.edu/handle/2142/5131.
---
Tuesday, April 26th, 2016 – COLLECTIONS CARE
Jon Sweitzer-Lamme, Collections Care Graduate Student Worker, explains some of our boxing challenges from rehousing board games to Japanese scrolls.

Most items in the University of Illinois library collections are readily identifiable: they are books. As books, they share many similarities, not the least of which is their shape. However, when something oddly-shaped needs preservation work done, we in Collections Care get to showcase some of our creative chops.
This object is an educational board game, "Drop, Swap and Roll: The Game of Reuse and Recycling." Produced by the EPA to teach kids about keeping trash out of the landfill, it's held by the Funk ACES library. The challenge here was to create a box that would keep all of the pieces (game board, instruction booklet, and two sets of cards) together without damage, while remaining easily used by patrons.
The solution was in several parts. The lowest layer holds the cards, separated between the two decks, and with mylar ribbons underneath them, allowing them to be easily removed for play without damage. On top of them, the game board and the instruction booklet are held in place by a small top bumper.  All together, the materials fit comfortably on a shelf designed for book-shaped objects.
Another type of object that doesn't fit comfortably into our library system designed for  codex books is writing in other formats. A fellow Graduate Student Worker, Elizabeth Mayer, recently rehoused on  a set  Japanese scrolls for the Content Access Management (CAM) unit. Elizabeth worked on the careful setup of using custom boxes that accommodated ethafoam cradles and applied special handling labels—that allow these special format items to be protected and accessible at the Oak Street Library Facility.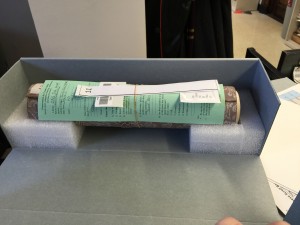 ---
 Monday, April 25th, 2016 – MEDIUM RARE CONSERVATION
Quinn Morgan Ferris, Rare Book Conservator, describes a new approach to treat increasingly rare items that may be found on a shelf near you.
The Conservation Lab at the University of Illinois is currently working on the implementation of a new workflow into their unit, titled "Medium Rare Conservation."  This conservation approach is attempting to establish treatment and repair parameters for items whose conservation needs sit somewhere between those of traditional general/circulating collections and special collections items.
The Medium Rare workflow was developed in part as a response to the dwindling amount of general collection items that were in need of repair in the lab.  However, it also satisfies a need that we have long been seeing in conservation—namely, how to handle items that have material, historical, or condition characteristics that make them hard to categorize beyond their collection designation.  Many of these items may be designated "medium rare" based on their age or their vault location within their branch library. However, items can also be recommended by conservators for Medium Rare treatment based on their format, rarity, or other identifying factors.
Medium Rare conservation is similar to the Special Collections conservation workflow that has been in place for some time.  Specifically, it aligns closely in terms of procedures for documenting, treating, and returning items.  However, it differs in the amount of item-level detail spent during the documentation and treatment stages.  Furthermore, it excludes items that require more complex treatment, such as the use of chemicals or the integration or specialized working of new leather or parchment components.
This is an exciting new option for a number of reasons.  First and foremost, it offers an additional opportunity for conservators to work closely with collection managers in order to identify candidates for Medium Rare conservation.  We hope this will augment our already strong working relationships with the University's various library collections.  Secondly, it offers Special Collections division libraries a treatment approach that may take significantly less time, which would shorten expected turnaround to ideally no longer than four months.  Finally, it allows the conservators to focus on items that require a higher level of care and attention while simultaneously allowing that all collection items receive the best and most appropriate individual treatment.
We look forward to seeing how the Medium Rare workflow will continue to develop as it is implemented.  For more information, please visit our Medium Rare Conservation Wiki.