Where do we do Preservation? 
Preservation happens everywhere…
Please check out our daily blogs during Preservation Week.
---
Friday April 28th, 2017
Champaign County Historical Museum at the Historic CAttle Bank
Grand Reopening, Saturday April 29th, 2017, 10 am
with Jon Sweitzer-Lamme,
Collections Care Graduate Assistant in Preservation Services
& Museum Volunteer Extraordinaire
For the past year, Jon Sweitzer-Lamme has been volunteering at the Champaign County Historical Museum (CCHM). As part of his practicum in his iSchool program, he has been working as Head of Collections Management, taking care of a variety of museum tasks from collection processing, exhibits displays, to  popcorn vending & corn chucking demonstration.  This he has done in addition to his graduate assistantship in Collections Care in Preservation Services and a his position for his Museums Studies capstone as Collections Assistant at the Spurlock Museum.
The Champaign County History Museum is the steward of an immense collection of over 20,000 artifacts directly linked to Champaign County's history. Its mission is: " To discover, collect, preserve, exhibit, study and interpret objects relating to the history of Champaign County, and to provide educational programs about the County's heritage and the Museum's collections." The Museum  strives to not only  exhibit " the many objects that have been entrusted to our care.  We will strive to ensure that our artifacts don't simply sit behind glass but come alive through the stories they tell."
Visit the Museum's website for more information on this weekends grand reopening events, current exhibits and research resources.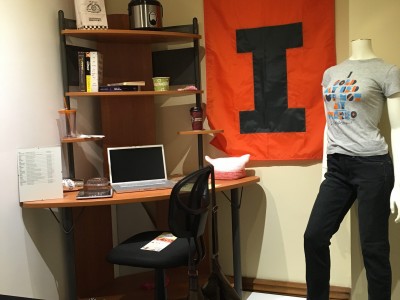 Resources:
"A welcome-back party at Cattle Bank building", Champaign News Gazzette,  http://www.news-gazette.com/news/local/2017-04-27/welcome-back-party-cattle-bank-building.html
Champaign County Historical Museum at the Historic CAttle Bank website:  https://www.champaigncountyhistory.org/
---
Thursday April 27th, 2017
Cleaning Printing Game and Piano Rolls
by Karen Huck,  Collections Care graduate student worker
Presently, I am working on a custom box for an old set of stamps from the 1920s-1930s for children's use in learning to read and write called The Classroom Printer.  The project began with my vacuuming each individual piece in the box as well as each of the rows that the stamps fit into, and now that the cleaning is done, I will make a custom box for it to sit in that will not only keep it clean but will continue to protect it from rapid deterioration.  
I am also currently working with a large donation of player piano rolls that were donated to the university.  These are from the 1920s and 1930s also, and need to be cleaned and rehoused for stabilization.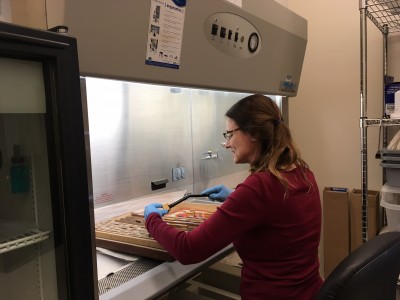 ---
Wednesday April 26th, 2017
Making Rare Materials Hands-On: 3D Printing a Possibility for Rare Materials
Poster Presentation, iSchool Master's Student Showcase
by Jon Sweitzer-Lamme, Collections Care Graduate Assistant
Jon presented a poster during the iSchool Master's Student Showcase on the use of new technologies to enable broader and more direct understanding of the materials and processes used to create illustrations in books. Using 3D scanning technology. For the project, Jon scanned two wood blocks carved during the 1560s. Now extremely rare, the wood blocks were originally used in Austria for the printing of an herbal. These illustrations are considered to be some of the best illustrations of plants of their times.
Printing from these blocks is fraught with preservation and other risks. They are not in a condition to allow for regular handling, and they are only appreciated aesthetically. However, they were and remain fundamentally objects of craft, and are designed to be used. The full artistry in these items comes with the print created from them, rather than the wood blocks alone.
This project will create an open-access digital model of these 3-dimensional items, and then print copies of them on 3D printers. Once the 3D-printed surrogates are created, the project hopes to enable students to print from these blocks in order to connect viscerally and physically with the materials, rather than simply visually.
While preservation of the objects themselves is of course vital, it is also important to preserve the methods and processes through which those objects gained cultural value—preservation both through use and of the use of the objects, with the added benefit of not threatening in any way the objects themselves.
---
Tuesday April 25th, 2017
The Adelphic Society Group Portrait Rehousing: A Cautionary Tale of Forgotten Treasures
by Sawyer Magnus, Collections Care graduate student worker
Over the course of the past two months, I have been working on a custom box for a photo board of the Adelphic Society, a literary society at the university during the 19th century, on behalf of the University Archives.  This particular item was discovered in poor condition, with photos missing, frames broken, and grime and mold residue.  The ultimate goal of the project was to create an enclosure to stabilize the item in its current condition and use it as an outreach display item for the University Archives.
After planning out a scheme through sketches and a scale model, the box would include a base layer of walls around the object, a frame to hold it in place, a layer with a full-sized image of the item, and a layer with loose pieces from a related item and information about the object.  The walls were made of ethafoam surrounded by B-flute board, and one wall was attached with Tyvek so it could be rolled back and allow the item to be removed.  The photo and loose pieces were placed in Mylar sleeves which were attached to layers of B-flute board.  Pieces of ethafoam were attached to the inside corners of the lid to fill the space left in the box after all the items were included, which helped prevent the items from moving while being carried.
Some changes were made along the way.  Some of the walls needed to be rebuilt, and the original frame was redone to be slightly thicker.  The ethafoam corners required size adjustments to allow the lid to close, and inaccurate photos of the item were removed.  This item will be much better protected and secured with this new custom box.
---
Monday April 24th, 2017
Yesterday & Today: The UIUC Media Preservation Labs
By Cristina Kuhn
When I first began my assistantship under Media Preservation Coordinator, Josh Harris, his unit was undergoing a transition.  Preservation Services had recently come up in the library – literally.  Before, the department was located in the basement of the University of Illinois Urbana-Champaign's Main Library.  When I joined in August 2015, it had moved up four floors, Room 425.  However, I quickly learned that the change of location was not the finish line.  Josh was already taking the next necessary steps in a long and arduous journey that began since he took up his position in October 2011: the building of media preservation labs so that his mission of preserving the University's information legacy can be achieved.  As someone who enjoys process, I watched as these labs, specifically the video and audio labs, took shape.
Before these labs existed, media preservation efforts were cramped in a small room, Room 452 – a space previously used by library faculty.
Room 452 in its last days of usage.
I spent parts of my first semester in Room 452, getting to know the lay of the land and the scope of my assistantship.  So it was a sad day to finally say goodbye, albeit for bigger and better things.
I mentioned earlier that building the media preservation labs was long and arduous.  Just because Room 452 was vacated did not mean that the new labs were ready.  Josh explained that many factors play a role in the process.  There's funding, gathering the necessary playback equipment, acquiring proper tools, choosing the software, coordinating and using the help of other campus departments such as Facilities and Engineering.  The actual space has to be determined and then modified to the needs of the lab.  For example, special electrical wiring and new outlets (remember, lots of machine working simultaneously); carpeting and sound acoustic insulation paneling for sound absorption; special low lighting; determining how to have multiple playback equipment of different formats working together simultaneously.
Overall, patience and determination are key and these details are the tip of the iceberg.  The labs are now up and running for the most part.  Glitches and step backs arise every now and then; what comes next is an open question, as is the nature of media preservation.
It seems like only yesterday I stood in empty spaces.
---