People
Brendan Harley (he/him)
Photograph
Email
bharley@

nospam64786231a18a4.

illinois.edu
Title Robert W. Schaefer Professor, Chemical & Biomolecular Engineering
Office
Program Leader, Cancer Center at Illinois
Theme Leader, Carl R. Woese Institute for Genomic Biology
S.B., Engineering Sciences, Harvard University, 2000
Sc.D., Mechanical Engineering, MIT, 2006
Postdoc, Childrens Hospital Boston, 2008
Fellow, American Association for the Advancement of Science (AAAS), 2014
Fellow, American Institute for Medical and Biological Engineering (AIMBE), 2018
Fellow, Biomedical Engineering Society (BMES), 2021
Young Investigator Award (2014), Clemson Award for Basic Research (2021), Society for Biomaterials
NSF CAREER award, 2013
Download CV
Faculty
Sara Pedron Haba (she/her)
Photograph
Email
spedron@

nospam64786231a48df.

illinois.edu
Title Research Professor (CHBE, IGB, CI MED)
Department Ph.D., Institute of Polymer Science and Technology (Spain), 2009
graduate trainees
Ashwin Bale, (he/him)
Photograph
Email
abale2@

nospam64786231a6cc2.

illinois.edu
Department B.E. Chemical Engineering with a Minor in Materials Science, Birla Institute of Technology and Science, Pilani, 2021
Office Project: Understanding the interplay between Glioblastoma's cell metabolism and hyaluronic acid using multi-dimensional hydrogel models and imaging
Gunnar Thompson (he/him)
Photograph
Email
gunnart2@

nospam64786231a7927.

illinois.edu
Department B.S., Chemical Engineering, University of Wisconsin-Madison, 2016
Office Project: Granular Hydrogels for Hematopoietic Stem Cell Culture
Sheridan Fok, (he/him)
Photograph
Email
kfok2@

nospam64786231a8581.

illinois.edu
Department B.S., Life Science, National Taiwan University, 2015,
M.S., Life Science, National Taiwan University, 2018
Brittany Payan, (she/her)
Photograph
Email
bpayan2@

nospam64786231a9257.

illinois.edu
Department B.S., Biomedical Engineering, University of Houston, 2020
Office Project: Gelatin Maleimide Granular Hydrogels as a Model to Study Glioblastoma
Génesis Ríos-Adorno, (she/her)
Photograph
Email
genesis5@

nospam64786231aa158.

illinois.edu
Department B.S. Chemical Engineering with a minor in Pharmaceutical Engineering at University of Puerto Rico at Mayagüez, 2021
Office Project: Incorporation of Gel-SH hydrogels into a stratified scaffold for tendon-to-bone interface regeneration
Grace Rubino, (she/her)
Photograph
Email
grubino3@

nospam64786231aad6c.

illinois.edu
Department B.S., Chemical and Biomolecular Engineering, Ohio State University, 2022
Vasiliki (Aliki) Kolliopoulos (she/her)
Photograph
Email
vk7@

nospam64786231ab906.

illinois.edu
Title B.S., Chemical and Biomolecular Engineering, Ohio State University, 2018
Victoria Kriuchkovskaia (she/her)
Photograph
Email
vk10@

nospam64786231ac4e0.

illinois.edu
Title B.S., Chemical Engineering and Mathematics, Iowa State University, 2019
Office Project: Understanding Acquired Chemotherapeutic Resistance in Glioblastoma Using Biomaterial-Based Models
Yoanna Ivanova (she/her)
Photograph
Email
yoannai2@

nospam64786231acdcb.

illinois.edu
Department B.E., Biomedical Engineering, Vanderbilt University, 2021
Hannah Theriault (she/her)
Photograph
Email
hst4@

nospam64786231ad9b9.

illinois.edu
Department B.S., Biomedical Engineering, Georgia Institute of Technology, 2021
Office Project: Developing hydrogel-based models of endometriosis lesion etiology and progression
Kyle Timmer
Photograph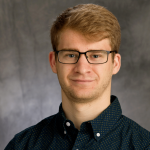 Email
ktimmer2@

nospam64786231ae5a3.

illinois.edu
Department B.S., Chemical Engineering & Biochemistry, Calvin University, 2020
Office Project: Tailoring triphasic biomaterials to promote regeneration of osteotendinous transitionary tissue
undergraduate assistants
Rachael Bell (BioE)
Department Mentor: Tori Barnhouse
Ambar Rivera (ChBE)
Department Mentor: Marley Dewey/Alec Tiffany
Edward Neves (CHBE)
Joy Hensold (ChBE)
Department Mentor: Mai Ngo
Angela Andrada (Chemistry)
Department Mentor: Marley Dewey
Alison Nunes (MatSE)
Department Mentor: Aidan Gilchrist
Amber Boyce (ChBE)
Title Mentor: Rebecca Hortensius
Christine Hunter (BioE)
Department Mentor: Mai Ngo
Yunseon Park (CHBE)
Department Mentor: Aliki Kolliopoulos
Noah Chiou (Engineering Physics)
Department Mentor: Samantha Zambuto
Maxwell Polanek (CHBE)
Department Mentor: Aliki Kolliopoulos
alumni
Raul Sun Han (he/him)
Photograph
Email
sunhanc2@

nospam64786231b2f52.

illinois.edu
Department B.S., Chemistry, Pomona College, 2016
Aleczandria Tiffany (she/her)
Photograph
Email
ast2@

nospam64786231b3b67.

illinois.edu
Department B.S., Chemical Engineering, U. of Southern California, 2016
Samantha Zambuto (she/her)
Photograph
Email
zambuto2@

nospam64786231b474f.

illinois.edu
Department B.S., Biological Engineering, Cornell University / Sc.M., Biomedical Engineering, Brown University
Tori Barnhouse (she/her)
Photograph
Email
vb7@

nospam64786231b5342.

illinois.edu
Department B.S., Biomedical Engineering, Ohio State University, 2017
Steven Caliari
Photograph
Title Ph.D., ChBE, 2014
Department Project: influence of scaffold biophysical properties on tenocyte and mesenchymal stem cell bioactivity for musculoskeletal tissue engineering
Emily (Jee-Wei) Chen
Photograph
Email
jechen3@

nospam64786231b674a.

illinois.edu
Department Ph.D., Chemical and Biomolecular Engineering, University of Illinois at Urbana-Champaign (2019)
Office Current: Postdoc (Cecilia Leal), University of Illinois at Urbana-Champaign
Ji-Sun Choi
Photograph
Title Ph.D., ChBE 2014
Department Project: label-free tracking of hematopoietic stem cell fate decisions
Office Current: Samsung Biologics, S. Korea
Marley Dewey
Photograph
Email
mjdewey2@

nospam64786231b7b9e.

illinois.edu
Title B.S., Chemical Engineering, UMaine Orono, 2016
Seema Ehsan
Photograph
Title Postdoc (IGB), 2014 - 2015.
Department Project: tissue engineering platforms for cancer
Office Current: Regulatory Affairs, Genentech, San Francisco, CA.
Nathaniel Gabrielson
Photograph
Title Post-doc (IGB), 2011 - 2012
Department Project: cell-laden hydrogels in integrated microfluidic devices for long-term cell culture
Office Current: Lecturer, Dept. of Materials Science & Engineering, U. Illinois
Aidan Gilchrist
Photograph
Email
agilchr2@

nospam64786231b97c1.

illinois.edu
Title Ph.D. ChBE 2020
Emily Gonnerman
Photograph
Title M.S., ChBE, 2011
Department Project: collagen-glycosaminoglycan scaffold systems to assess HL-1 cardiomyocyte beating and alignment
Office Current: Manufacturing Engineer, TSI, Inc., MN.
William Grier
Photograph
Title Ph.D., ChBE 2017
Department Project: mechanotransduction in osteotendinous insertion repair
Office Current: Process Engineer, Manufacturing Science and Technology Group, Genzyme, Cambridge, MA
Rebecca Hortensius
Photograph
Title Ph.D. BioE 2016
Department Project: amniotic-membrane functionalized collagen biomaterials for orthopedic repair
Office Current: Postdoc in the Ogle Lab at U. Minnesota
Bhushan Mahadik
Photograph
Title Ph.D., U. Illinois, 2014
Department Project: microfluidic tools for studying hematopoietic stem cell/niche interactions
Office Current: Assistant Director, NIH Center for Engineering Complex Tissues, U. Maryland
Laura Mozdzen
Photograph
Title Ph.D., ChBE 2016
Department Project: mechanically reinforced scaffolds for osteotendinous insertion repair
Office Current: Senior Scientist, AbbVie, Chicago, IL
Mai Ngo
Photograph
Email
maingo2@

nospam64786231bce2a.

illinois.edu
Title Ph.D. ChBE 2020
Jacquelyn Pence
Photograph
Title Ph.D., ChBE 2016
Department Project: endometrial-inspired biomaterials
Office Current: Research Assistant Professor, U. Memphis
Julio Serrano
Photograph
Email
jfserra2@

nospam64786231be32f.

illinois.edu
Title Postdoc
Department Ph.D., Chemistry, University of Illinois at Urbana-Champaign
Daniel Weisgerber
Photograph
Title Ph.D., ChBE 2016
Department Project: mineralized collagen scaffolds for bone and craniofacial defect repair
Office Current: Post-Doc in Abate Lab at UCSF
Tamaki Yokohama-Tamaki
Photograph
Title Visiting scientist, 2011 - 2012
Department Project: CXCR4/CXCL12 signaling in the dental epithelial stem cell niche
Office Current: Asst. Prof., Tokyo Medical and Dental University, Japan
alumni (undergrads)
Christine Hunter (BioE)
Department Mentor: Mai Ngo
Diana Slater (BioE)
Department Mentor: Marley Dewey
Vincent Cornelius (BioE)
Department Mentor: Aidan Gilchrist
Allison Kojima (ChBE)
Department Mentor: Samantha Zambuto
Michael Ding (ChBE)
Department Mentor: Aidan Gilchrist
Nathan Petrikas (ChBE)
Department Mentor: Tori Barnhouse
Sanha Kim (ChBE)
Department Mentor: Mai Ngo
Sarah Leary (Chemistry)
Department Mentor: Emily Chen
Andrey Nosatov (MatSE)
Department Mentor: Marley Dewey
Ioana Pintescu (MCB)
Department Mentor: Samantha Zambuto
Matthew Au (ChBE)
Title Mentor: Bhushan Madadik
Audrey Blazek (BioE)
Department Mentor: Emily Chen
Lily Buescher (ChBE)
Title Mentor: Sara Pedron Haba
Hannah Chait (ChBE)
Title Mentor: Alec Tiffany
Jill Ebens (ChBE)
Title Mentor: Rebecca Hortensius
Kevin Erning (ChBE)
Title Mentor: Dan Weisgerber
Michael Foley (ChBE)
Title Mentor: Bill Grier
Eileen Johnson (BioE)
Department Mentor: Marley Dewey
Elijah Karvels (ChBE)
Department Mentor: Mai Ngo
Allison LaHood (BioE)
Title Mentor: Emily Chen
Sarah Laken (BioE)
Title Mentor: Sara Pedron Haba
Patricia Li (CHBE)
Department Mentor: Sara Pedron
Jordan Meyer (ChBE)
Department Mentor: Bill Grier
Ashley Moy (BioE)
Title Mentor: Bill Grier
Harshita Polishetty (ChBE)
Title Mentor: Sara Pedron Haba
Amanda Pritchard (ChBE)
Title Mentor: Sara Pedron Haba
Matt Ramsey (BioE)
Title Mentor: Bill Grier
Ryan Rodgers (ABE)
Title Mentor: Laura Mozdzen
Shayta Roy (ChBE)
Title Mentor: Laura Mozdzen
Kirsten Schroeder (BioE)
Department Mentor: Aidan Gilchrist
Simona Slater (ChBE)
Department Mentor: Marley Dewey
Erik Steinbrenner (ChBE)
Title Mentor: Bhushan Mahadik
Jessica Vargas (Int. Biology)
Title Mentor: Rebecca Hortensius
Alan Vucetic (ChBE)
Title Mentor: Laura Mozdzen
Evan Willey (ChBE)
Department Mentor: Bhushan Mahadik
Gabrielle Wolter (BioE)
Department Mentor: Sara Pedron
Huiru Zhang (MatSE)
Department Mentor: Sara Pedron