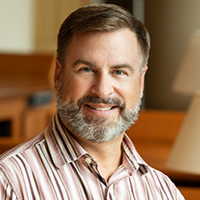 Joseph Hall-Ingram, a library specialist at Grainger Engineering Library was one of the sixteen civil service employees awarded with the Chancellor's Distinguished Staff Award (CDSA) by the University of Illinois Urbana-Champaign. The Chancellor's Distinguished Staff Award recognizes exceptional performance and with COVID-19, had honored employees, like Hall-Ingram, who have helped manage issues regarding the pandemic.  
Recipients of the Chancellor's Distinguished Staff Award are given $1,000 and an engraved plaque with their names that will be displayed in the Illinois Human Resources Office. Those who are qualified to be nominated have to be permanent staff members who have at least two years of service or retired employees who are in status appointments. Finalists are recommended by a committee, those of which are approved by Chancellor Robert Jones.
Library specialist Joseph Hall-Ingram performs duties including book preservation, responsibilities with library circulation, student worker supervision, and is the on-site facilities manager at Grainger Engineering Library. Nominated by Megan Johnson, another library specialist, she expresses how, "It can be hard to get the chance to ask Joe to do something, as he usually anticipates the need and is already in the process of finishing up the task by the time you think of it."
With the pandemic, Hall-Ingram developed a process that addressed COVID-19 concerns, including social distancing, that ultimately helped create a safe study environment. With low staff and more responsibilities that came with the pandemic, the implementation of a sign-in system for library patrons for seat reservations helped manage Grainger Engineering Library better. In the words of Johnson, "Joe took great pains to make sure the flow of patrons remained safe and manageable for all the staff…Joe often provides instructive input when we're tasked with new hurdles to overcome, but he doesn't just make suggestions; he's often the one who does the legwork to implement them as well."
Congratulations to Joseph Hall-Ingram on this outstanding accomplishment! Read more about the 2020 and 2021 CDSA Award Winners.