2018 AWARD WINNERS
The entries for this year's Undergraduate Image of Research Competition will be displayed at the annual Undergraduate Research Symposium on Thursday April 19th in the Illini Ballroom, Rooms A, B, and C, from 9:00 AM to 4:30 PM. All of the entries will soon be on display in IDEALS.
The winners of this years competition are as follows:
First place ($300 award): John Rossi
Fassi Tanner
This image, taken in the tanneries of Fes, was captured during my semester abroad in the kingdom of Morocco during Fall 2017. Despite departing to research political and economic effects of North Africa's Arab Spring, I also embarked on a journey to capture a glimpse of a hidden Morocco through my camera and to reflect the areas of my studies into my images. A visit to these tanneries will highlight the cross between the changing economics and cultures in the Maghreb, to those who look carefully. While Fes and its tanneries have operated as a knowledge hub and economic center for over 1,000 years, today they serve primarily as a tourist attraction, where visitors like those from Europe, America, and China can watch the workers and purchase souvenirs. As unemployment rises, especially among the Moroccan youth, more and more citizens take jobs serving tourists, both in the formal and informal sectors of the economy. NGOs, co-ops, and organizations such as the UN Economic Commission for Africa are working to spur sustainable, youth-centric development not only in Morocco but across North Africa and the rest of the continent. This image is a part of my "Morocco in Light" photo essay.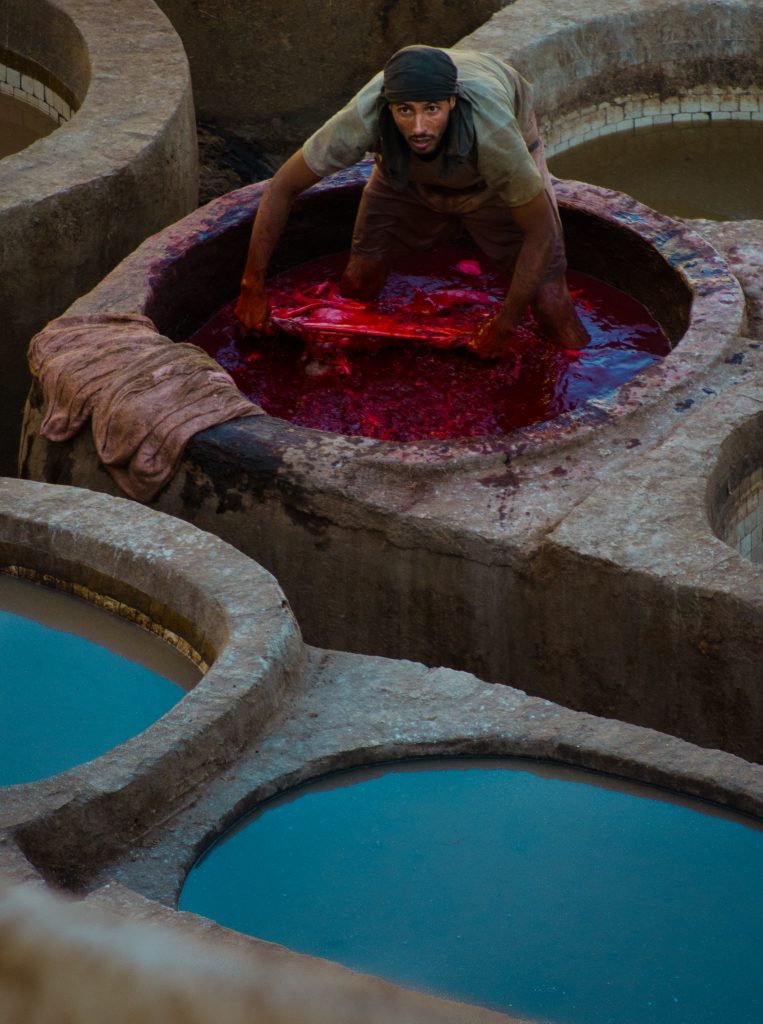 Second place ($200 award): Heer Majithia
Masquerading Jelly
Jellies, 97% water, are little more than pulsating bells with trailing tentacles. Yet, these creatures are remarkably varied in appearance and found in waters across the globe. The photograph depicts an SEM image of a ruptured microcapsule as the bell shaped body of the jelly as it releases the core material, which has been embellished with the tentacles along with the color for enhanced impact. Much like jellies, microcapsules are found in diverse environments and can have a wide range of applications from drug delivery and phase changing materials to cosmetics and cleaning supplies. Microencapsulation of materials is beneficial as it increases their stability and allows for controlled release of the encapsulated material. My work is focused on the fabrication of multi-responsive microcapsules which can be triggered to release the core material by multiple mechanisms while maintaining stability under ambient conditions.
Honorable Mention ($50 award): Nicole Jugovich
A Happy Accident
In the words of Bob Ross, "We don't make mistakes, just happy little accidents." The organic semiconductor crystals pictured in this image were the result of a "happy accident" in which I prepared a solution using the wrong solvent. I placed a drop of solution on a substrate, and this crystalline structure formed as the solvent evaporated. My research aims to deepen our understanding of how single crystals form and what causes crystals to adopt different characteristics. These organic semiconductor crystals may one day be used in many electronic devices. However, the crystal formation process must be studied more in-depth before these organic crystals can be used on a large scale. Some advantages of organic electronics over their traditional inorganic counterparts include their low cost and flexibility. Crystal research could not only potentially improve the overall quality of organic electronics, but it could also lead to the discovery of inexpensive, efficient ways to create these materials. With enough patience, optimism, and methodical research, perhaps the findings will be a happy "non-accident!"
Honorable Mention ($50 award): Elena Wilson
Kidney Kaleidoscope
This image represents the beauty and complexity of science, giving just a glimpse into the intricacies of the human body. Kidney stones are common, occurring in roughly 1 in 11 individuals, and are renowned for their excruciating pain and high costs to the healthcare industry. Each is a unique geologic record of development and dissolution, change and stability, art and science. Kidneys are responsible for ridding waste products from the body by making urine. Sometimes, minerals aggregate inside the kidney, making a stone and  blocking urine flow. The exact mechanism of kidney stone growth is still unknown. The multidisciplinary approach based on analysis of images like these gives information on crystallization patterns, allowing for a creation of a minute to minute record of stone development. This information has the potential to be applied to other mineralization pathologies in the body, such as gallstones, osteoarthritis and cholesterol plaques on blood vessels.
Congratulations to all of the winners and thanks to everyone who entered the competition!