Jeremie Smith, Outreach Coordinator at the Center for Global Studies (CGS), is collaborating with University of Illinois' alum, Betty Trummel, to develop a new College of Education study abroad course, Nordic Models of Education.  The study abroad course, designed especially for pre-service teachers and other College of Education students, will debut during the Spring of 2018.
This course development is supported by the Center for Global Studies, the European Union Center, and the College of Education. Jeremie and Betty are currently on a course-planning trip in Sweden, Finland, and Norway.  Jeremie will write blog posts during the course development trip to share his experiences and preview the course.
Read the full blog post at the European Union Center Teachers' Corner blog
___________________________________
Nordic education and the Sápmi region
by: Barbara Myers, M.A. European Union Studies
Program Coordinator, Center for Global Studies
Jeremie Smith is currently traversing the Sápmi on a course-planning trip, in search of conversations, connections, and experiences that will inform the development of a new study abroad course. The Sápmi region, which spans across Norway, Sweden, Finland, and the Russian Kola Peninsula, is the home of the indigenous Sámi people. Smith is visiting the Nordic countries of the region to meet with scholars and experts on Sámi culture and education. The Sámi are a semi-nomadic community, with a total estimated population of 70,000 to 100,000.[1] They have traditionally relied on a close relationship with nature to support their hunting, fishing, gathering, trapping, and reindeer herding enterprises, and their semi-nomadic lifestyle revolves around the seasons.
Residents of the Sápmi region have had a complicated relationship with the Nordic governments. Prior to World War II, Sámi education was largely conducted at boarding schools, where Sámi pupils were acculturated in the language and culture of the school's state. The Sámi fight for autonomy has led to several changes in their relationship with the Nordic governments. For instance, the Sámi Parliament Act of 1993 established the Swedish Sámi Parliament as a government agency and a popularly elected body, with responsibilities that include allocating state funds for Sámi organizations, cultural programs and other matters, and appointing the board of directors for Sámi schools in Sweden.
Sámi educators are faced with the challenge of transmitting their culture and knowledge under what American educators might consider unconventional conditions. In Sweden, the decentralized structure of the school system leaves education providers responsible for teaching materials. The Swedish government provides remittances to the Sámi Education Board and the National Agency for Education to produce Sámi-language teaching materials, which can be hard to come by. According to recent reports from the Council of Europe on the European Charter for Regional or Minority Languages and Sweden, some Sámi educators have taken it upon themselves to translate and dictate books for instruction.[2] Up to 70% of Sámi children under 10 do not reside in the Sámi education area, and the semi-nomadic lifestyle can challenge American notions of a typical school day or term.[3]
Despite these challenges, educators in the Sápmi region endeavor to provide instruction and guidance to their students through Nordic models of education. These models are tied to the Nordic Theory of Love—independence, individualism, self-reliance—as well as the Nordic social welfare state. In his posts about his trip, Smith details how his experiences in the Sápmi region informed the development of the new study abroad course, Nordic Models of Education.
Map of Sápmi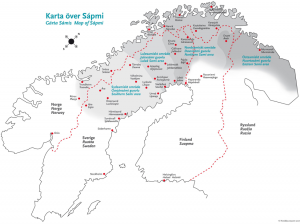 Source: Nordiska Museet website http://www.nordiskamuseet.se 
Additional Reading
Berggren, H., & Lars Trägårdh, L. (2010). Pippi Longstocking: the autonomous child and the moral logic of the Swedish welfare state. In H. Mattsson & S. Wallenstein (Eds.), Swedish Modernism: Architecture, Consumption, and the Welfare State (pp. 10-23). London: Black Dog Publishing.
Gaski, H., & Weinstock, J. (n.d.). Sámi Culture in the Nordic Countries – Administration, Support, Evaluation. Retrieved May 10, 2017, from http://www.laits.utexas.edu/sami/dieda/hist/nordic.htm
Kristinsson, A. P., & Hilmarsson-Dunn, A. (2012). Unequal language rights in the Nordic language community. Language Problems and Language Planning, 36(3), 222-236. doi:10.1075/lplp.36.3.02kri
Partanen, A. (2017). Nordic Theory of Everything: in search of a better life. New York: HarperCollins.
[1] Anaya, J. (2011, January 12). Report of the Special Rapporteur on the Situation of Human Rights and Fundamental Freedoms of Indigenous People to the United Nations Human Rights Council.
[2] Council of Europe. (2014, May 16). Committee of Experts' Evaluation Report: Sweden.
Council of Europe. (2013, October 10). State Periodic Report: Sweden.
[3] UN report calls for Sami language boost. (2011, January 18). Retrieved May 10, 2017, from https://www.euractiv.com/section/languages-culture/news/un-report-calls-for-sami-language-boost/