Upcoming Events:
Thursday, March 8, 2018 – 4:00 pm, Knight Auditorium, Spurlock Museum
600 South Gregory, Urbana
University of Illinois at Urbana-Champaign
Title "The Postgenomic Condition: Justice, Knowledge, Life After the Genome"
By Jenny Reardon
Professor of Sociology, University of California, Santa Cruz

Abstract: While the sequencing of the human genome was a landmark achievement, the availability and manipulation of such a vast amount of data about our species inevitably led to questions that are increasingly fundamental and urgent. Now that information about human bodies can be transformed into a natural resource, how will we—and should we—interpret and use it? This talk draws on more than a decade of research—in molecular biology labs, commercial startups, governmental agencies, and civic spaces—to examine how genomics may be transformed from an information science practiced by a few well-financed scientists and engineers in the West, to a struggle for membership in twenty-first century societies embraced by peoples all over the world.
Hosted by: Department of Media & Cinema Studies
In conjunction with:
Beckman Institute for Advanced Science and Technology
Carl R. Woese institute for Genomic Biology
College of Media
Critical Technology Studies Lab, NCSA
Illinois Program for Research in the Humanities
Learning to See Systems INTERSECT Group
Recovering Prairie Futures Research Cluster
School of Information Sciences
Spurlock Museum
Series support provided by:
Office of the Chancellor
Office of Diversity, Equity, and Access
Office of the Provost and Vice Chancellor for Academic Affairs
Office of the Vice Chancellor for Research
Office of the Vice Chancellor for Student Affairs
Center for Advanced Study
George A. Miller Endowment
Ledyard R. Tucker Fund
Peggy Harris Memorial Fund
The Council of Deans
The David Gottlieb Memorial Foundation
The Graduate College
For more information, please consult cas.illinois.edu or call 217-333-6729
Past Events:
Tuesday, November 28, 2017 1:00-3P, NCSA 2100
Prairie Futures Research Cluster Meeting. Featuring:
Wednesday, November 14, 2017 1:30-3P, NCSA 2100
Prairie Futures Research Cluster Meeting. Featuring:
Friday, October 27, 2017 – 11:00 am -12:00 pm, Auditorium 1122,
National Center of Super Computing Applications (NCSA) 1205 W Clark St, Urbana, IL
On the University of Illinois at Urbana-Champaign campus.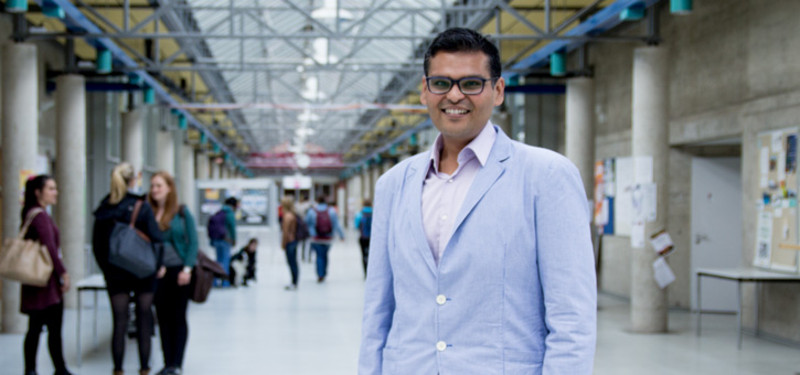 Nishant Shah, Dean of Research, ArtEZ University of the Arts
Title "Of Pagans, Pirates, and Perverts: An arbitrary history of the computed"
Friday, October 27, 2017 – 11:00 am -12:00 pm, Auditorium 1122, National Center of Super Computing Applications (NCSA) 1205 W Clark St, Urbana, IL
On the University of Illinois at Urbana-Champaign campus.
See the Design Dialogues Series final poster here.
Read the campus news announcement here.
See photos of Dean Shah's visit here.
Abstract: The presence of the computer as a device ties us into a fetishistic historicization that centres around the materiality of computing. The various trajectories that emerge from this history making follow the tropes of machine-in-the-making, man-making-machine, and machine-triumphs-all narratives that often invoke socio-cultural and humanistic contexts but focus on the emergence, assembly, and production of the computer. Invisible, even in the divergent geographies and approaches, through all these stories of the computer, of computation, and of computing, are the voices of the computed. The genesis myth of computing as a disruptive emergence belies the affective histories of effective technologies for control and domination that form the legacy of contemporary computation. In this talk, drawing from post-colonial literature around penile pagans, archives of pirated preservation, and the first order of perverted logic that informs theories of cybernetics, I present a different history of computation – a history of the computed. Through these cases, I propose a fruitful way in which Humanities and Arts need to engage with the material, coded, and technological black box of computing.
Bio: Nishant Shah is Dean of Research at ArtEZ University in the Netherlands. He is co-founder and board member of the Centre for Internet & Society in Bangalore, India, and is a professor at the Institute of Culture and Aesthetics of Digital Media at Leuphana University in Germany, where he teaches in fields such as Digital Humanities, Computer-Human Interaction and Information and Communication Technologies for Development. His work on technology, identity and social and political movements focuses on the question of how we can remain human in a technological environment.
Wednesday, October 18, 2017  12:30-2P, NCSA 2000
Prairie Futures Research Cluster Meeting. Featuring:
Friday, September 22, 2017  11:00A, NCSA auditorium
NCSA Colloquium: "Proxy Politics: From Global Climate Change to Racial Profiling".
Featuring:
Wendy Chun (Professor of Modern Culture and Media at Brown University)
Tuesday, September 19, 2017  1:30-3P, NCSA 2100
Prairie Futures Research Cluster Meeting. Featuring:
Laura Kalman (of Studio Helix, and UIUC Electrical Engineering grad in 1991)
Friday, September 15, 2017  03:00-4:00P @ Beckman Institute. Auditorium, Room 1025
Beckman Institute and 21st Century Scientists: "The Future is for Everyone".
Featuring:
Rose Eveleth (Producer, designer, writer, and animator based in Brooklyn)
Tuesday, May 9, 2017.
Prairie Futures Research Cluster Meeting. 1:30-3P. Featuring:
Tuesday, April 4, 2017.
Prairie Futures Research Cluster Meeting. 1:30-3P. Featuring:
Tuesday, March 7, 2017.
Prairie Futures Research Cluster Meeting. 1:30-3P. Featuring:
Friday, March 3, 2017.
Lucy Suchman, Professor and Chair in the Anthropology of Science and Technology in the Department of Sociology –  Lancaster, United Kingdom, "Relocating Innovation: Places and material practices of future making," 11A-12P, NCSA Auditorium (1205 W Clark St, Urbana) // See the recording of the talk here and photos of Dr. Suchman's visit here. 
Download poster copy here.
Abstract: This talk explores the question of how we might engage both critically and generatively with the contemporary figure of innovation.  I suggest as one resource the concept of location, as it has been articulated within anthropological, feminist, and (post)colonial research.  I take as a starting place the premise that we cannot think about innovation separately from the political, economic, and disciplinary histories that imbue that word with its currency.  More specifically, we need to attend to the ways in which the professionalisation of design in the last century, in the midst of kindred projects in modernist rationalisation, has included a legacy of hegemonic claims to the question of what and whose knowledges are relevant to our collective future making.  Only by engaging critically with that history can we extricate ourselves from what are arguably the extraordinarily repetitive terms that have been available to us for articulating processes of change.  In writing about innovation's relocation, my argument is that design needs to acknowledge the specificities of its place, to position itself as one (albeit multiple) figure and practice of transformation.
Lucy Suchman holds a Chair in the Anthropology of Science and Technology at Lancaster University and was Principal Scientist at Xerox's Palo Alto Research Center, where she spent twenty years and was manager of the Work Practice and Technology research group. Her books, Human-Machine Reconfigurations (2007) and Plans and Situated Actions: The Problem of Human-Machine Communication (1987), both published by Cambridge University Press, have been recognized for providing intellectual foundations in the fields of human-computer interaction (HCI) and artificial intelligence. In 2002 she received the Benjamin Franklin Medal in Computer and Cognitive Sciences and the 2010 ACM SIGCHI Lifetime Research Award.
Tuesday, February 7, 2017.
Prairie Futures Research Cluster Meeting. 1:30-3P. Featuring:
Tuesday, December 6, 2016.
Prairie Futures Research Cluster Meeting. 1:30-3P. Featuring:
Friday-Saturday, December 2-3, 2016.
"Innovation in the Global Midwest"
Humanities Without Walls and Prairie Futures
Biological Computer Laboratory (BCL) Gathering, photos available
Tuesday, November 1, 2016.
Prairie Futures Research Cluster Meeting. 1:30-3P. Featuring:
Tuesday, October 4, 2016.
Prairie Futures Research Cluster Meeting. 1:30-3P. Featuring:
Tuesday, September 20, 2016.
Geof Bowker, Professor, School of Information and Computer Sciences, UC-Irvine: "The Data Citizen: New Ways of Being in the World." 4:00-5:30P, NCSA Auditorium. *Reception to follow. // See the recording of the talk here and photos of Dr. Bowker's visit here and here (courtesy of C. Yang).
Abstract: For all its hype, the phenomenon of big data and its attendant analytics is nevertheless changing what it means to be human. This talk explores the ontological dimensions of this change with a view to teasing out the impacts of its long term historical trajectory and the ethical design issues which arise.
Download poster copy here.
Geoffrey C. Bowker is Professor at the Donald Bren School of Information and Computer Sciences and Director of the Values in Design Laboratory at the University of California, Irvine. From 1993-1998, he was faculty at the University of Illinois at Urbana-Champaign's School of Information Sciences, and was a faculty affiliate of the National Center for Supercomputing Applications from 1998-1999. He currently co-directs the NSF-funded Council for Big Data, Ethics, and Society with researchers from across academia and the IT industry. He has published widely on the topics of information infrastructure, classification systems in distributed scientific collaborations, and the use of web and digital resources across disciplines.
Thursday, September 15, 2016.
Donna Cox, "The Unofficial History of Visualization," as part of the Pygmalion 2016 Festival. In the beginning of computational science, NCSA was positioned at the epicenter for U.S. supercomputing and established itself as a recognized leader in scientific visualization. Professor Donna Cox has been a faculty affiliate with NCSA since its inaugural days in 1985. As an Assistant Professor at the School of Art and Design, she helped established some of the first scientific visualization research at the Center and helped bring Hollywood computer graphics experts to the 'Silicon Prairie' in 1986 to form the first visualization group. She will share a plethora of early photos, images, and movies that show the pioneering efforts from the University of Illinois and NCSA. These include early collaborations with UIC's Electronic Visualization Lab and NCSA's participation in the world premiere of Televisualization: Science by Satellite between Boston and Illinois at the SIGGRAPH 1989. In addition, NCSA participated in the CyberFest '97 Gala at Krannert Center with Roger Ebert that marked the beginning of Ebertfest. Early Internet animations, Mosaic news screens, and seminal Virtual Reality from the 90's will infuse the presentation. Cox is co-editing a historical book that characterizes the potent Midwestern post-WWII environment that led to revolutionary technological research and economic change at the University of Illinois. NCSA has played an important role since its inception to present day.
Tuesday, September 6, 2016
Prairie Futures Research Cluster Meeting. 1:30-3P. Featuring:
Tuesday, May 3, 2016.
Prairie Futures Research Cluster Meeting w/ Jenny Amos (Bioengineering), "The Importance and Impact of Assessment." 1:30-3P, in room 2100 of the NCSA. Slides available at: JennyAmosmos_PrairieFutures_Assessment.
Friday, April 22, 2016
Anne Balsamo, Dean of the School of Media Studies at The New School in New York City: "Designing Culture: Creating Multidisciplinary Collaboration." 11A-12P, NCSA Auditorium. *Breakfast reception at 10:15a. // See photos of Dr. Balsamo's visit here (courtesy of J. Ginger).

Abstract: How does inter-disciplinarity impact innovation? Anne Balsamo shares an approach to the study and practice of technology-based innovation, to demonstrate how the real business of innovation is the reproduction of culture over time and over place. She discusses the role of the humanities and sciences in cross-disciplinary collaborations that focus on the creation of new technologies. And she explores how – given that the humanities seriously considers questions of ethics, cultural and social good, and intentional future-making – there is an important role for humanists in the process of creating new technologies.  Download Poster copy here.
Tuesday, April 5, 2016.
Prairie Futures Research Cluster Meeting. 1:30-3P, in 231 Gregory Hall.
Monday, April 4, 2016.
Veronika Scott Lecture: Designing Solutions to Homelessness and Unemployment – Social Innovation Changemaker Lecture Series, 5:00 – 6:15 pm, Room 62, Krannert Art Museum 500 E. Peabody Dr, Champaign, IL. The Empowerment Plan, founded by Veronika Scott, hires homeless women from local shelters to become full time seamstresses— making a coat that transforms into a sleeping bag, which is then provided free to homeless people. This has created 30 jobs and provided more than 10,000 coats to homeless people across North America. Join the 7 million+ people to watch this introduction video to the Empowerment Plan. Veronika is the youngest recipient of the JFK New Frontier Award, and has won the IDEA Gold Award, the People's Voice Award, is one of Forbes 30 Under 30 and CNN's 10 Visionary Women. The organization has been featured at World Summit on Innovation and Entrepreneurship, the Forbes 400 Philanthropy Summit, and by Melinda Gates and Oprah.
Thursday, March 31, 2016.
Ken Anderson of Intel will be presenting an Anthropology Department colloquium at 3:30PM in 109A Davenport Hall, titled "An Engine not a Camera — an Anthropologist in Technology."
Monday, March 28, 2016.
Disnovation and The Pirate Book: Visiting Artist/Designer Talk @ 5pm, 224 Art + Design. Paris-based artist Nicolas Maigret and Maria Roszkowska: will talk about their projects Disnovation and The Pirate Book, examining the mechanics and rhetoric of innovation, the historical contexts of media piracy, and how artists, designers, and thinkers are exploring these topics through speculations, diversions, and technological disruptions. Disnovation Research is a project inquiring into the mechanics and rhetoric of innovation. Considering the "propaganda of innovation" as one of the ideological driving forces of our era, it aims to explore the notions of technological fetishism and solutionism through speculations and diversions by artists and thinkers. The Pirate Book offers a broad view on media piracy as well as a variety of perspectives on recent issues and historical facts on the topic.
Friday, March 18, 2016
Celebrating Women in New Media Arts. 9:30 a.m.–4:30 p.m. SAIC Ballroom, 112 S. Michigan Ave., Chicago. This one-day symposium will provide a reflective context to examine the achievements of women in the field of media art and emerging technologies from the 1980s onward. The event celebrates the upcoming release of the new book from the University of Illinois Press, Women in New Media Arts: Perspectives on Innovative Collaboration, edited by Donna Cox, Janine Fron, and Ellen Sandor. Symposium participants include Tiffany Holmes, Dean of Undergraduate Studies and book contributor; Lisa Wainwright, Dean of Faculty; Ellen Sandor (MFA 1975, HON 2014), book editor and contributor; Donna Cox, book editor and contributor; Janine Fron, book editor and contributor.
Tuesday, March 8th, 2016.
Prairie Futures Research Cluster Meeting. 1:30-3P, in 231 Gregory Hall. We'll be hosting the head of the ECE Alumni association, Mike VanBlaricum, who graduated (as did his wife) from the College of Engineering in 1975/76. He'll be speaking on the role of diversity, multi-disciplinary pedagogy and student organizing in the College of Engineering and on campus more generally during his time as a student – and sharing some of his observations on what's changed, and where some room for change may still lie.
Bio: Mike VanBlaricum received his B.S., M.S., and Ph.D. in electrical engineering from the University of Illinois in 1972, 1974, and 1976, respectively. He, along with his wife, Pam, chaired Engineering Open House – the largest student run event at the U of I – in 1972. Dr. VanBlaricum has been a research engineer in Santa Barbara, California since 1976. He served as CEO and CFO of Toyon Research Corporation, and holds two patents. He received the University of Illinois Electrical and Computer Engineering Department's Distinguished Alumni Award in 2006, and was awarded the University of Illinois Alumni Association's Lou Liay Spirit Award in October 2014. He is a co-founder and president of The Ian Fleming Foundation (IFF), a nonprofit corporation dedicated to the preservation of the legacy of Ian Fleming, his literary works, and his impact on the culture of the 20th Century. He was the Guest Curator for The Birth of Bond: Ian Fleming's Casino Royale at 60 at the University in April – June, 2013. He is president of the Spurlock Museum Board of Trustees;

 president-elect of the U. of I. Electrical and Computer Engineering Alumni Board; a

 member of the School of Music's National Advisory Council; 

a member of the University of Illinois Foundation and President's Council; and

is currently working with faculty and students on the Illinois Distributed Museum, which he conceived of as a means to showcase the innovations at Illinois by linking exhibits, markers, documents, and other information across the campus and via the Internet. His collection of poems, Reflections in a Boomer's Eye: Poems and Musings, was recently published.
Sunday, March 6, 2016
Mitch Altman's Arduino for Total Newbies Workshop, at 1:00pm – 4:30pm, UCIMC, 202 S. Broadway Ave. Urbana, IL 61801. We're excited to welcome back makerspace traveler exstordinair Mitch Altman for an exciting workshop where you can learn about Arduino's and build a TV-B-Gone as an example project.If your excited about electronics and/or making cool things this is the workshop for you! No previous experience or knowledge required. You don't even need to know what an Arduino is!
Saturday, March 5th, 2016
UIUC Art + Feminism Wikipedia Edit-a-thon, Ricker Library, 1-5PM, will take place in the Architecture Building (Rooms 102 A&B). The event is open to students, faculty and the public.  Please join us for a fun event that brings together diverse communities to create and improve Wikipedia articles related to women in the arts–art, architecture, design, landscape architecture and related fields. Despite its wide reach, Wikipedia suffers from a severe gender imbalance: since most editors are men, articles conform to men's interests and perspectives. In an effort to change this, we are gathering a diverse group together to celebrate women's cultural achievements. We will provide tutorials for Wikipedia newcomers, reference materials, and snacks. Bring your laptop, power cord, and ideas for entries that need updating or creation. Stop by for a little bit or stay for the whole afternoon. No Wikipedia editing experience necessary!
Friday, March 4, 2016
Department of Communication Colloquium: Joseph Cappella, University of Pennsylvania
Lincoln Hall, Room 1002, 3:30p. "Pro and Anti-Tobacco Information in the Media Environment: Understanding the Impact of Selection, Transmission, and Public Input" — Abstract: Since April 1, 1970 and the Master Settlement Agreement of 1998, tobacco advertising and promotions have been significantly curtailed. With the advent of social media, however, tobacco ads, promotion and information common across social media platforms have come to outweigh the amount of anti-tobacco messaging. The research presented will focus on the influence of YouTube commentary on tobacco control messaging; the role of persuasiveness in the circulation of healthy messaging; and in the impact of commentary on policy debates about tobacco.
Thursday, March 3, 2016
NCSA: Celebrating 30 Years with NCSA Day at Spurlock Museum, 600 S. Gregory, Urbana. Events all day, celebrating NCSA's 30th anniversary. Take advantage of special extended museum hours of 9 a.m. to 9 p.m. to view all the museum's exhibits, including the new NCSA exhibit that even includes a Cray 2 supercomputer! Enjoy hors d'oeuvres from 4:30-7 p.m. and visit with former Cray engineers who worked on the Cray 2, including current NCSA employee Jim Long. Then at 7 pm. renowned physicist and inventor of the warp drive, Miguel Alcubierre will give a talk in the Knight Auditorium of the Spurlock Museum.
Monday, February 29, 2016
Part II: Wikipedia Editing Editing Basics Workshop with Veronica Paredes. Time: 3:00-4:20P (Central time)/ 4:00-5:30P-EST (with Anita Chan's MDIA590: Co-Design Seminar). * Will feature hands-on editing involving genealogies of UIUC institutional histories. If you are interested in participating please email achan@illinois.edu by 12P-CT on Mon., Feb. 29. For local participants, we will meet at the Student Life and Culture Archive (Horticulture Field Laboratory/ Archives Research Center/ 1707 S. Orchard Street. From campus, take the Teal (12E) bus departing from Illini Union at 2:40p (or 2:20p, buses depart every 20 min). For virtual participants: Please email femtechnetinquiries@gmail.com for the Blue Jeans Room link.
Thursday, February 25, 2016 at 12P, Sharon Irish is introducing and helping to guide a discussion with Harry Boyte, Senior Fellow at The University of Minnesota's Humphrey School of Public Affairs, who will be speaking at the IPRH on "Public Humanities and the New Civic Studies." Optional readings are available in advance of tomorrow afternoon's talk, as well.