Do you drop what you're doing to catch a glimpse of a majestic hawk? Do you find yourself following a flash of feathers for hours? Do you have bird cams bookmarked on your laptop? Are you constantly on the lookout for more quality bird content? You've come to the right place! The University Library ha a ton of resources to help you learn more about our feathered friends. As a fellow bird lover, I've put together a list of some great bird inspired books and a few resources to further fuel your bird obsession!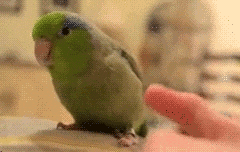 For The Local Birdwatching Fan
American Birding Association Field Guide to Birds of Illinois
Have you ever wanted to learn more about the birds around campus? This field guide to the birds of Illinois lets you identify and learn about more than 315 bird species. It includes tips on when and where to see birds and it includes clear identification information. It also includes more than 500 color images!
For the Science Buff 
Maybe being a birdbrain isn't so bad?
Birds are remarkably beautiful, but did you know that they are also intelligent? New research suggests that birds are capable of abstract thinking, problem solving, and can even communicate with humans. In The Genius of Birds, author Jennifer Ackerman presents us with new discoveries about bird intelligence and their astonishing accomplishments.
For the Documentary Lover
Fans of nature documentaries know that David Attenborough has spent his life learning and sharing his discoveries with viewers around the world. In The Life of Birds, Sir David introduces readers to birds from around the world. He follows them as they learn to fly, find food, communicate with each other, find mates, and start families of their own. After reading his book, make sure to check out the accompanying video documentary !
For the Serious Birder

In 2015, Noah Strycker became the first person to see half of the world's birds in one year. He traveled across 41 countries and all seven continents. He successfully spotted 6,042 species, setting the record for the biggest birding year on record. Follow Noah on his trip as he pursues the most common finch to the most elusive birds on the planet.
For the Not So Serious Birder
Birding Is My Favorite Video Game: Cartoons about the Natural World From "Bird and Moon
Birding is My Favorite Video Game collects fun, colorful, sort of educational bird comics that combine science facts, super cute visuals, and a lot of wit. Based on the popular webcomic Bird and Moon, this collection helps bird lovers learn about their favorite birds.
 For the Literary Birder 
Helen Macdonald's father's sudden death left her devastated.  Helen turns to her fascination with hawks as a way to cope with her grief. She sees herself in the fierce temperament of the goshawk and she resolves to purchase and raise this majestic creature.
Part nature writing and part memoir this heart-wrenching and humorous book navigates the intricacies of bereavement, obsession, madness, and memory.
For the Bird Lover Who Likes a Little Bit of Everything
The Bedside Book of Birds: An Avian Miscellany
With both a passion for birds and words, novelist Graeme Gibson spent 15 years creating a stunning collection of our admiration for birds. Birds appear over and over in our poems, art, and works from some of our most celebrated authors. This gorgeously illustrated book offers birders a glimpse into just how much birds have inspired and continue to intrigue us.
For Music Lovers
Did you know that Mozart had a pet starling? On May 27th, 1784, Wolfgang Amadeus Mozart met a starling and instantly knew they were kindred spirits.  He took the bird home and for three years Mozart and his starling enjoyed music together. In Mozart's Starling, author Lyanda Lynn Haupt explores this unlikely bond as well as her own friendship with a rescued starling.
For the History Buff
Why Did the Chicken Cross the World?: The Epic Saga of the Bird that Powers Civilization
We often forget about one of the most important birds in our own history — the chicken. Chickens have played a pivotal role in civilizations from the beginning of ancient empires to our modern economic system. Throughout our history chickens have worn several hats, as messengers of the gods, gambling aids, medicine, inspiration for bravery and the harbingers of evil. Journalist Andrew Lawler follows the chicken's history and its impact on all our lives as well as an exploration on the chicken's humble beginnings.
After taking a look at some of our recommendations, check out other bird happenings around the library!
Did You Know?
In June 1987 the Library Friends purchased two copies of the limited edition 1985 Abbeville Press facsimile of the double elephant folio. Each week the plates on display are changed in order to show as much of the collection as possible! Go up to the second floor of the Main Library or look at them or browse the plates through The University of Pittsburgh's digitized collection!
Bird Bonanza
 Vote for your favorite Audubon Bird! Starting March 13, The Audubon Birds will be going up against each other for #BirdBonanza. Go to the University Library Facebook page to vote!
Written by: Loida
Posted by: Loida