Jacinto Ariel Pérez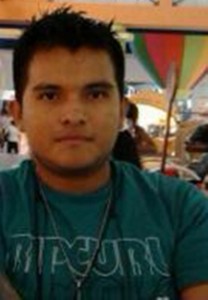 I graduated from the University of Panama with a Bachelor's degree in Biology oriented in Microbiology and Parasitology. I have attended different courses offered by STRI, such as the International Course of Introduction to the Biological Field Sciences in 2010 and the Princeton University Field Semester in Panama, during February – May 2011. I have some experience in identification and handling of wild animals and plants, as well as knowledge on basic chemical processes. I am interested in the impact of microorganisms on the dynamics of populations. As part of my undergraduate thesis, I conducted a study working on the Detection of Intestinal Parasites in Wild Mammals in the Soberanía National Park, Panama, where I observed the diversity of parasites present in the specimens captured. I aspire to obtain a Master's degree or PhD in the future and to continue doing research in the Tropics.
Elizabeth Ryan
Elizabeth Ryan is a graduate of Brown University ('13) with a B.S. in Environmental Science  and a B.A. in Architectural Studies. For her Ecology undergraduate thesis she worked with Professor Dov Sax and Michael Dosmann (Harvard University's Arnold Arboretum) to better understand how plant species ranges will respond to climate change. She is interested in pursuing graduate studies in conservation biology and ecology. She is also a distance runner currently sponsored by New Balance Panama.
Venus Kuo
I pursued a major in Integrative Biology Honors and Chemistry University of Illinois at Urbana-Champaign. I became broadly interested in the ecology of plant-microbe interactions after working an undergraduate research in the Dalling lab of plant ecology. Shortly afterwards in the summer of 2014, I received an REU internship in Barro Colorado island to assist with an ongoing project examining seed defense strategies and seed-associated fungi of long-persisting Neotropical pioneer trees. I endeavor to explore questions relating to soil seed bank ecology in my future graduate plans. Currently, I am a PhD student in the Evolution, Ecology and Behavioral program at Indiana University in Bloomington.
Lilian Hislop
Lily is an undergraduate student at the University of Illinois at Urban-Champaign finishing her undergraduate degree in Bioengineering with a concentration in Computational and Systems Biology. She participated in the STRI-REU program during the summer of 2015, based on Barro Colorado Island. During ten weeks, Lily explored the effects of fungal infection on seed viability and germination.
Carolyn Delevich
I am a recent graduate of The Ohio State University with a Bachelor of Science in Biology. Having experienced a lot of facets of biological study, including working in an avian bioacoustics lab, an herbarium, and later a neuroscience lab, my interest in ecology has always persisted as most influential. I traveled to Panama in 2012 as part of a field course and was drawn back to continue to enhance my interest in my favorite field of biology, tropical ecology. In working with seeds and being surrounded by many areas of research on BCI, I hope to develop the experience necessary to continue on to pursue higher education.
Christina Czekala
Christina received her B.S. in Molecular and Cellular Biology and Chemistry in 2013 from the University of Illinois at Urbana-Champaign. During her time at the university and for some time afterwards, she worked with Adam Davis on several projects in weed science, crop management and environmental systems (Miscanthus invasiveness, PZM system, and the seed defense project). Being part of the seed defense project at the University of Illinois involved doing work with seeds sent from Panama, such as Instron seed force testing, scanning electron microscopy, among others. During the summer of 2014, Christina took the opportunity to travel to Barro Colorado Island, Panama to learn more about the project and apply the different techniques used in processing seeds. Currently, Christina is attending Lakeview College of Nursing in Danville, IL to receive her B.S. in Nursing.  She has always had a passion for providing care to those in need and hopes to participate in medical missions. Christina also plans to return to the tropics someday whether it be for travel, research, or medicine.
Luis Carlos Beltran
I am an undergraduate student at Lake Forest College (IL) pursuing a double major in biology and environmental studies. After interning at the Monteverde Institute in Costa Rica for a couple months, I realized that my passion for the life sciences is heightened when I venture out into the field and look for mysteries to challenge. For instance, while in Monteverde, I took some time to investigate the history and construct a phenology for Myrcianthes "black fruit", an endemic canopy tree species that has seldom been researched despite its rarity. I am fairly experienced in plant identification and plant handling as a result of intensive forestry classes and experience obtained on BCI when I assisted in the harvest of an experiment examining the effects of nutrient additions on mycorrhizal communities. While I have various interests, I currently am focused on discerning the adaptive value of myxospermy on the seeds of Guazuma ulmifolia.
Kayla Garcia
I am a junior majoring in Microbiology with a minor in Environmental Science at the University of Arizona. Since joining the Arnold Lab in early 2013 my focus has primarily been centered on examining relationships of endohyphal bacteria of seed-assoicated fungi. During the summer of 2013, I assisted with the project examining seed-associated bacteria of neotropical pioneer trees, on Barro Colorado Island, Panama. In addition, I participated in the Minority Health Disparities program, and attended the Mycological Society of America Conference, where I presented the findings of my research project examining the relationships of seed-associated bacteria and endohyphal bacteria of seed-associated fungi. Post graduation, I intend to go to graduate school to continue my academic studies and research.
Abby Robison
Abby is finishing her last year at Butler University in beautiful Indianapolis, IN. She studies both Biology and Anthropology, and completed her Chemistry minor requirements in 2012. Participating in the Dalling lab in Panama was Abby's first experience with hands-on biological research. While stationed in Gamboa and on BCI, Abby learned many important techniques in the lab and the field. Abby's future may hold a return to Panama to continue work on the Dalling project. She plans to attend graduate school for a combined program in Public Health and Public Policy. Abby hopes to continue her well-loved connection to biology with labwork during graduate school.
Daniel Roche
Danny received his B.S. in Integrative Biology in 2012 from the University of Illinois at Urbana-Champaign. During his undergraduate career he did research with Alison Bell using threespine stickleback to model a variety of different behavioral topics, focusing on the role of maternal effects in antipredator behavior and, to a greater extent, learning. Danny worked in the project from August 2012 to Noviembre 2013, and is now working in a manuscript with results from a side project he did while at BCI.
Ignacio Quintero
Ignacio Quintero Mächler obtained his undergraduate degree in Biology at the Universidad de los Andes in Bogotá, Colombia. Subsequently, he did research with John J. Wiens at Stony Brook SUNY. He is interested in evolutionary biology, and especially the interaction of phylogeny, species distributions, and diversification with ecological, physiological, and behavioral traits. His current research emphasizes on macro scale evolutionary and ecological dynamics, aiming to disentangle environmental and population dynamics that contribute or account for speciation processes; in addition, he has an immense interest to conduct research on conservation biology. Ignacio is now a graduate student at Jetz Lab in Yale University.
Kayla Arendt
I received my B.S. in Biology and Genetics from UW-Madison in 2009. During my time there, I worked with Sara Patterson to study genes regulating cellular abscission in Arabidopsis. I have joined the Arnold lab and Gilbertson Herbarium at the University of Arizona where I worked as a technical assistant and curatorial assistant on studies of fungal biodiversity in boreal, temperate, and tropical regions. I am currently a Masters student at the Arnold Lab.