Preliminary study of cave sample storage conditions on fungal community diversity.
Abstract:  We investigated the effect of varying storage time and storage temperature on fungal species' isolation as part of a case study of Illinois cave sediment samples. A deeper understanding of cave fungal communities may influence eco-epidemiology studies of emerging or re-emerging cave fungal pathogens. Using culture-dependent techniques, we isolated geophilic fungi from homogeneous cave sediment samples from three Illinois caves. Each sample was stored under five different temperatures ranging from −80 °C to 22 °C. Cave sediment was periodically removed at five different time periods from 48 h to 1 year, serially diluted with distilled water, lawn plated onto two different media, and monitored for fungal colonies. We isolated colonies and confirmed identity through nrDNA sequence similarity. Our results suggest that storage time was more important than storage temperature for the isolation of a wide diversity of geophilic fungal taxa. Importantly, our results show that varying storage conditions will alter both the kind of taxa and abundance of those taxa, suggesting that comparative studies of fungal diversity across studies should employ similar storage conditions. Lastly, future investigations should utilize multiple genetic markers because the fungal barcode region lacked species-level resolution for many isolates within common Illinois geophilic fungal genera.
Raudabaugh DB, Rivera NA, Anchor GC, Bach E, Miller AN, Mateus-Pinilla NE. 2021. Preliminary study of cave sample storage conditions on fungal community diversity, Diversity 13,188. https://doi.org/10.3390/d13050188
---
Trash to treasure: assessing viability of wing biopsies for use in bat genetic research.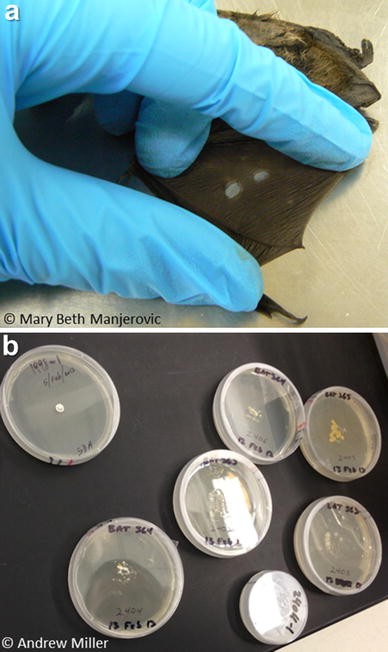 Abstract:  The outbreak of white-nose syndrome in North American bats has resulted in massive data collection efforts to characterize the fungus, Pseudogymnoascus destructans. Wing biopsies routinely are collected from live bats, placed in agar media to culture the fungus, and ultimately discarded. We tested whether these discarded tissues represent a viable source of host bat DNA. We found no difference in DNA concentration and no reduction of DNA quality between samples that were extracted immediately compared to samples placed in agar for fungal culture. Although recovered quantities were low, concentrations increased using a cleanup kit. Our study suggests samples collected from live bats can be leveraged across disciplines to further our understanding of bat genetics and the impact of white-nose syndrome.
Manjerovic MB, Green ML, Mateus-Pinilla NE, Miller AN, Novakofski J. 2015. Trash to treasure: assessing viability of wing biopsies for use in bat genetic research. Conservation Genetic Resources, 7 (2): 325-327 [pdf]
---
A Survey for West Nile Virus in Bats from Illinois.
Abstract: A blocking enzyme-linked immu-nosorbent assay was used to test 97 serum samples from big brown bats (Eptesicus fuscus)captured in six counties in Illinois between May2002 and February 2004 for West Nile virus(WNV) antibodies. One female big brown bat tested positive for WNV antibodies. Samples of kidney, liver, and heart tissue were collected from 312 bats of seven species that were submitted to the Illinois (USA) Department ofPublic Health or the Illinois Department ofAgriculture diagnostic laboratories betweenJanuary 2001 and December 2003. Tissue samples were tested for WNV using TaqMan reverse transcriptase polymerase chain reaction and all were negative. Prevalence of WNV antibodies in the bats (1%) was lower than previously reported for other flaviviruses, but similar to the prevalence (2%) of WNV antibodies reported in bats from New Jersey and New York, USA. Additional research is needed to determine potential impact of WNV infections on bats and to determine whether they play a role in the WNV transmission cycle.
Bunde JM, Heske EJ, Mateus-Pinilla NE, Hofmann JE, Novak R. 2006. A Survey for West Nile Virus in Bats from Illinois. Journal of Wildlife Diseases  42(2): 455-458 [pdf]
---