Happy Halloween, Illini! Fall is in full swing and with midterms winding down, we could all use a little spooky fun. Check out some of our horror books to get you in the Halloween spirit!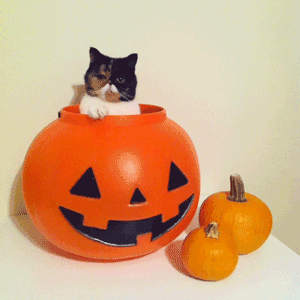 Creepy Comics and Ghoulish Graphic Novels

My Favorite Thing is Monsters by Emil Ferris
1960s in Chicago
Fictional graphic diary of 10-year-old Karen Reyes as she tries to solve the murder of her neighbor, a Holocaust survivor

The Walking Dead by Robert Kirkman
Follow a few human survivors as they struggle through the aftermath of the zombie apocalypse!
Read the graphic novel series behind the famous TV show
Chilling Classics and Spooky Short Stories

The Stories of Ray Bradbury
Short stories from a science fiction icon
Includes spooky classics such as "The Coffin," "Skeleton," "The Haunting of the New," and "The October Game"

Pet Sematary by Stephen King
Horror, animals, and spooky woods – what more could we ask for?
See the recent movie adaption!

The Best of the Best Horror of the Year: 10 Years of Essential Short Horror Fiction
Choose from 28 of the best and most horrific short stories from the last decade!
Edited and compiled by Ellen Datlow, an award-winning horror anthologist
Haunted and Spook-tacular Nonfiction

Reel Terror: the scary, bloody, gory, hundred-year history of classics horror films by David Konow
Featuring on-set stories and history of the horror movie genre, from blockbusters to cult classics
Great companion for your Halloween movie marathon!

Ghostland: an American History in Haunted Places by Colin Dickey
Explore all of the haunted locations across the country, with the facts behind haunted places and how the stories have changed as they've spread and become legends
For more great book recommendations, check out our genre fiction binders on the Lower Level at the UGL!