Summer music festivals have been around for over half a century here in the United States, and they're currently more popular than ever. Seemingly every city has some form of music festival these days, whether it be a commercial behemoth like Lollapalooza or one like Champaign-Urbana's more modest, yet still excellent, Pygmalion Festival. If you'd like to learn more about the history of music festivals, get some insights into some of the biggest festival draws playing today, or would just like to enjoy some music festivals on DVD without having to brave the heat and crowds, look no further than this carefully curated list of DVDs and books from the UGL's popular music collection.
The Complete Monterey Pop Festival (DVD)
directed by D. A. Pennebaker
One of the first rock festivals in the United States, Monterey Pop took place in 1967 in California. Masterfully shot and recorded, this concert film shows how vibrant rock music, and the accompanying hippie subculture was in its early years. Notable moments include The Who demolishing their instruments, one of Janis Joplin's first major performances, Jimi Hendrix lighting his guitar on fire, and soul legend Otis Redding tearing down the house. If you're a Dylan fan, you may also be interested in Don't Look Back, Pennebaker's documentary of Dylan's 1965 tour of the UK.
Gimme Shelter (DVD)
directed by David and Albert Maysles
This film covers The Rolling Stones' 1969 tour of the United States which culminated with a free concert festival at the Altamont Speedway in California. This concert is often considered the moment when the idyllic dream of the 1960's began to sour (particularly in contrast to the Woodstock Festival which took place four months earlier), with several people dying, including an 18 year-old girl who was stabbed to death. Gimme Shelter depicts a great rock band at the peak of its powers, and the culture that is beginning to fray around it.
Living With The Dead: Twenty Years on the Bus with Garcia and the Grateful Dead (Book)
by Rock Scully with David Dalton
One of the most acclaimed touring bands in rock, The Grateful Dead were notorious for their long, improvisational performances and their insanely devoted fanbase (known as Deadheads) who would follow the band across the country from festival to festival.  The band's manager, Rock Scully, recalls his wild time on the road with the band in this memoir.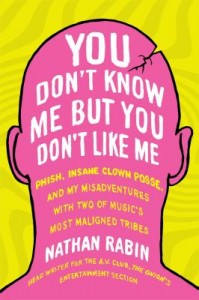 You Don't Know Me but You Don't Like Me: Phish, Insane Clown Posse, and My Misadventures with Two of Music's Most Maligned Tribes (Book)
by Nathan Rabin
In this book former AV Club writer Nathan Rabin explores two subcultures of modern music fandom; Phish fans and Juggalos. Although Rabin was not a fan of either group before beginning work on this book, he attempts to understand their cult appeal by following the bands on the road. Throughout his journey (during which he is diagnosed as bipolar), Rabin discovers that these critically reviled bands provide the deep-rooted human need for community. An excerpt of the book is available from NPR.
Mo' Meta Blues: The World According to Questlove (Book)
by Ahmir "Questlove" Thompson and Ben Greenman
Although it's too late to catch The Roots Picnic in Philadelphia this year (there's always next year!), you can still get a feel for the eclectic brilliance of hip-hop drummer Questlove in this memoir of his career and musical passions. Questlove is both an incisive music critic, cultural commentator (check his Vulture column on hip-hop), and an unabashed fan, making this book a must-read for hip-hop, soul, and R&B fans.
There are tons of other books on music in the UGL's collection (you'll want to look for the section beginning with ML), if you want to delve further into the stories of popular music. If you're a fan of live music, you may also want to visit Smile Politely, a Champaign-Urbana culture website that provides coverage of the local music scene, including upcoming concerts. Pitchfork also has a handy guide to 2014 Music Festivals if you're still looking to attend one. Stay cool and keep rockin'!