Elnara Javadova | Azerbaijan
Elnara Javadova graduated from the University of Azerbaijan State Languages in 1999. From that time on, she began working as a teacher in Khachmaz and has been there for 13 years. She also has been working in the ELAC program for two years. She is married with two daughters, Khanum and Madina.
---
Kossa Gueu | Côte d'Ivoire
Gueu Kossa Yougbeu is an English teacher at Lycée Municipal Djibo Sounkalo Bouaké, in the centre of Côte d'Ivoire. He started his professional career in 2010, after getting trained at the Teacher Training School of Abidjan (ENS). Besides the professional domain, he is the Coordinator of the Webinar Center of Bouaké. He is also the Chief of the Organizing Staff of the Teachers' Association and member of the Football Club at his school. At church, he is a member of the executive staff of the Youth Association in charge of the treasury.
---
Gustavo Morales Ortega | Ecuador
Gustavo Morales Ortega has been teaching since 2001. He teaches Social Studies, Classic Literature, Economy and World History, in Junior High, Senior Years and Universities. He has also been Social Studies Department Head and Teachers Head in a military  school. He has a Bachelor Degree from the Universidad de Guayaquil in Social Sciences, also he is a Sociologist and a Psychologist. Also he has a postdegree in Political Communication from the Universidad de Rosario, in Argentina. He loves his  job, especially working with teenagers because this is a very important chance to change their world. Every class, every advice, every minute we give to them, is priceless.
---
Erika Puusemp | Estonia
Erika Puusemp has been teaching English since finishing Tartu University as a philologist and teacher of English in 1989. Since 1996 she has been working at Miina Härma Gymnasium in Tartu (the second-largest town in Estonia) as a teacher of general English and literature for forms 10-12, and, more recently, as a teacher of IB English A: Language and literature. She is also an interviewer, assessor and item-writer for the Estonian national school-leaving exam in English, and the vice president of the Estonian Association of Teachers of English.
---
Angèle Carpentier | France
With a Master's degree in Arts and Culture (obtained in 2002), Angèle was worked as a "cultural mediator" in south France. In 2004, she became a history and geography teacher in the North of France. From that time on, she has been a teacher in the "European section" that is to say, geography and history in English. Now, she works in a high school, near Nice (South of France). But thanks to her studies, she is also coordinator for cultural issues for the school administration of the area (the "rectorat de Nice").
---
Despina-Alexandra Constantinides | Greece
Despina-Alexandra Constantinides graduated from the School of English at Aristotle University of Thessaloniki, Greece. She holds an Masters in English Literature from the same university, and in 2012 she defended her Doctoral thesis on literary theory. She has been a state school teacher of English since 2006. She currently holds a position as a teacher of English in the 2nd Experimental Junior High School of Thessaloniki, Greece, and enjoys teaching English through various forms of art.
---
Abdoul Touré | Guinea
Abdoul Gassim Touré graduated from the Fourah Bay College of Sierra Leone where he obtained a Bachelors in Education. He is an EFL teacher at TITO Government Secondary School in Conakry-Guinea. He has been teaching English since 1996. His classrooms include 50-100 students from the 7th to 10th grade.  He is also a member of National Curriculum Commission for English Programs and secretary general of the Guinean English Language Teachers Association.
---
Hildur Hauksdottir | Iceland
Hildur lives and teaches in a small town in the northern part of Iceland. She holds a B.A. degree in English from the University of Iceland and is currently working on her Master's degree in educational sciences (University of Akureyri). Hildur has taught English at Akureyri Comprehensive School for the past nine years. During that time she has been an active participant in curriculum development in her school and in projects that aim at school reform. She is married and has two sons.
---
Zika Kissanova | Kazakhstan
Zika was born in the Semey region in Kazakhstan. After finishing the secondary school, she entered the Tselinograd Pedagogical Institute– the faculty of the foreign languages. In 1982, she became a teacher of English at a secondary school. Since then she has been teaching English as a foreign language to teenagers. She is also an Access teacher too. 
---
Nadsuha Azmy | Malaysia
Nadsuha Azmy has become an English Language Secondary School Educator in Malaysia for 12 years now. A TESL graduate from a local university, University Putra Malaysia,  she started her teaching career in 2002 in the federal capital and most populous city in Malaysia itself, the Kuala Lumpur. In her teaching career, she has taught in 3 different schools and has spent 6 years becoming the Head of the English Language Panel in two schools. The highlight of her teaching profession was being selected to become the Mentor for the Malaysia – United States Fulbright English Teaching Assistant (ETA) program at her current school SMK Dato' Ali Haji Ahmad for 2013 and 2014.  Nadsuha currently lives with her husband and 3 daughters in Sanglang, Pontian, Johor.
---
Aziz Moummou | Morocco
Aziz Moummou studied language arts at Cadi Ayyad University, Marrakech and received his bachelors' degree in English linguistics as well as a professional degree in Human development. He has been teaching since 2006 and maintained a passion for learning. He is also a part time tutor and trainer. He had been looking for ways to advance his skills as a teacher and developed a teacher-to-teacher "Masters' Club" in Morocco.
---
Graeme Ball | New Zealand
Graeme Ball began his teaching career in 1999 after 12 years as an Aircraft Engineer and then a further six years of study, in which he gained a Masters in History. He is currently Head of Faculty Social Sciences at Northcote College in Auckland, New Zealand and thoroughly enjoys both teaching and his specialist area – History.
---
Oddbjørn Larsen | Norway
Oddbjørn Larsen works in a Norwegian high school teaching English and physical education. He has a master's degree in English literature, teacher training and a one-year study of Sports Science from the Norwegian University of Science and Technology in Trondheim. He currently lives, and works on Hitra, which is an island off the coast of Trondheim at a small high school with just under 200 students. Hitra is known for its beautiful landscape, both above and below the surface; hiking, diving, fishing and hunting is very popular in the region.
---
Elena Popova | Russia
Elena Popova has been teaching for 11 years. She has worked as an English teacher at Krasnoufimsk Teacher Training College, and as a college teacher she was in a group that designed a Teacher Training Program, "Modern teaching methods and techniques," approved by the Ministry of Education of Sverdlovsk region. At present  she works at Krasnoufimsk secondary school № 2 mainly teaching 7-9th graders. The sphere of her responsibilities includes teaching English according to National Curriculum. She is  the head of the Municipal Association of foreign language teachers and in charge of professional development for teachers in her local area.
---
Jirawat Srisuk | Thailand
Jirawat Srisuk received his Bachelors and Masters of Art in English at Ubonratchathani Rajabhat University in Thailand. He received his certificate of teaching from Sukhothai Thammathirat Open University in Thailand. Jirawat teaches Reading and Writing at Kanthalakwittaya Secondary School. He has been teaching for 8 years. He is also the manager of the English Resource Instruction Centre.
---
Ayawo Odenya | Togo
Ayawo Odenya received his bachelor's degree in English from the University of Lomé in 1994. From there he went on to receive his Masters in English and African Literature also at the University of Lomé. After working in the Junior High School for ten years, he is now an English Teacher at Zomayi Senior High School in Kpalime.
---
Enesh Haydarova | Turkmenistan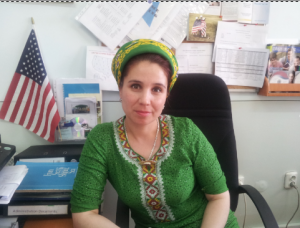 Enesh Haydarova, graduated from International Turkmen Turkish University in 2000, Ashgabat, Turkmenistan. She has more than 14 years teaching experience as an English language teacher in secondary school. She was also an ACCESS (ACCESS Microscholarship Program)  Teacher at Dashoguz American Corner for two years and is a regular presenter at local school workshops.
---
Erika Grecco | Uruguay
Erika Grecco lives in Montevideo, Uruguay where she teaches English in primary and secondary schools. She wanted to be a teacher from a very early age and was particularly inspired by her sixth grade History teacher who was passionate about what he taught. Erica is always seeking out new opportunities to further develop her skills and knowledge so she can enrich her teaching and the experience she brings to the classroom. She believes that teaching is a powerful tool for everybody regardless of background, gender or disabilities.