The Autonomous Materials Systems Group Undergraduate Research Symposium was held virtually on April 24 2020. Thanks to the student presenters Allen, Omar, Ryan, Ian, Yun Seong, Sophie and Alex  and their grad mentors (Kelly, Leon, Dhawal, Qiong, and Mayank)!

---
PhD student Mayank Garg has been chosen as the recipient of the 2019 Annual Innovation Award for Outstanding Ph.D. Thesis in Materials Science and Engineering from Durgam and Subha Chakrapani Family Trust.
---
Suzanne Peterson and Nil Parikh presented posters at 2019 ASME IMECE meeting, Track-16 NSF Student Poster Research Competition
---

Prof. Nancy Sottos Invested as Swanlund Chair!
Full story here.
---
Sottos research featured in Materials Research Society INTERSECTIONS Issue!
A Value-Added Materials Research Story—Self-healing Research Harnessed for Diverse Applications
---
Autonomous Materials at IlliniFest in Millennium Park, Chicago.  
Mayank Garg, Kelly Chang and Camille Farruggio showed off autonomous materials at IlliniFest, July 18, 2019 in Chicago.
---
Tony Griffin successfully defends his PhD dissertation "Microvascular Materials for Adaptive Electronic Structures" on July 16, 2019.  

---
Sottos group alumni attend the annual Society for Engineering Mechanics SEM conference in Reno NV.
From left to right:  Tom Berfield, Jamie Kimberly, Junlan Wang, Nancy Sottos, Meg Grady, Sharlotte Kramer, Amanda Jones, Eric Brown, Mike Keller, Gina Miller, Doug Ivanoff, Cassandra Degan, Chris Montgomery and Elizabeth Jones.
---
---
---
---
---
PNAS Paper Press!
J. Shin, J. Sung, M. Kang, X. Sie, B. Lee, M.M. Lee, T.J. White, C. Leal, N.R. Sottos, P.V. Braun and D.G Cahill, Light-triggered thermal conductivity switching in azobenzene polymers, PNAS (2019). DOI: 10.1073/pnas.1817082116
---
Polette Centellas has been selected as a finalist for the JEC WORLD Composite Challenge Competition in Paris, France. The competition has an online voting system. If you could please, vote for her project "Frontal Polymerization for Rapid Composite Manufacturing" it would be greatly appreciated!
JEC World | Composites Challenge
Composites Challenge is a competition of PhD sourced and selected for the quality of their research work in the field of composites. The Challenge: 5 minutes to pitch their thesis using 1 slide.
---

Dhawal Thakre placed 3rd in the Research Live! Competition hosted by the Graduate College at the University of Illinois.
---
AMS group research on transient and recyclable polymers featured in the NY Times
---
New Polymer Manufacturing Process Saves 10 Orders of Magnitude of Energy
---
AMS group members participated in the Illinois Marathon on April 28, 2018.  Tae Ann Kim completed the marathon, the team of Mayank Garg, Polette Centalles, Leon Dean and Kelly Chang ran the marathon relay and Doug Ivanoff joined the Evans group relay team.
---
Heer Majithia was awarded 2nd place in the Image of Research 2018 competition for her image entitled "Masquerading Jelly."
---
Mayank Garg has been selected as a 2018-2019 Mavis Fellow.
---
UI news from the 2016 Nature paper – 
Researchers work to improve the lifecycle of materials 
---
IChemE awards success for BP-Illinois collaborative research
---
Electrochemical Stiffness research highlighted in MRS Bulletin
---
Fluorescence-based Autonomous Damage Indication recently highlighted in C&E News
---
IChemE Global Awards 2016 Finalist – 'Autonomous detection of damage in coatings', University of Illinois Urbana-Champaign, BP International Centre for Advanced Materials and BP
---
BP-ICAM Webinar Series 2016 – Polymers with Biologically-Inspired Autonomous Functions
---
UI News from the 2016 Nature Materials paper – Method opens a window on how stress and strain affect battery performance
---
AMS group participates in the 2016 Illinois Marathon
---
Group members awarded national fellowships.  Leon Dean received an NSF Graduate Fellowship and Megan Brooks received a NDSEG Fellowship.
MatSE News
http://illinois.edu/lb/article/574/97451
---
Professor Nancy Sottos Featured in Popular Science
Professor Nancy Sottos, BP-ICAM Principal Investigator and Programme Management Board Member, has been featured in a Popular Science Magazine article on self-healing materials.
---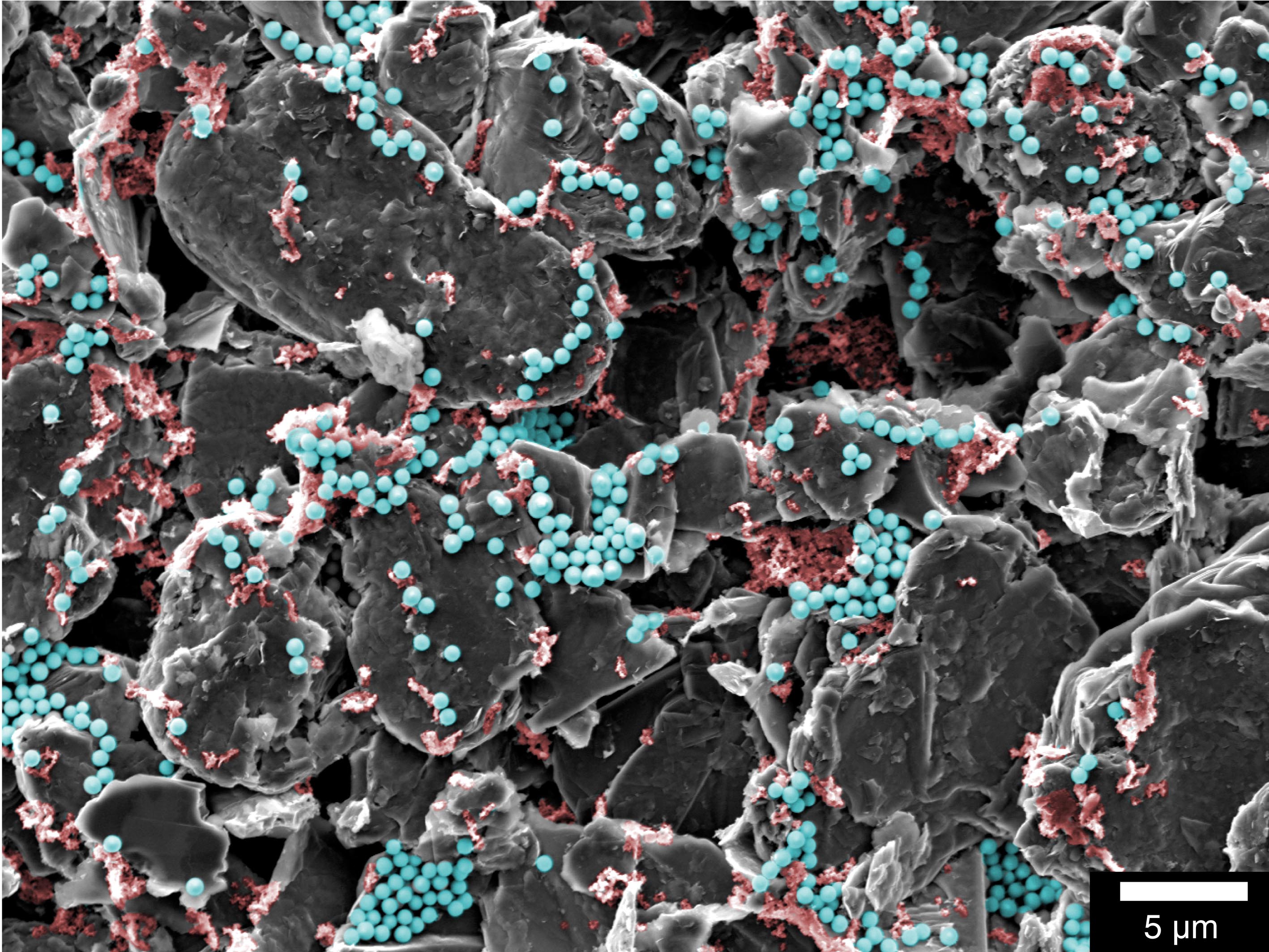 A paper by Nancy Sottos has been selected to receive the 2016 Hetnyi Award from the Society for Experimental Mechanics. The award is given annually for the best research paper published in Experimental Mechanics in a given year.
---
UI News from the 2016 Advanced Materials paper – Making the invisible visible: Color-changing indicators highlight microscopic damage
---
"Hub of Discovery" BP-ICAM article for Upstream Technology magazine
---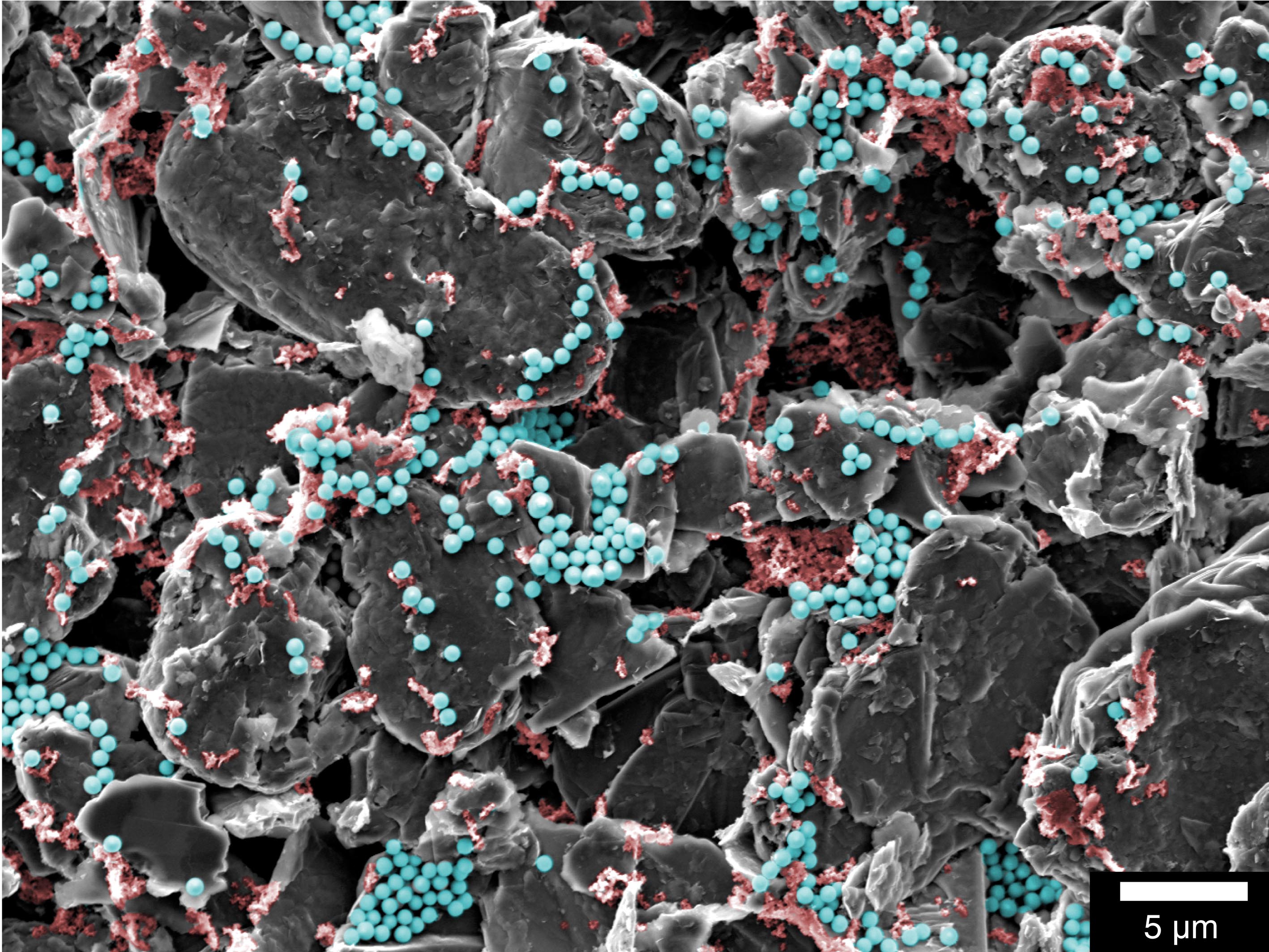 Scanning electron micrograph of a composite graphite electrode. Fluorescent silica nanoparticles on the electrode surface, used for digital image correlation (DIC) strain measurements, are false-colored in blue.
The paper "In Situ Measurements of Strains in Composite Battery Electrodes during Electromechanical Cycling", E. M. C. Jones, M. N. Silberstein, S. R. White, N. R. Sottos, Experimental Mechanics, July 2014, 54 (6), 971-985, has been selected to receive the 2016 Hetényi Award. The Hetényi Award is given annually for the Best Research Paper published in Experimental Mechanics in a given year.
---
Tony Griffin has been awarded a National Defense Science and Engineering Graduate (NDSEG) Fellowship from the U.S. Department of Defense. Link: news.illinois.edu/news/15/0713ndseg_fellowships.html
---
Elizabeth Jones received first place in the student paper competition for her presentation, "Electrochemically-Induced Stiffness Variations in Lithium-Ion Battery Electrodes" at the Annual Meeting of the Society for Experimental Mechanics, June 8, 2015 in Costa Mesa CA.
---
Self-healing work featured on the BBC Click News website: http://www.bbc.co.uk/news/technology-33238482
---
New Gordon Conference announced on Multifunctional Materials & Structures: http://www.grc.org/programs.aspx?id=17252
---

SEM image of electrospun core-shell fibers containing self-healing agents deposited on steel.
Thu Doan was selected as the first place winner of the 2014 Science as Art contest at the Fall 2014 meeting!
---
UI News from the 2014 Science article "Restoration of Large Damage Volumes in Polymers": Regenerating plastic grows back after damage
---
Congratulations to Sottos group members Jason Patrick and Elizabeth Jones! Jason has been awarded a Beckman Institute Postdoctoral Fellowship and Elizabeth has been awarded a Beckman Institute Graduate Student Fellowhip.
---
Repeated Self-Healing now Possible in Composite Materials; news related to the paper titled "Continuous self-healing life cycle in vascularized structural composites," published in Advanced Materials.
---
Recent paper by Olugebefola et al. on structural reinforcement of microvascular networks with halloysite nanotubes was highlighted as a 2014 Soft Matter Hot Paper.
---
Several group members received the "Best Group Costume" award at the 2013 Allerton Trail Run! (click photo to enlarge)
---
Illinois' Center for Electrical Energy Storage entry "Not Your Normal Power Box" won the "Best Science Lesson" award at the EFRC all PI meeting on July 18, 2013!!
---
Most Downloaded International Journal of Adhesion and Adhesives Articles!!
Jin, H., Miller, G.M., Pety, S.J., Griffin, A.S., Stradley, D.S., Roach, D., Sottos, N.R. and White, S.R., Fracture behavior of a self-healing, toughened epoxy adhesive, International Journal of Adhesion & Adhesives, 44, 157-165 (2013).
---

(Left to right: Brett Beiermann, Cassandra Kingsbury, Prof. Nancy Sottos, Henghua Jin)
Congratulations to our 2013 Ph.D. graduates!!
---
Recent JACS paper covered by Chemistry World!
---
Thu Doan has been awarded the 2013 National Defense Science and Engineering (NDSEG) Fellowship for her work entitled "Sustainable, Self-healing Materials based on Electrospinning Responsive Fibers." The NDSEG Fellowship is sponsored and funded by the Department of Defense. Congratulations, Thu!
---
Amanda Jones has been selected as one of the College of Engineering's Mavis Future Faculty Fellows (MF3). This program is to facilitate the training of the next generation of great engineering professors. Congratulations, Amanda!
---
Self-healing named as one of the top 10 emerging technologies for 2013 by the World Economic Forum.
http://forumblog.org/2013/02/top-10-emerging-technologies-for-2013/
---
Congratulations to Jason Patrick! He has been awarded the Ph.D. scholarship award from the American Society for Composites. He will accept this award at the ASC annual technical conference, October 1-3, 2012 in Arlington, TX.
---
Without a Scratch: Self-healing Materials, by Adam Dylewski
---
Congratulations to Brett Beiermann (far left)! He received the Racheff-Intel Award, April 2012.
---
CAHILL, BRAUN, AND SOTTOS CONTROL HEAT FLOW WITH ATOMIC-LEVEL PRECISION: Through a combination of atomic-scale materials design and ultrafast measurements, David Cahill, Paul Braun, and Nancy Sottos have revealed new insights about how heat flows across an interface between two materials. Grad student Meg Grady conducted spallation experiments to determine the adhesion of the self-assembled atomic layers.
---
"Autonomic Restoration of Electrical Conductivity" publication highlighted in Nature and the Wall Street Journal!
---
Self-healing battery technology makes the list of "Science News of the Year" in technology for 2011!
---
Self-healing electronics could work longer and reduce waste, University of Illinois News
---
Press coverage on the Journal of the Royal Society Interface paper entitled Pressured Vascular Systems for Self-Healing Materials:
---
Congratulations to Meg Grady! She won the Best in Session Award at the Semiconductor Research Corporation TECHCON 2011 Conference in Austin, TX in September 2011. Her paper, "The Influence of Fabrication Processes on Interfacial Adhesion of a Photodefinable Polyimide," was presented in Session 15 A – Packaging Materials.
---
Vascular composites enable dynamic structural materials, University of Illinois News
---
Congratulations to Sharlotte Kramer! She won the Student Paper Competition at the International Conference on Self-Healing Materials at the University of Bristol for her paper entitled "Experimental Design to Probe Autonomic Restoration of Electrical Conductivity."
---
Congratulations to Brett Beiermann! His publication entitled "Environmental effects on mechanochemical activation of spiropyran in linear PMMA" has been identified as a 'hot article' for Journal of Materials Chemistry. His article has been highlighted on the blogfor the Journal of Materials Chemistry.
---
Congratulations to Piyush Thakre! He won the Best Poster Award at the Postdoctoral Research Symposium at the Beckman Institute on January 20, 2011.
---
The research on Mechanochemically Active Polymers (Mechanophores) by Nancy Sottos, Paul Braun, Jeff Moore and Scott White was featured in the Popular Science list of "10 Tech Concepts You Need to Know for 2011"
---
SEE THE FORCE: MECHANICAL STRESS LEADS TO SELF-SENSING IN SOLID POLYMERS
Parachute cords, climbing ropes, and smart coatings for bridges that change color when overstressed are several possible uses for force-sensitive polymers being developed by researchers at the University of Illinois.
Mechanochemically Active Polymers Web Page
---
CBMI Enters License Agreement for Corn-Based Structural Composite Technology
---
Ben Blaiszik's article,  "Autonomic Recovery of Fiber/Matrix Interfacial Bond Strength in a Model Composite," is featured on the cover of the Oct. 22 issue of Advanced Functional Materials (issue 20, vol. 20).
---
Cassandra Kingsbury receives 2nd place in the Society of Engineering Science student paper competition for her presentation,
Shear Activation of Mechanophore-Linked PMMA. The competition was held as part of the annual meeting of the Society of Engineering Science in Ames Iowa, October 3-6, 2010.
---
Congratulations to Sharlotte Kramer and Brett Beiermann for receiving best paper honors at a recent meeting of the Society for Experimental Mechanics! The officers of the Biological Systems and Materials Technical Division in the Society for Experimental Mechanics chose their paper titled "Characterization of Mechanochemically Active Polymers Using Combined Photoelasticity and Fluorescence Measurements" as Best Paper in the Bio TD of the 2010 SEM Annual Conference. Authors on the paper are: Sharlotte Kramer, Brett Beiermann, Doug Davis, Nancy Sottos, Scott White and Jeffrey Moore.
---
How Things Work: Self-Healing Airplanes
Press in Smithsonian Air & Space Magazine – August 2009
---
---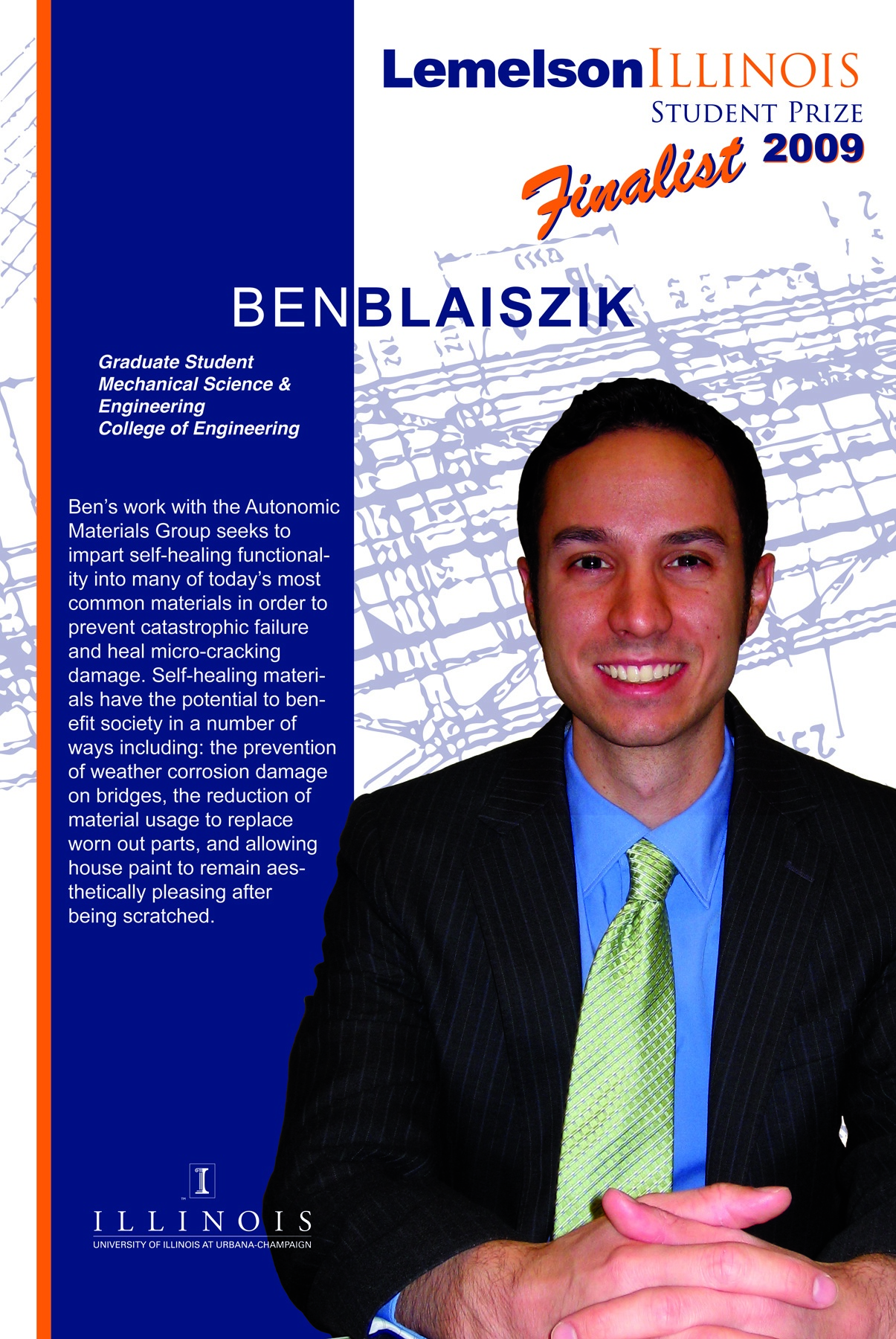 Ben Blaiszik, Graduate Student, has been selected as one of eight finalists for the $30,000 Lemelson-Illinois Student Prize. The Lemelson-Illinois Student Prize is an extension of the $30,000 Lemelson-MIT Student Prize, which has recognized outstanding student inventors at MIT since 1995. Ben's work with the Autonomic Materials Group seeks to impart self-healing functionality into many of today's most common materials in order to prevent catastrophic failure and heal micro-cracking damage. Self-healing materials have the potential to benefit society in a number of ways including: the prevention of weather corrosion damage on bridges, the reduction of material usage to replace worn out parts, and allowing house paint to remain aesthetically pleasing after being scratched.
Link to Lemelson Illinois Prize page
---
NEW RECIPE FOR SELF-HEALING PLASTIC INCLUDES DASH OF FOOD ADDITIVE
Adding a food additive to damaged polymers can help restore them to full strength, say scientists at the University of Illinois who cooked up the novel, self-healing system. (see article)
---
Cover Story: Self-healing epoxy with tungsten (VI) chloride catalyst. Cover image of an exo-DCPD filled microcapsule by Jason Kamphaus. (see article)
---
UI Researchers named to Scientific American 50
11 Jan 2008 – Nancy Sottos and Scott White (Aerospace) were recognized for their development of self-healing materials. Together with their colleagues Jennifer Lewis (Materials Science) and Jeffrey Moore (Chemistry) and former PhD student Katie Toohey (TAM) they recently demonstrated a new material that mimics human skin by healing itself time after time using an embedded, three-dimensional microvascular supply network. The awards list, which appears in the magazine's January 2008 issue, honors 50 individuals, teams, companies and other organizations whose accomplishments in research, business or policymaking during 2006-2007 demonstrate outstanding technological leadership. (pdf of story)
---
A new catalyst-free, self-healing material system developed by Jeffrey Moore, the Murchison-Mallory Professor of Chemistry at Illinois, Scott White, a professor of aerospace engineering, and Nancy Sottos, a professor of materials science and engineering, offers a far less expensive and far more practical way to repair composite materials used in structural applications ranging from airplane fuselages to wind-farm propeller blades. See News Bureau press release.
---
Jillian M. Franke, an undergrad working with the Sottos Group, received 3rd Place in the National Undergraduate Collegiate Poster Competition at the 2007 SWE National Conference in Nashville in October.  She was presented with the award at the Celebrate SWE Banquet on Saturday, October 27, 2007.
---
Optical image of self-healing structure after cracks are formed in the coating, revealing the presence of excess healing fluid on the coating surface [scale bar = 5 mm].
Kathleen S. Toohey, Scott R. White, Jennifer A. Lewis, Jeffrey S. Moore and Nancy R. Sottos, have developed a new generation of bioinspired materials that are able to repeatedly and autonomically heal crack damage through the incorporation of embedded microvascular networks. The work is reported in Nature Materials. [full coverage]
---
Cover Graphic: Benjamin Grosser, Imaging Technology Group, Beckman Institute, Illinois
Nancy Sottos, Scott White (Aero), and Jeffrey Moore (Chemistry) have found a novel way to manipulate matter and drive chemical reactions along a desired direction. The new technique utilizes mechanical force to alter the course of chemical reactions and yield products not obtainable through conventional conditions. [full coverage] 
Cover Caption:
For most chemical reactions to proceed the reactants need to surmount an energy barrier. The energy required is usually provided as heat, light, pressure or electrical potential. Now mechanical force can be added to that list – to the surprise of many a chemist. A reaction can literally be given a shove. In specially designed polymers subjected to ultrasound, rearrangement reactions are accelerated and reaction pathways can be biased to yield products not obtainable from purely thermal or light-induced reactions. The polymers contain a mechanophore positioned at a site where forces from extensional flow are greatest. Besides offering new ways of controlling chemical reactions, this work may also lead to mechanically adaptable materials, polymers that might generate a signal to warn of impending damage, undergo structure modification to slow the rate of damage, or even self-repair. [Letter p. 423; News & Views p. 381]
---
SaveSave
SaveSave