Even though we have passed the midpoint of the semester, there is still a lot going on.  Scroll down for info on law school admissions webinars by Harvard, NYU and Yale, a PAID internship opportunity, Pre-Law 101, law school open houses, the Udall Scholarship Program and more!
PLAS Events
Pre-Law 101 – NEXT Tuesday, November 13, 4-5pm, 514 IUB
This workshop is designed for incoming students who are new to pre-law or are interested in learning more about it. We will cover: What it means to be pre-law at Illinois, course selection, majors, and extracurriculars, building a pre-law resume, and what law schools are really looking for. We will outline a four year plan to maximize your undergraduate experiences in order to make a great law school candidate. We'll also take any questions about law school and legal careers.  This is the last Pre-Law 101 session for the fall semester.  Incoming students should attend a Pre-Law 101 prior to setting up an individual pre-law advising appointment. Registration will be open until November 12 or until the session is full.  Go here to register.
Upcoming PLAS Event — Perfecting Your Personal Statement and Resume for Law School — Tuesday, November 27, 4-5pm, 514 Illini Bookstore Building
This workshop will discuss how to draft a personal statement and resume for a law school application. We will cover:
Ideas for personal statement topics

How to get started writing it

What to include and exclude

Length, structure, and formatting details

Law school resume tips

How to have the resume and personal statement coordinate; and

A 5 step plan for writing the personal statement and resume.
Please RSVP by November 19 by clicking on this link. Workshops with 3 or fewer registrants may be cancelled and converted to individual appointments. 
Campus and Off-Campus Events
Access Lex Institute Webinar: Financing Your Legal Education THIS  Wednesday, November 7 at 3:00 p.m. ET
In this session, Access Lex will discuss the costs of pursuing a legal education, describe the financial aid application process, review the available financing options and identify ways students can be financially prepared to achieve their goals.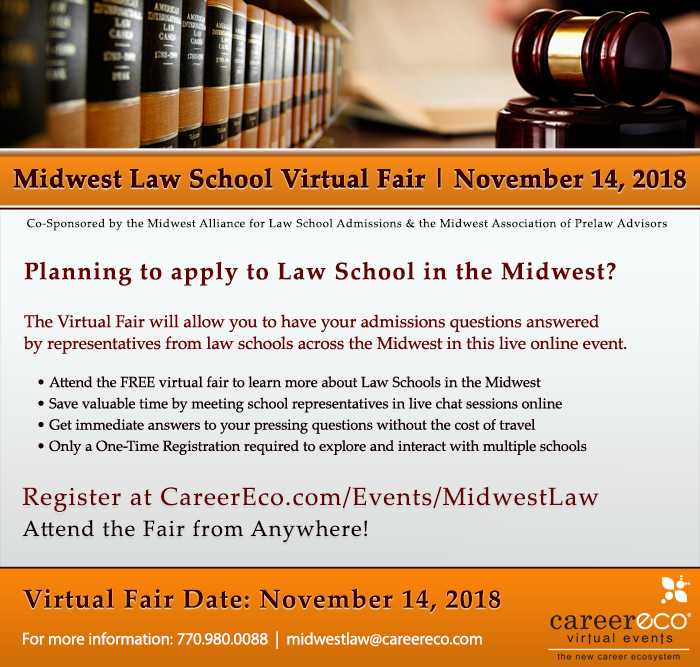 Midwest VIRTUAL Law Fair NEXT Wednesday, November 14! Were you unable to attend our Law School Fair? Over 25 Midwest law schools will be available to chat online with you about the admissions process, their schools, scholarships, journals, etc. This event is FREE and participants don't need to travel! Click here for more information and to register. 
Career Center Events—Click here to visit the Career Center's website for more information or to register for these sessions.
Global Careers: Peace Corps General Information Meeting — Nov. 7, 5-6pm,  TCC Room 143
Making Your Major Decision — Nov. 8, 4-5pm, TCC Conference Room
Career In Consulting: Pizza and Professionals Panel Discussion Lunch Series — Nov. 9, 12-1pm, TCC Interview Suite Room 213
Global Careers: The United Arab Emirates — Nov. 9, 4-5:30pm, TCC Interview Suite Room 213
Resume/Cover Letter/Linked In Reviews

Nov. 5 , 2-4:30 pm TCC Resource Center; 5-7:30pm Ikenberry Commons

Nov. 6, 2-4:30pm TCC Resource Center; 5-7:30pm BrewLab Coffee Shop

Nov. 7, 2-4:30pm TCC Resource Center, 5-7:30pm BrewLab Coffee Shop

Nov 8, 2-4:30pm TCC Resource Center

Nov. 9, 2-4:30pm TCC Resource Center

Nov. 11, 5-7:30pm, Ikenberry Commons
Social Justice Education Paraprofessionals – Applications Due December 12
Applications will be accepted on a rolling basis until December 12th for 2018-2019 Social Justice Education Paraprofessionals! Complete your application here. 
The Social Justice Educator Paraprofessional Program is a 3-semester peer education program powered by students for students. The Social Justice Education Paraprofessional Program is designed to promote diversity and student leadership by providing intensive training for students in areas of knowledge, awareness, and skills related to issues of diversity and social justice. Through this program, paraprofessionals serve as a campus leaders in social justice by developing and facilitating educational programs for the campus. Social Justice Education Paraprofessionals receive 11 advanced credit hours in Psychology. For more information, click on this link.

Law School Admissions Events
NYU Law Admissions Office – Online Information Sessions
These presentations will be a special broadcast of a live information session with an admissions representative. Participants will have an opportunity to submit questions about NYU's curriculum, student life, and the admissions process via the online chat tool. The Online Information Sessions will be held at the following times (all times are Eastern Time):
Thursday, November 15 at 12:00 pm

Wednesday, December 5 at 3:00 pm

Thursday, January 10 at 12:00 pm
Please register for one of the Online Information Sessions. Registrants will receive access instructions the day before the online session. If you have any questions, please let us know at law.moreinfo@nyu.edu.
Harvard and Yale Law School Online Webinars
Harvard and Yale Law School would like to invite to you to participate in their Online Information Sessions. Participants will have an opportunity to submit questions about the universities curriculum, student life, and the admissions process. Follow the link to register for these events.
Harvard: https://hls.harvard.edu/dept/jdadmissions/connect-with-admissions-online-events/
Yale: https://law.yale.edu/admissions/jd-admissions/recruiting-schedule
Law School Open Houses
Some fall law school open house opportunities have already passed.  Make sure you check the websites of your selected schools for these very helpful events.
For more information about upcoming Open House Days and how to prepare for these visits, go here to our blog post from October 3.
Internships
NCSA PAID Internship – SPIN Open House: THIS Wednesday, November 7, 3-5pm, NCSA Atrium
Are you an Illinois undergraduate looking for your next internship experience?
The National Center for Supercomputing Applications (NCSA) is looking for highly motivated, creative students to work on hands-on research projects with guidance from NCSA staff and faculty affiliates. The center will offer a limited number of paid SPIN (Students Pushing INnovation) internships during the the Summer 2019 session. The SPIN projects are open to students in any major and any year of study; international students can apply.
Want to learn more? Come to our SPIN Open House! You'll get to meet our NCSA staff and faculty affiliates and learn more about the different projects you could be a part of. Refreshments will be provided.
For more info contact spin@illinois.edu or visit spin.ncsa.illinois.edu.
Scholarships

Udall Scholarship Information Sessions: THIS Thursday, November 8 and Friday, November 9
Are you a passionate environmentalist? Do you want to devote your career to addressing environmental concerns?
The University of Illinois seeks to nominate sophomores and juniors for the prestigious Udall Scholarship. The Udall awards $7,000 to sophomores or juniors who are taking action to address environmental concerns and are committed to a career related to the environment.
Please note that there are special awards also for Native American students interested in tribal policy or health care (no need to be related to the environment).
Students must be US citizens, US nationals, or US permanent residents. A successful applicant will have a GPA of 3.0 or higher and demonstrate leadership and a commitment to service. The University of Illinois may nominate up to six students for the Udall Scholarship. The campus deadline is February 7, 2019 to be considered.
If you are interested in applying, please plan to attend our Udall informational events:  
Udall Scholarship Information Session
Thursday, November 8th, 3:30-4:30 pm, 514 Illini Union Bookstore
Udall Scholarship Writing Workshop
Friday, November 9th, 3:00-4:00 pm, 514 Illini Union Bookstore
For more information, contact the scholarships office at topscholars@illinois.edu or visit our website at www.topscholars.illinois.edu 
Barry M. Goldwater Scholarship
Campus Deadline: November 26, 2018
The Goldwater is for juniors or exceptional sophomores who are current U.S. citizens, U.S. nationals, or resident aliens. The Goldwater awards one- or two-year $7,500 awards to students who demonstrate strong evidence of contributing to the technological advances of the U.S. Applicants should be committed to pursuing a Ph.D in the research fields of mathematics, sciences, or engineering. Go here for more information.

Interested in other scholarships? PLAS has collected information on over 200 scholarships–for both undergrads and incoming law students–on our Scholarships Spreadsheet over on our Pre-Law Compass page. It's a wide variety of scholarships based on everything from being left-handed to making a video to tweeting, and deadlines vary, so check it out!