Pre-Law Events–Our Fall Event Calendar is posted! Here's a preview of what's coming up.
Pre-Law 101: Tuesday, Oct. 2 at 4:00 in 514 Illini Union Bookstore Building. Click here to register This workshop is designed for incoming students who are new to pre-law or are interested in learning more about it. We will cover: What it means to be pre-law at Illinois, course selection, majors, and extracurriculars, building a pre-law resume, and what law schools are really looking for. We will outline a four year plan to maximize your undergraduate experiences in order to make a great law school candidate. We'll also take any questions about law school and legal careers. Each Pre-Law 101 session is the same, so pick the one that best suits your schedule. Incoming students should attend a Pre-Law 101 prior to setting up an individual pre-law advising appointment. Registration will be open until October 1 or the session fills.
Practice LSAT–Friday, Oct. 5, 8:30 am to 12:00 pm. Just a few seats left!
Pre-Law Advising Services presents an opportunity to take an actual, previously administered Law School Admission Test under timed, proctored, testlike conditions. For those prepping for the November LSAT this is a great chance to see how you will perform on test day. For those planning to take the LSAT in the next couple of years, this practice LSAT will provide a helpful baseline score. Please register here. Registrants will receive additional details about the exam and its location.
TODAY: Live with Kellye & Ken: Why Now is a Great Time to Go to Law School. We just received an invite for students to attend this webinar TODAY at 4:00 pm. Click here to register. Join hosts Deans Emeritus Kellye Testy (LSAC CEO) and Ken Randall (iLaw President), as they lead a live dialogue about the present and future of legal education.
Joining the discussion this month are:
Dean Mark Alexander, Villanova
Dean Heather Gerken, Yale
Dean Jennifer Mnookin of UCLA
Dean Blake Morant, George Washington
This engaging one hour discussion will include a Q&A period at the end. The event will be recorded. If you register but cannot attend, you will receive a link to watch at a later time.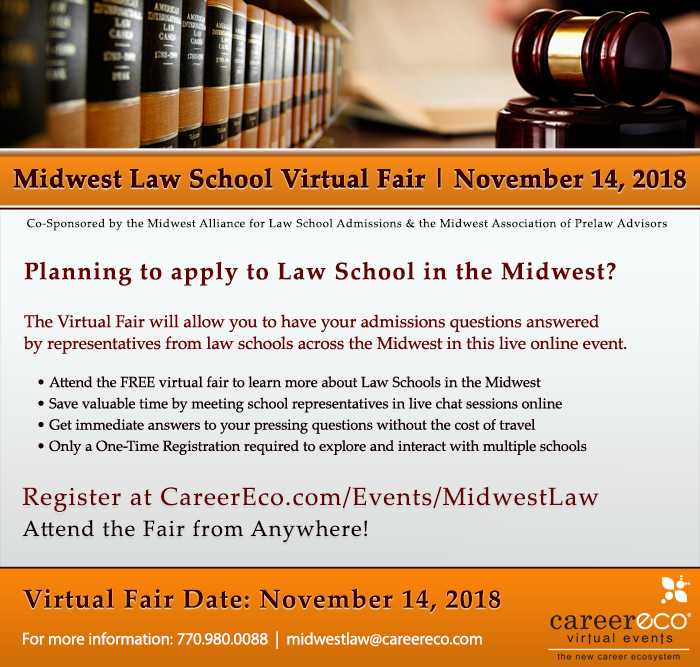 Upcoming: Midwest VIRTUAL Law Fair on November 14! Were you unable to attned our Law School Fair? Over 25 midwest law schools will be available to chat online with you about the admissions process, their schools, scholarships, journals, etc. This event is FREE and participants don't need to travel! Click here for more information and to register. 
Career Center Events—Click here to visit the Career Center's website for more information or to register for these sessions.
The Illinois ACES + LAS Career Fair is Oct. 4, 1:30-6 pm at the ARC. Over 125 employers and 1500 students attend! For more information on the fair, including which employers will be attending, visit Handshake.
Finding an Internship–Oct. 2, 5-6 pm, SDRP 2005
Career Fair Prep Workshop–Oct. 3, 4-5 pm in TCC Conference Room
Resume/Cover Letter/Linked In Reviews

Oct. 1, 2-4:30 pm TCC Resource Center; 5-7:30pm Ikenberry Commons

Oct. 3, 2-4:30pm TCC Resource Center; 5-7:30pm BrewLab Coffee Shop

Oct. 4, 2-4:30pm TCC Resource Center

Oct. 5, 2-4:30pm TCC Resource Center
Scholarships
THE ILLINOIS CLUB SCHOLARSHIPS: Application Deadline October 13!
Diverse and welcoming, The Illinois Club draws its membership from all areas of the University as well as the surrounding community. Since 1915, The Illinois Club has provided financial support to worthy undergraduate students. This year, we will be giving out the following scholarships:
Make-A-Difference Awards of $3,000

A Global Focus Award of $3,000

A Humanities Award of $3,000

Isabelle Purnell Education Awards of $3,000 • The Judith Life Ikenberry Fine Arts Award of $5,500
General Eligibility: You must be an undergraduate, have earned at least 60 credit hours by the beginning of the Spring 2019 semester, and graduate no earlier than December 2019 to apply. A minimum GPA of 2.75 at both the time of application and winning of award is also required.
For more information about the individual awards, go to http://go.illinois.edu/TICScholarship.
Interested in more scholarships? PLAS has collected information on over 200 scholarships–for both undergrads and incoming law students–on our Scholarships Spreadsheet over on our Pre-Law Compass page. It's a wide variety of scholarships based on everything from being left-handed to making a video to tweeting, and deadlines vary, so check it out!