Harvard, NYU, and Yale Law School Online Webinars!
Harvard, NYU, and Yale Law School would like to invite to you to participate in their Online Information Sessions. Participants will have an opportunity to submit questions about the universities curriculum, student life, and the admissions process. Follow the link to register for these events.
NYU: https://nyu.qualtrics.com/jfe/form/SV_3lY8HYIvDJhW9r7
Thursday, November 15 at 12:00 pm
Wednesday, December 5 at 3:00 pm
Thursday, January 10 at 12:00 pm
Harvard: https://hls.harvard.edu/dept/jdadmissions/connect-with-admissions-online-events/
Yale: https://law.yale.edu/admissions/jd-admissions/recruiting-schedule
Access Lex Institute Webinar: Financing Your Legal Education  Wednesday, November 7 at 3:00 p.m. ET
In this session, Access Lex will discuss the costs of pursuing a legal education, describe the financial aid application process, review the available financing options and identify ways your students can be financially prepared to achieve their goals.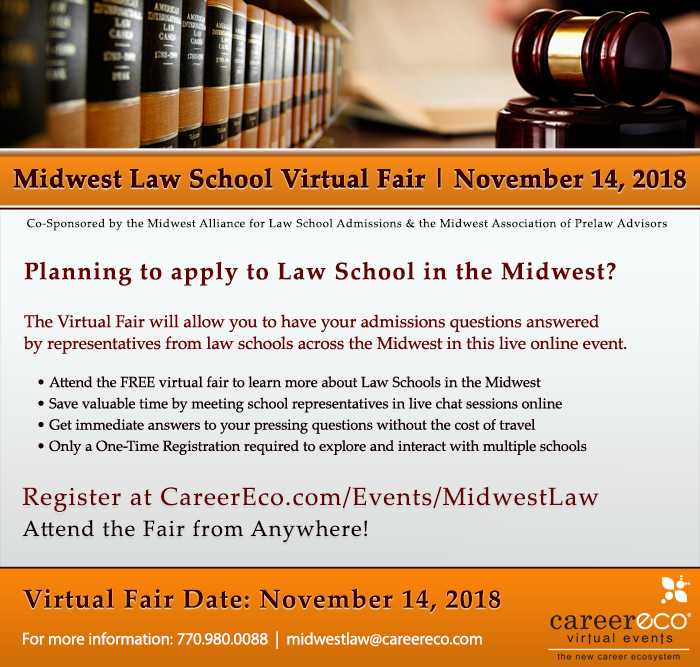 Upcoming: Midwest VIRTUAL Law Fair on November 14! Were you unable to attend our Law School Fair? Over 25 Midwest law schools will be available to chat online with you about the admissions process, their schools, scholarships, journals, etc. This event is FREE and participants don't need to travel! Click here for more information and to register. 
Pre-Law Club Event: Life of a Law Student and Beyond   
Thursday, November 1st, at 5:00 pm at the University of Illinois College of Law Room J (Dues Paying Members Only) 
Come hear from Professor Pahre of the UIUC College of Law speak about her experience as a law student, lawyer, and her personal area of study, among other topics. Pizza and drinks are provided at this event for due paying member only. Dues will be $15 and can be sent on Venmo to @uiucprelawclub. Upon reception of your dues, you will be added to our RSO roster and our official email list. RSVP to the event on November 1st here: https://goo.gl/forms/WpbAk3l0BHk3NZxF2 
Practice LSAT Opportunity 
The University of Illinois Pre-Law Honors Society and TestMasters will be administering a free full-length mock LSAT under official test conditions on Saturday, November 3rd from 10AM-2PM in Lincoln Hall, Room 1000. All UIUC students are welcome! Seating is limited: RSVP HERE!
Law School Open Houses
Some fall law school open house opportunities.  Make sure you check the websites of your selected schools for these very helpful events.
For more information about upcoming Open House Days and how to prepare for these visits, go here to our blog post from October 3.
Paid Summer Internship Opportunity: National Center for Supercomputing Applications
The National Center for Supercomputing Applications (NCSA) is looking for highly motivated, creative students to work on hands-on research projects with guidance from NCSA staff and faculty affiliates. NCSA's Students Pushing Innovation (SPIN) internship program will host the SPIN Open House on November 7 from 3-5pm in the NCSA atrium to promote the summer 2019 internship projects. The center will offer a limited number of paid SPIN (Students Pushing INnovation) internships during the
the Summer 2019 session. The SPIN projects are open to students in any major and any year of study; international students can apply.
For more info contact spin@illinois.edu or visit spin.ncsa.illinois.edu.