PLAS Events
Pre-Law 101, TODAY, October 22, 4-5pm in 514 Illini Union Bookstore Building
This workshop is designed for incoming students who are new to pre-law or are interested in learning more about it. We will cover: What it means to be pre-law at Illinois, course selection, majors, and extracurriculars, building a pre-law resume, and what law schools are really looking for. We will outline a four year plan to maximize your undergraduate experiences in order to make a great law school candidate. We'll also take any questions about law school and legal careers.
Each Pre-Law 101 session is the same, so pick the one that best suits your schedule. Incoming students should attend a Pre-Law 101 prior to setting up an individual pre-law advising appointment. Bring your questions!
Applying to Law School Webinar–Addenda: Character & Fitness and Optional Essays, Friday, Oct. 26 at 2:00 pm. During this webinar, we will discuss:
What Character & Fitness questions are
How to draft responses to required disclosures
Tips for keeping required disclosures professional
How to maximize an optional essay without recycling the personal statement
Considerations for when an optional statement should–and shouldn't–be submitted
Register here for this webinar by October 24. Webinar link and handouts will be sent to registrants before the session.
College of Law Events–ALL are invited to attend!
Illinois Supreme Court Justice Mary Jane Theis to present Dean's Public Engagement Lecture–Oct. 25, 12pm-1pm, Max L. Rowe Auditorium in the Law Building. The Dean's Public Engagement Lecure Series aims to increase integration between the legal academy, the legal and business professions, and the public. Hosted by Dean Vikram David Amar, the lecture series brings thought leaders, including distinguished judges, lawyers, and businesspersons to the College of Law to talk on cutting-edge issues affecting law, justice, business, and government.Lecture is free and open to the public. Lunch will be provided for lecture attendees.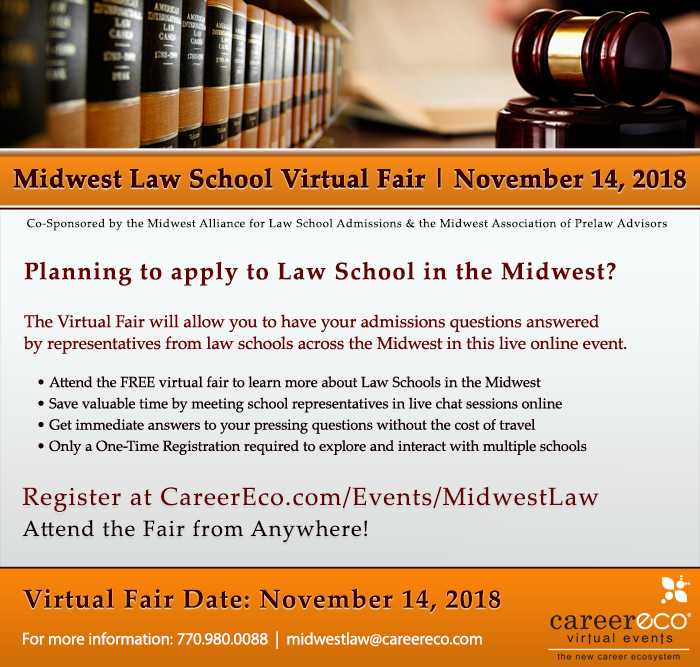 Upcoming: Midwest VIRTUAL Law Fair on November 14! Were you unable to attend our Law School Fair? Over 25 Midwest law schools will be available to chat online with you about the admissions process, their schools, scholarships, journals, etc. This event is FREE and participants don't need to travel! Click here for more information and to register. 
Career Center Events—Click here to visit the Career Center's website for more information or to register for these sessions.
Global Careers: Singapore — Oct. 25, 6-8pm Interview Suite Room 213

Well-O-Ween–Oct. 23, 4-7 pm at the ARC
Resume/Cover Letter/Linked In Reviews

Oct.22 , 2-4:30 pm TCC Resource Center; 5-7:30pm Ikenberry Commons

Oct. 23, 2-4:30pm TCC Resource Center; 5-7:30pm BrewLab Coffee Shop

Oct. 24, 2-4:30pm TCC Resource Center, 5-7:30pm BrewLab Coffee Shop


Oct. 26, 2-4:30pm TCC Resource Center, 5-7:30 Ikenberry Commons
Law School Open Houses
Some fall law school open house opportunities, including one this past weekend at Chicago-Kent, have already passed.  Make sure you check the websites of your selected schools for these very helpful events.
For more information about upcoming Open House Days and how to prepare for these visits, go here to our blog post from October 3.
Scholarships and Other Campus Opportunities

Barry M. Goldwater Scholarship
Campus Deadline: November 26, 2018
The Goldwater is for juniors or exceptional sophomores who are current U.S. citizens, U.S. nationals, or resident aliens. The Goldwater awards one- or two-year $7,500 awards to students who demonstrate strong evidence of contributing to the technological advances of the U.S. Applicants should be committed to pursuing a Ph.D in the research fields of mathematics, sciences, or engineering.