PLAS Events
GRE v. LSAT for Law School Admissions: TODAY, October 15, 4-5pm, 1002 Lincoln Hall
A hot topic in legal education is the recent decision by several law schools to accept a GRE or LSAT score. What should prospective law students know about the GRE versus the LSAT? Join us as Ms. Jennifer Kott, Director of Admissions at the University of Arizona James E. Rogers College of Law, shares details about how her office uses the GRE in the law school admission process. This session will cover:
Why the GRE is now being accepted by law schools
How the GRE differs from the LSAT
How law school admissions staff evaluate GRE scores versus LSAT scores
Advice on how to decide which exam to take; and
Communicating with law school admissions offices.
Click here for more information on the University of Arizona James E. Rogers College of Law.
Build Your Law School Application Plan: Part of the Applying to Law School Webinar Series – THIS FRIDAY, October 19, 2-3pm
This is part of our Applying to Law School webinar series for Illinois students and alumni.
During this webinar, we will discuss:
How to create a law school application strategy

Building a list of realistic and dream law schools

Assessing your priorities in a legal education

Research strategies for finding law schools that are a good fit

Budgeting for the application process

Creating an effective timeline to maximize admission and scholarship results
Bring your questions!
Register for this webinar by TOMORROW, October 16. Webinar link and handouts will be sent to registrants before the session.
Pre-Law 101 – Next Monday, October 22, 4-5pm, 514 IUB
This workshop is designed for incoming students who are new to pre-law or are interested in learning more about it. We will cover: What it means to be pre-law at Illinois, course selection, majors, and extracurriculars, building a pre-law resume, and what law schools are really looking for. We will outline a four year plan to maximize your undergraduate experiences in order to make a great law school candidate. We'll also take any questions about law school and legal careers. Click here to register for this event.

Each Pre-Law 101 session is the same, so pick the one that best suits your schedule. Incoming students should attend a Pre-Law 101 prior to setting up an individual pre-law advising appointment. Registration will be open until October 19 or until the session is full.  Go here to register.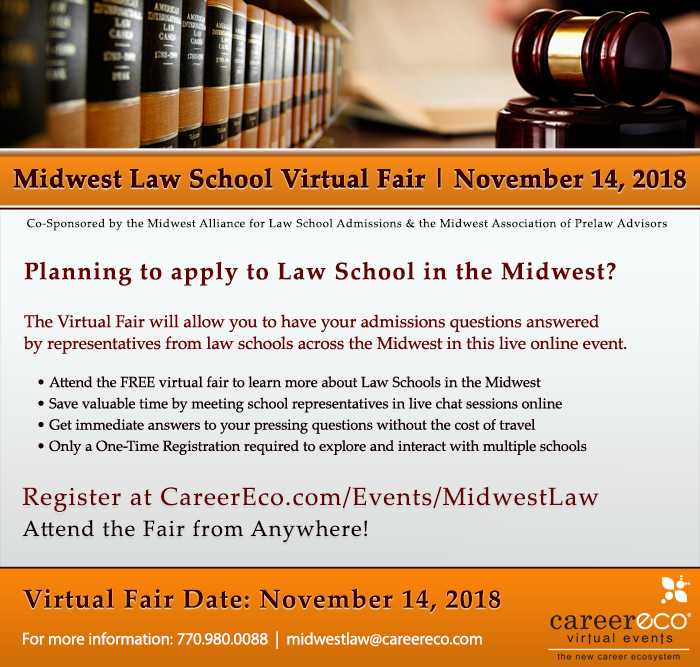 Upcoming: Midwest VIRTUAL Law Fair on November 14! Were you unable to attend our Law School Fair? Over 25 Midwest law schools will be available to chat online with you about the admissions process, their schools, scholarships, journals, etc. This event is FREE and participants don't need to travel! Click here for more information and to register. 
Career Center Events—Click here to visit the Career Center's website for more information or to register for these sessions.
Finding and Applying to Federal Government Jobs — Oct. 15, 4-5pm TCC Room 143

Graduate and Professional School Fair — Oct. 17, 11am-4pm, Illini Union A, B, C and Pine Lounge
International Career Festival — Oct. 20, 1-5:30pm, SDRP, 2nd Floor

Resume/Cover Letter/Linked In Reviews

Oct.15 , 2-4:30 pm TCC Resource Center; 5-7:30pm Ikenberry Commons

Oct. 16, 2-4:30pm TCC Resource Center; 5-7:30pm BrewLab Coffee Shop

Oct. 17, 2-4:30pm TCC Resource Center, 5-7:30pm BrewLab Coffee Shop


Oct. 18, 2-4:30pm TCC Resource Center

Oct. 19, 2-4:30pm TCC Resource Center

Oct. 21, 5-7:30pm, Ikenberry Commons
Law School Open Houses
Some fall law school open house opportunities, including one this past weekend at Chicago-Kent, have already passed.  Make sure you check the websites of your selected schools for these very helpful events.
For more information about upcoming Open House Days and how to prepare for these visits, go here to our blog post from October 3.
Scholarships and Other Campus Opportunities

Barry M. Goldwater Scholarship
Campus Deadline: November 26, 2018
The Goldwater is for juniors or exceptional sophomores who are current U.S. citizens, U.S. nationals, or resident aliens. The Goldwater awards one- or two-year $7,500 awards to students who demonstrate strong evidence of contributing to the technological advances of the U.S. Applicants should be committed to pursuing a Ph.D in the research fields of mathematics, sciences, or engineering.
Goldwater Information Session: Oct. 18, 3:30-4:30pm, 514 IUB
Goldwater Scholarship Workshop: Oct. 19, 3:00-4:00pm, 514 IUB
Interested in other scholarships? PLAS has collected information on over 200 scholarships–for both undergrads and incoming law students–on our Scholarships Spreadsheet over on our Pre-Law Compass page. It's a wide variety of scholarships based on everything from being left-handed to making a video to tweeting, and deadlines vary, so check it out!
The Social Justice Educators Paraprofessional Program – Final Info Session is Thursday, October 18, 6:30-7:30pm Gregory Hall Room 205


Do you want to…

Serve as a peer leader on campus?

Expand your knowledge about social identities and inclusivity?

Design fun and engaging educational opportunities for your peers?

Develop public speaking and interpersonal communication skills?

I

f you answered yes to any of these questions, then this is the leadership opportunity for you! Become a social justice educator paraprofessional! For more information on how to apply, visit

 https://go.illinois.edu/SJEPapplication or attend the final information session: Gregory Hall Room 205 October 18th 6:30 – 7:30 pm