It's Law School Application Week! Check out our 3 wonderful events going on this week!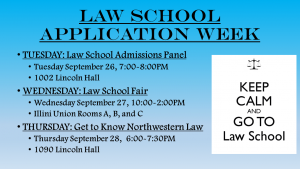 The Law School Fair is Wednesday September 27, at the Illini Union in Rooms A, B, and C. We are looking forward to seeing many of you there!
 Join us as over 100 law schools visit campus to meet with prospective students. Gather information about law schools, talk with admissions professionals about their schools, collect some fun freebies and law school application fee waivers. This event is FREE and open to the public. Dress is business casual. For more information, including a list of law schools attending the fair, visit our website. See you at the fair! No registration is required.
Four Things to Do Before the Law School Fair
Here are a few things to do before to get the most of out of the Law School Fair.
Look at the Schools' Websites and Do Some Background Research

Have specific questions for the admissions representatives that are coming to campus. Most basic questions can be answered by simply looking at the website (GPAs, LSAT scores, where their graduates work, professors, etc).
Example questions to ask: Where do students typically work after their first year summer? What is the school environment like? Are there study groups or other academic resources available? What do students do in their free time? How many students are involved in clubs and activities? What is the most popular class at the law school?

Have an Elevator Pitch Ready

What's an elevator pitch? It is a 30 second introductory speech about yourself.
The elevator pitch should start out by telling the representative your name, your hometown, your major, when you are applying to law school, and why you are interested in that specific law school. The law schools want to get to know you, so you should tell them a little about yourself.
Don't read off the speech, consider it the beginning of a conversation.

Get Your Outfit Ready

Dress is business causal for the event.
Men – A dress shirt, dress pants, and a tie are appropriate. No suit coat is needed.
Women – A dress shirt, blouse, or sweater, and dress pants or a skirt are appropriate.

Things to Bring With to the Event

A list of schools you want to talk to and why you are interested in those law schools.
A notebook and pencil. If you are impressed with a school or want to remember a specific detail about a conversation, it is best to write it down right away.
No need to bring a resume – most law schools will not accept resumes at this event.
MARK YOUR CALENDARS
For Law School Application Week we have some great events planned!
FALL EVENTS
Law School Admissions Panel Tuesday September 26
7:00PM 1002 Lincoln Hall
What are law school admissions professionals really looking for in an applicant? How do they weigh LSAT scores, grades, or work experience? What makes them take notice of an applicant–and what would make them deny someone? Join us for this expert law school admissions panel to discover this and more. Participants will have the opportunity to ask questions. This is a must-see event for anyone considering applying to law school!
Panelists include:
Dean Ann Perry from the University of Chicago Law School  http://www.law.uchicago.edu/
Ms. Grace Mayeda from the University of California, Berkeley School of Law  https://www.law.berkeley.edu/
Dean Rebecca Ray from the University of Illinois College of Law  https://law.illinois.edu/
Law School Fair Wednesday September 27
10:00-2:00PM Illini Union Rooms A, B, and C
It's the biggest pre-law event of the year! Join us as 120+ law schools visit campus to meet all who are interested in applying to law school. Learn about law schools, scholarships, and the application process while meeting the people who will be reading your law school applications. Application fee waivers and other freebies will be available. Stop by or stay the whole time! This event is free and open to the public. Business casual dress.
Getting to Know Northwestern Law (co-hosted with Pre-Law Honors Society) Thursday September 28
6:00 – 7:30 pm  1090 Lincoln Hall
Interested in Northwestern Pritzker School of Law?  Join us as Assistant Director of Admissions Sarah Rewerts discusses The Northwestern Law Difference.  Sarah will also share her inside perspective on Northwestern Law's admission process, including:  the Early Decision program; the interview process; the recent decision to begin accepting the GRE (for the Fall 2019 entering class), and more!  This is a great opportunity to get to know Northwestern Law and to have your questions answered!
Pre-Law 101 Tuesday October 3
4:00-5:00PM Room 514 of the Illini Union Bookstore
This workshop is designed for incoming students who are new to pre-law or are interested in learning more about it. We will cover: What it means to be pre-law at Illinois, course selection, majors, and extracurriculars, building a pre-law resume, and what law schools are really looking for. We will outline a four year plan to maximize your undergraduate experiences in order to make a great law school candidate. We'll also take any questions about law school and legal careers. Click the link above to register so that we can guarantee seating and materials for everyone. Each Pre-Law 101 session is the same. Incoming students should attend a Pre-Law 101 prior to setting up an individual pre-law advising appointment.
We've collected 275 scholarships–for both undergrads and incoming law students–on our Scholarships Spreadsheet over on our Pre-Law Compass page. It's a wide variety of scholarships based on everything from being left-handed to making a video to tweeting, and deadlines vary, so check it out!
It's NOT too early to start looking for spring/summer internships today! We post internships on our blog and our Facebook page. Check out this blog post for a plan on how to start finding spring and summer internships this fall.
Now is a great time to check out–or join–all of our pre-law resources! Click the links to explore. You can also search this blog for posts about the LSAT, law school applications, resumes, internships, and more!