Pre-Law Events
Next week is Law School Application Week! Save the date for the Law School Fair! Next Wednesday, Sept. 27 from 10 am-2 pm at the Union over 100 law school reps will be here to meet YOU! Click here for more details, including a list of who's coming.
Next week also has the Law School Admission Panel, featuring the admissions deans at UC Berkeley, University of Chicago and at our own UIUC College of Law on Tuesday, September 26.  Then on Thursday, September 28, there will be a presentation by Northwestern/Pritzker School of Law.  Go to our Events Calendar for information about time and location for these great events.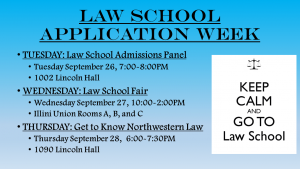 Perfecting Your Personal Statement and Resume for Law School– Tomorrow, Tuesday, Sept.19, 4-5pm. The personal statement is one of the most difficult yet powerful elements of the law school application. Join us for this workshop, which will cover what the personal statement is, how to prepare for writing it, and some tips and suggestions for making it reflect an applicant's strengths. We will also discuss how the personal statement and resume can complement each other to create a stronger law school application. Each session is the same, so select the one that best suits your schedule. Register here for this session.
Engineers and others thinking about patent law! Mark your calendars now for this great event in November!
Patent Bar Exam Session
335 Grainger Engineering Library, Nov 15, 2017  5:00 – 6:00 pm 
The patent bar exam is the required first step to becoming either a patent agent for the United States Patent & Trademark Office or a patent prosecutor/litigator as a practicing attorney. Students with a background in engineering and the sciences (such as biology, biochemistry, physics, chemistry, computer science) are eligible to sit for this exam. (To see all exam requirements, visit the link below).  Join us for this Patent Bar session to learn about the exam from an expert. Mark Dighton, Director of the Practicing Law Institute Patent Office Exam Course, will be here to answer all of your questions.
He'll also answer any other questions you have about the patent bar exam. This session is specifically designed for those undergrad and graduate students in engineering, science, or technology disciplines who are eligible to sit for the patent bar.
For a list of eligible majors or backgrounds visit  https://www.uspto.gov/sites/default/files/OED_GRB.pdf
For more information and to register for the Patent Bar Exam Info Session, click here.
Campus Events
Career Center 
Here are some workshops offered this week.  For the full Career Center calendar, click on this link.
How to Sell Your LAS Degree at Career Fairs – Today, Monday, September 18, 4-5pm, 1092 Lincoln Hall
Creating Your Powerful Resume — Today, Monday, September 18, 5-6pm, Room 143, Career Center (go here for other times for this workshop)
Making Your Major Decision — Wednesday, September 20, 4-5pm, 1064 Lincoln Hall
International Student Career Meet Up — Thursday, September 21, 4-5:30pm, Career Center Interview Suite (616 E. Green Street) Room 213
Finding An Internship — Thursday, September 21, 4-5pm, Career Center Room 143
Job Search Resources for International Students — Friday, September 22, 4-6pm, Career Center Interview Suite (616 E. Green Street) Room 213
Criminology, Law, & Society Minor Information Session
3057 Lincoln Hall, 2:00 – 2:30 pm
Learn more about the Department of Sociology's new minor in Criminology, Law, & Society! If you have additional questions, contact soc-advising@illinois.edu
JUSTICE JESSE G. REYES TO PRESENT DEAN'S PUBLIC ENGAGEMENT LECTURE
Thursday, September 21 at 12 p.m. Max L. Rowe Auditorium, Law Building
Justice Jesse G. Reyes, Illinois Appellate Court, First District will discuss important priorities for the legal profession, including diversity inclusion in the legal profession, and providing a voice for a large segment of our middle class and working population.The lecture is free and open to the public. Lunch will be provided to lecture attendees.
Minority Association of Future Attorneys (MAFA) meeting is Tuesday September 19 at 7PM. Noyes Lab 165 – everyone is welcome!
College of Law Opportunities for Pre-Law Students

Prospective Client Volunteers Needed–Please consider volunteering to play the role of a prospective client with a possible legal issue for students in CFI: Interviewing, Counseling & Fact Investigation.  Volunteers are needed on September 27 and 28 at varying times.  You will meet with and be interviewed by your lawyer for approximately 15-20 minutes.  You will be given the fact pattern for the role you volunteer to play.  Please consider signing up for multiple sessions.  To volunteer or for additional details, contact Angela Martin (aymartin@illinois.edu).  Feel free to refer any non-law, or undergraduate friends.  Your time is greatly appreciated!
We've collected 275 scholarships–for both undergrads and incoming law students–on our Scholarships Spreadsheet over on our Pre-Law Compass page. It's a wide variety of scholarships based on everything from being left-handed to making a video to tweeting, and deadlines vary, so check it out!
It's NOT too early to start looking for spring/summer internships today! We post internships on our blog and our Facebook page. Check out this blog post for a plan on how to start finding spring and summer internships this fall.
Now is a great time to check out–or join–all of our pre-law resources! Click the links to explore. You can also search this blog for posts about the LSAT, law school applications, resumes, internships, and more!