Now is the time to plan ahead and make sure you are organized for the fall semester!
Freshmen –
Attend a Pre-Law 101 session to learn more about what you should be doing the next four years. The next session is:

Monday September 11, 4

:00-5:00PM,

Room 514 of the Illini Union Bookstore.

Make sure to get involved on campus with a few extracurricular activities, too! Explore Pre-Law Advising Service's Compass page for more information.
Sophomores –
Also consider attending a Pre-Law 101 session if you are new to pre-law. If you are eligible, apply to be a member of the Pre-Law Honors Society.
Remember that you will need professors to write recommendations letters for law school applications, so keep in touch with professors!
Start planning your potential LSAT date, and consider possible conflicts like work, internships, and study abroad.
Juniors –
Solicit letters of recommendation from your professors.
Remember to keep your GPA as high as possible. Grades are very important for a law school application.
Plan to attend the Law School Fair on Sept. 27 to explore law schools and find out what they're looking for in a candidate! http://prelaw.illinois.edu/law-school-fair
If you haven't taken the LSAT, pick a date for your test. Our Practice LSAT for Sept. 8 is full, but we will host another in the spring, so be on the lookout for that one.
Seniors –
You should be working on your applications if applying for Fall 2018. Attend the

Perfecting Your Personal Statement and Resume for Law School on

Tuesday September 19 from

4:00-5:00PM in

Room 514 of the Illini Union Bookstore. And see our Application Week events below!

If you are taking a gap year or two, start considering job opportunities and what you will do during your time off. The Career Center offers more information on Handshake, the new way to apply for jobs and internships. For more information, click here.
The Career Center also offers Resume/Cover Letter/ and LinkedIn Reviews, Career Fair Prep, and Resume Workshops throughout the month of September. For more information on the Career Center's events, click here.

Finalize your recommenders for your law school applications. If you have not asked your recommenders for a letter of recommendation, ASK THEM NOW.
For more information what you should be doing now to prepare for law school, click here to learn more about Pre-Law Advising Service's suggested timeline for students.
Pre-Law Advising Services offers many great events in September and this year we will have a special week devoted to law school application-related events.
The week of September 25 is Law School Application Week!  Here are our 3 great events for Law School Admissions Week!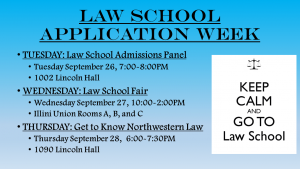 Event #1 – Law School Admissions Panel
Tuesday September 26, 7:00PM
1002 Lincoln Hall
What are law school admissions professionals really looking for in an applicant? How do they weigh LSAT scores, grades, or work experience? What makes them take notice of an applicant–and what would make them deny someone? Join us for this expert law school admissions panel to discover this and more. Participants will have the opportunity to ask questions. This is a must-see event for anyone considering applying to law school!
Panelists include:
Dean Ann Perry from the University of Chicago Law School  http://www.law.uchicago.edu/
Ms. Grace Mayeda from the University of California, Berkeley School of Law  https://www.law.berkeley.edu/
Dean Rebecca Ray from the University of Illinois College of Law https://law.illinois.edu/
Event #2 – Law School Fair
Wednesday September 27, 10:00-2:00PM
Illini Union Rooms A, B, and C
It's the biggest pre-law event of the year! Join us as 120+ law schools visit campus to meet all who are interested in applying to law school. Learn about law schools, scholarships, and the application process while meeting the people who will be reading your law school applications. Application fee waivers and other freebies will be available. Stop by or stay the whole time! This event is free and open to the public.
Event #3 – Get to Know Northwestern Law
1090 Lincoln Hall
Thursday September 28   6:00 – 7:30PM
Interested in Northwestern Pritzker School of Law?  Join us as Assistant Director of Admissions Sarah Rewerts discusses The Northwestern Law Difference.  Sarah will also share her inside perspective on Northwestern Law's admission process, including:  the Early Decision program; the interview process; the recent decision to begin accepting the GRE (for the Fall 2019 entering class), and more!  This is a great opportunity to get to know Northwestern Law and to have your questions answered!