Connect with Pre-Law Advising Services! Join us for even more internship, scholarship, and event opportunities!
Facebook: Click here to join our group
Twitter: Click here to follow us
Thank you to everyone who attend our Negotiating Scholarship Workshop last Monday. We have other pre-law events at the end of the month and the beginning of April for you to look forward to, as well.
Upcoming Programs from Pre-Law Advising Services:
Taking a Gap Year Before Law School
Are you considering working before law school? Or want to know more about going straight through to law school?
The panel will feature three current law students from the University of Illinois College of Law. They will discuss the pros and cons of going straight to law school versus taking time off and working.
We will also share some tips and suggestions for students to maximize their time off and effectively highlight post-undergraduate skills.
Wednesday March 29 at 5PM. Room 514 of the Illini Union Bookstore Building
International Students' Perspectives on Law School in the United States
Wednesday April 5 at 4PM. Room 504 in the Illini Union Bookstore Building
Are you an international student considering law school in the United States? Join us for this great panel discussion.
The panel for this event will include two current law students that will discuss their decision to attend law school in the United States
Topics discussed will include: the benefits and long-term value of an American law degree, visa processes, and life at an American law school.
Transitioning to Law School
Monday April 10, 4PM-5PM. Room 514 of the Illini Union Bookstore Building
Attending law school this fall? Learn about how to prepare for law school and the next three years.
Topics discussed will include: finances, seat deposits, living arrangements, and advice for what to do this summer
Meet other U of I students attending law school this fall across the country!
Internships and Summer Pre-Law Programs
We hope that you have been keeping up on our blog and Facebook posts about internships and summer pre-law programs.  Another resource you should continue to utilize is our 20 page Internship Newsletter over on our Pre-Law Compass page that we posted in December! (Click here for instructions on how to access our Compass page.) The Internship Newsletter has lots of job and internship listings for spring, summer and long-term opportunities from Champaign to D.C. and beyond.  In addition, you should regularly check iLink to see if summer internships have been posted there.
On Campus Events
Writer's Workshop Event
The Writer's Workshop is hosting a "Writing Effective Thesis Statements" workshop on Wednesday March 8 from 4PM- 5PM in 1062 Lincoln Hall.
Career Center's "Finding an Internship" Workshop
Gaining experience while in college is very important when it comes to finding employment after graduation. Learn how to search for internships and other opportunities by using different search engines including I-Link, Illinois' campus-wide recruiting platform.
March 7 from 5:00pm to 6:00pm. The workshop will be held in the Career Center Conference Room 143.
Career Center's "Acing Your Interview" Workshop
During an interview, you only have a short time to convey you are a great fit for a position or organization. Learn the most common types of interviews, how to prepare for an interview, how to structure answers to interview questions, and tips for following up after an interview.
March 8 from 4:00pm to 5:00pm. The workshop will be held in the Career Center Conference Room 143.
Internship Opportunity! See the flyer below for more information on the Wolff Public Policy Research Intern position.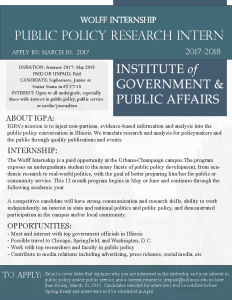 Learn more about the new Sociology minor! There will be an Information Session for the new Sociology Minor in Crimonology, Law, and Society this week. The info session will be Thursday March 9th at 5PM in Lincoln Hall 3057.