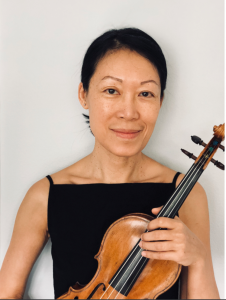 Violinist Mei Chang attended her first Rolland Workshop in 2014 and is part of the first generation of Rolland certified teachers, having completed all four levels of certification plus Presenter and Mentor trainings with Paul Rolland's students.
She is forever indebted to her teachers, Ayrton Pinto, formerly of the Boston Symphony, having earned her Bachelor's degree in Violin Performance under his guidance at São Paulo State University (UNESP), and Peter Zazofsky, who along with the Muir String Quartet and the great violist Raphael Hillyer, mentored her through six years at Boston University. She has a Master's in Violin Performance and completed studies in the DMA program.
Mei is a former member of the Hong Kong Philharmonic, and the Orquesta Sinfónica de Galícia, in Spain. Currently a member of the Pasadena and Long Beach Symphonies, she is also active in the Film and TV recording community in Los Angeles.
Having retired her shoulder rest after thirty years of not knowing why there was something between her and her violin, she performs fittings for Frisch & Denig Chinrests, helping professionals, students and amateurs alike, in their pursuit for freedom from excessive tension.
Mei was born in Taiwan and grew up in São Paulo, Brazil.