The facilities and resources available to our research group are established to successfully complete exercise and nutrition based protocols and perform biochemical and molecular biological research. In addition to our own facilities within the Department of Kinesiology and Community Health, we have access to core facilities, which provides state-of-the-art research infrastructure to University of Illinois researchers. Also, the Center of Health, Aging, and Disease (CHAD) provides biostatistical support and conference/videoconference facilities to researchers in the Department.
Please see below for specific detail related to various aspects of our research infrastructure.
---
Physical Fitness Research Laboratory
The exercise intervention space is shared amongst the T.K. Cureton Physical Fitness Research Lab members and includes Woodway motorized treadmills, cycle ergometers, Lode Excalibur Sport Cycle Ergometer, Cyclus 2,  Biodex Isokinetic Dynamometer, 4 ParvoMedics TrueOne Metabolic systems, and resistance exercise equipment.
Update: We have recently opened a brand new 2,784 ft2 exercise center is located on the main floor of Louise Freer Hall, and houses state-of-the-art exercise equipment dedicated to research participants involved in supervised cardiovascular and resistance exercise interventions.  The new weight lifting equipment is due to arrive early 2021.
Phlebotomy Clinical Lab (Freer 181B).
Located adjacent from the Physical Fitness Intervention Center, this 341ft2 laboratory serves as space to collect research participant biospecimens including blood, urine, feces, and saliva. It contains blood draw chairs, a bed for supine collections, and various expendable supplies for sample collection.
Human Clinical Intervention Laboratories
Three biospecimen collection spaces (each 407ft2) located on the first floor and basement are dedicated to human metabolic research. These spaces include 2 Parvo metabolic (TrueOne 2400) carts for indirect calorimetry and a YSI biochemical analyzer. In addition, the spaces includes 5 infusion pumps, 35 Bergström biopsy needles, 4 IV stands, 1 crash cart, and 3 adjustable hospital beds with an option to separate the rooms with privacy screens.
Metabolic testing room 1
Metabolic testing room 2
Metabolic testing room 3
Body Composition Laboratory (Freer 277). This laboratory is equipped with state-of-the-art body composition assessment technologies including the Hologic Horizon® dual energy x-ray absorptiometry (DXA) System. The Horizon DXA system is the latest in densitometry technology that provides accurate estimates for whole body and regional soft tissue composition as well as bone mineral content. Additionally, the system software allows for sequential tracking of participant's changes in body composition while providing clinically relevant information e.g., fracture risk assessment and age and sex-based percentile scores.
Exercise Biochemistry Laboratory (Freer 081). Biochemical and molecular biological work takes place in a well-equipped 1970ft2 laboratory in the basement of Freer Hall. It is located adjacent the Biospecimen Storage Lab (Freer 82, 261ft2) that houses 8 ultra-low temperature freezers. This laboratory contains 2 chemical fume hoods, 3 biological safety cabinets, refrigerators, RO water and gas supply, glass wash machine, autoclave, icemaker, and 3 large benches. It contains the necessary equipment (centrifuges, plate shakers, microplate washer, microplate reader, speedvac concentrator, and vapor trap, western blotting equipment, gene expression analysis, a cryostat, freeze dryers, -20 ˚C refrigerator, and laboratory oven) for processing and analyzing human blood and muscle samples. The laboratory also contains a PC with various word processing, statistical and graphical packages. The sterilization and isotope preparation procedures are conducted in a dedicated lab space (~275 ft2) within this laboratory, which includes an autoclave, laminar flow hood, and a refrigerator for isotope storage.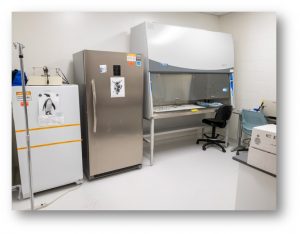 Metabolic Kitchen with Dining and Observation Area (Freer 181C). KCH also maintains a 1100ft2 nutritional research complex that includes a fully equipped kitchen for preparing research meals, pantry for storage, and dining room with a direct observation area with one-way glass. This facility is located adjacent the Physical Fitness Intervention Center.
Freezer Room & Human Biobank
The freezer room is shared among the T.K. Cureton Physical Fitness Lab members and includes ice machines and multiple -80 deg C freezers for the storage of human muscle and blood samples. In addition, we have established the Human Biobank which contains blood and skeletal muscle biopsies collected from a wide range of human volunteers reserved for future analysis.
Metabolomics Center
This core facility is located less than 0.5 m from our research lab. The facility contains the necessary equipment to prepare samples and perform subsequent isotopic enrichment analysis in human samples such as: Agilent 6890N GC/5973 MS (GC/MS), Agilent 7890A GC/5975C MS (GC/MS), Applied Biosystems 5500 QTrap with Agilent 1200 LC (LC/MS). Experienced technicians are available for technical assistance and quality control with all equipment in core facilities, and access to analysis software is provided.
Protein Sciences Facility
This core facility is located less than 0.5 m from our research lab. The facility contains the necessary equipment to perform protein/peptide identification by proteolysis coupled with mass spectrometry and database searching. There is a choice of using either MALDI-ToF (Matrix Assisted Laser Desorption Ionization – Time of Flight) or ESI-QTof (Electrospray ionization – Quad Time of Flight) with LC (Liquid Chromatography). Experienced technicians are available for technical assistance and quality control with all equipment in core facilities, and access to analysis software is provided.
High-Performance Biological Computing (HPCBio)
This core facility is located less than 0.5 m from our research lab. The facility provides the necessary bioinformatics services to assist with high throughput genomic, proteomic, and other 'omic' analysis to help gain insights into biological processes in response to nutrition/exercise.
Meat Science Laboratory 
The University of Illinois operates a fully functional, federally inspected abattoir that allows for the harvest and processing of cattle, sheep and swine.  The facility includes all equipment needed to harvest animals, store and age carcasses, and process carcasses into commercial or research required cuts. Further processing of both fresh and processed meats is performed. Grinders and patty makers are available to manipulate food textures. The laboratory also includes necessary equipment to determine the proximate composition of meats, foods and tissues.
---