Stressing over finals and needing to relax? Interested in finding a new hobby? Endlessly entertaining (and delicious), cooking and baking are great ways to keep busy and take a break from studying for finals. Plus, once it's finished, you get to eat whatever you've chosen to create! Test your cooking and baking skills or learn a new recipe or two from these dishes, all inspired by food that can be found in fiction.
To see the each recipe individually, click the bold titles. To find the book in the library's catalog, click on the title of the book at the end of the quote.
"A little beer would suit me better, if it is all the same to you, my good sir," said Balin with the white beard. "But I don't mind some cake–seed-cake, if you have any." –The Hobbit, J.R.R. Tolkien
Kate Young, creator of the Little Library Café, is an award-winning food writer who has created hundreds of recipes inspired by books, one of which is seed cake, a food taken directly from The Hobbit. A classic English cake, seed cake can be found throughout tons of English literature, but this recipe comes inspired by J.R.R. Tolkien, with a cake fit for any Hobbit's feast.
"A warm savory steam from the kitchen served to belie the apparently cheerless prospect before us. But when that smoking chowder came in, the mystery was delightfully explained." —Moby Dick, Herman Melville
Nothing beats a good clam chowder. Inspired by a recipe from the 1800s,  The Inn at the Crossroads has created a delicious version of clam chowder that would make Captain Ahab proud. And, while you wait for it to cook, you can take a peek at Melville's Great American Novel, Moby Dick. 
Chocolate Éclairs, Mrs. Dalloway 
"Miss Killman opened her mouth, slightly projected her chin, and swallowed down the last inches of the chocolate éclair, then wiped her fingers, and washed the tea round in her cup." —Mrs. Dalloway, Virginia Woolf
Chocolate éclairs are a mouth-watering French classic, but might be intimidating to make. Have no fear! The Food Network has a great (but long) recipe for this sweet that will have you baking in no time! Even though it's a bit of a lengthy process, you'll be dining as well as Mrs. Dalloway in no time!
"Those dripping crumpets, I can see them now. Tiny crisp wedges of toast, and piping-hot, flaky scones. Sandwiches of unknown nature, mysteriously flavoured and quite delectable, and that very special gingerbread. Angel cake, that melted in the mouth, and his rather stodgier companion, bursting with peel and raisins. There was enough food there to keep a starving family for a week." —Rebecca, Daphne du Maurier
There was no shortage of recipes available for Daphne du Maurier's Rebecca. In just one paragraph there are at least seven mentions of various foods and sweets, all of which sound delicious. The best, by far, though, was the mention of crumpets. A traditionally British treat served at teatime, crumpets are best described as a cross between an English muffin and a pancake that goes well with just about any spread, be it butter, jam, or clotted cream. So give this recipe a try, I'm sure Daphne du Maurier would approve.
Fritelle, Those Who Leave and Those Who Stay 
"When the famous fritelle arrived, the girls were elated, and so was Pietro, they fought over them." —Elena Ferrante, Those Who Leave and Those Who Stay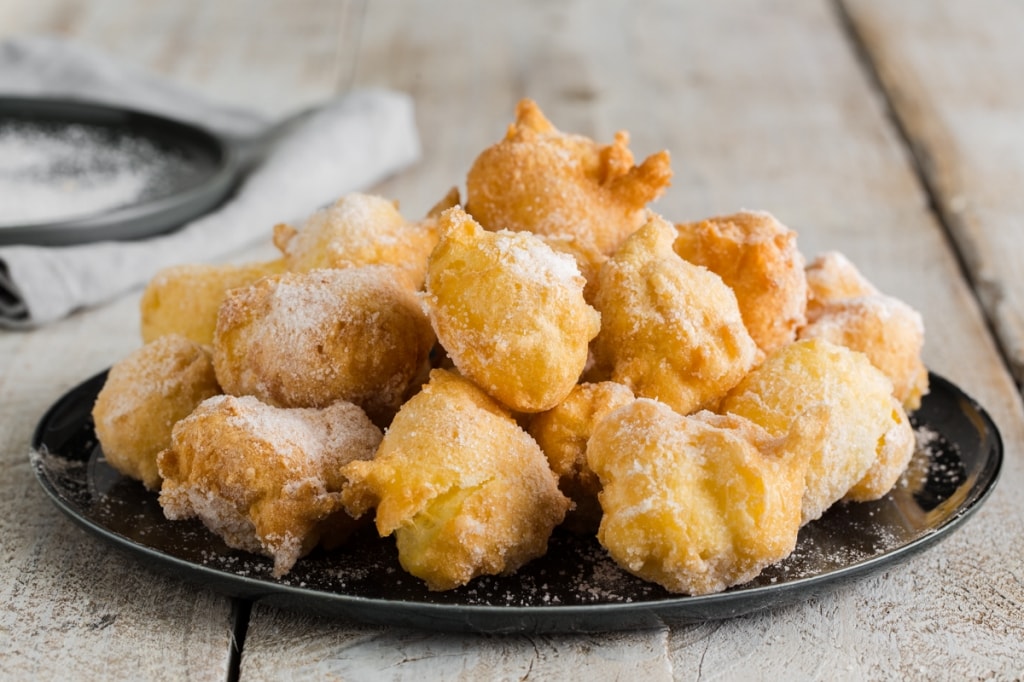 Fritelle are a classic Italian dessert served during Carnival. Similar to donuts, fritelle are made of yeasted dough which is then fried and can be filled with various types of fillings and dusted with sugar. It's no surprise Elena Ferrante decided to include these delicious pastries in her book, Those Who Leave and Those Who Stay, the third of four books in her Neapolitan Novels. With a simple recipe and intriguing book to go along with it, you'll be baking authentic fritelle in no time!