Meet the 2023-2024 executive board!
President: Kira Martin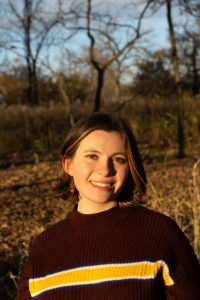 Hi! I'm a senior in MatSE with an interest in electronic materials. As the Keramos President this year, I am hoping to expand on Keramos activities and restart the glass shop. If you have any questions about these or Keramos in general, feel free to reach out to me! Outside of Keramos I do undergraduate research at the center for plasma-material interaction, work as a research ambassador for the office of undergrad research, and TA MSE 307 & 308. In my free time I love to cook, read, knit, and hike.
Vice President: Abby Sreden

Hi, my name is Abby and I am the Vice President of Keramos. I am a Senior in MatSE with a focus in metals. I am really excited this year to get to welcome new Keramos members as well as coming up with some fun new activities for members. Outside of Keramos I play lacrosse on the UIUC Women's Club Lacrosse team as well as being a Communications Intern of the MatSE department. I also enjoy baking, crafting, and fishing. Feel free to reach out if you have any questions about Keramos, MatSE, or anything else!
Treasurer: Andrew Lum

Hi! I am the treasurer for this Keramos chapter, interested in polymers, electronic materials, and sustainability. Outside of school, you can find me at the ARC playing badminton, at home watching food videos, or outside taking mildly long walks around campus. I am excited to help club members connect with each other and plan to host fun events.
Professional Chair: Hayden Gantt

Hey! I'm a junior in MatSE also doing minors in Physics and Semiconductor Engineering. As the Professional Chair, I work on hosting events aimed at professional development for our members. Besides Keramos, I'm also heavily involved in Engineering Council, as a PLT Facilitator for the CARE program, and as an ELA for our Engineering Orientation course. In my free time, I enjoy camping and backpacking, playing Mario Kart with my friends, and watching anything Star Wars!
Herald/Secretary: Robbie Nollett

Hello! I'm a senior in MatSE with interest areas in biomaterials and nanomaterials. As a Herald, you can find me mainly in the basement of the Ceramics Building for our Play with Clay sessions. When not participating in Keramos activities and other RSOs, I enjoy working out, following Illini sports, and playing Rock Band and Mario Party. If you have any questions about PwC or anything regarding Keramos, please contact me at nollett2@illinois.edu!
Herald/Webmaster: Laura Klusendorf

Howdy! My name is Laura Klusendorf and I am one of the Heralds of Keramos. I am a Junior in MatSE with an interest in ceramic materials. I am looking forward to more Play with Clays this year. Outside of schoolwork, I am an MA mentor, a Physics 100 Learning Assistant, and I play a lot of board games. If you have any questions about PwC please feel free to contact me at laurafk2@illinois.edu.