Here at our remote Team Awesome bunker we're taking time to think about the people who make us so great. You're already familiar with their hard-working, tech-supporting, can-do attitudes. Now we pull the curtain back a little bit further so that you can get to know them better. Today, we're featuring first-year student Katie Peterson, who will do something awesome with school librarianship, public librarianship, or museum archiving after she graduates.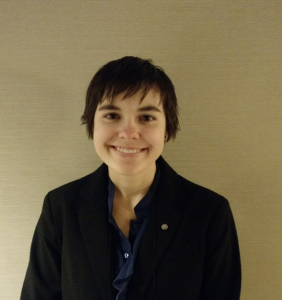 Where are you from and what's your favorite part about it?
I'm from Naperville. My favorite part about living in Naperville was living so close to the Prairie Path network of bike trails. I used to spend my summers exploring them on my bike!
What is your favorite part about working at the Help Desk?
My favorite part of working at the help desk is the satisfying feeling of being able to answer someone's question and helping them out. 🙂
Favorite catchphrase?
Ooooooof!
If you could have dinner with anyone, living or dead, what would you eat?
Chicken parmesan
What is (or would be) your go-to karaoke song?
All-star by Smashmouth
If you had to choose, would you rather it rained gummy bears, M&Ms, or potato chips?
M&Ms
What was your silliest/most embarrassing teenage phase?
White belt with black star pattern worn regularly.
Who would win in a fight between a trillion lions and the sun?
The sun – because the sun is too big for lions to attack!