Before beginning this alluring journey to walk on the sacred path towards God, I had various concerns regarding how the journey would be like? Being a solo traveler, what kind of people would I meet? With just a handful of words from Spanish vocabulary, how would I communicate with the local community? Even though I expected my whole journey to unravel beautifully at different instances, I couldn't stop asking myself these questions. After finishing my journey, I can positively say that it has been one of the best trips I have had so far, and, one day, I am definitely going back to walk on the path of Camino de Santiago again.
El Camino de Santiago, in English is called 'The Way of St. James'. It is a 100-year-old ritual. It is believed that the body of St. James, the Apostle was discovered by a shepherd in a field in Galicia in 9th century. The name of the route comes from the St. James' name Camino de Santiago meaning Walk of St. James.
My curiosity to explore the journey began with my research on the walking pilgrimages of India. After studying the sacred landscapes in India, I wanted to experience Western pilgrimages, specifically Europe and build a study of contrast and similarities between the pilgrimages of both the continents. Camino de Santiago was on the top of my list because of its worldwide popularity and enriching walking experiences as described by pilgrims.
I attempted to walk the last 120 kms of the pilgrimage, from Sarria to Santiago de Compostela. I reached Santiago by a flight and then took a bus that took about 4 hours to reach Sarria. It is a picturesque village in the arms of Galician mountain range. I stayed at a small Albergue that was 5 min walk from the Cathedral. After lunch and a stroll in the village square, I decided to attend the evening mass in the cathedral. The whole mass was in Spanish and everyone around me in the Cathedral seemed to be in their 40s-50s. Though I don't understand Spanish at all except "Hola!" and "Gracias!", it was quite captivating and the aura of the place felt quite spiritual. My objective was also to talk to as many people as I could and learn about their journey, intentions of this pilgrimage and how did walking through these sacred landscapes evolve and affect them. I met a 25 year old man from France, named Florlan Ernesto, who had begun from France and been walking for 10 days to reach Santiago. He mentioned that this was his second time coming for this journey and that he was quite close to his deceased mother who had been doing it for about 50 years. He wanted to continue her tradition as a legacy and thus had started to walk on the pilgrimage a year ago. He also was a godfather to his son's daughter and wanted to pray for her well-being that had inspired him to walk on this journey.
The next day, I stepped out of the Albergue with confusions as to how to move forward in the journey. The warden of the Albergue told me that the yellow arrows, scallop shell and a couple of other symbols mark the clear legibility on the way and GPS or any map
is not required to reach the next destination which was a village named Portomarin. The scenic path towards Portomarin was through a dense forest, rolling grasslands with beautiful mountains around and meandering roads. I met a German woman, Wiebke, who must have been in her early forties. After introducing myself, I couldn't stop myself but ask her about her reasons for doing the walk. She mentioned that her friend had done it a couple of years ago on the route that goes right outside her house in her hometown. She had seen the movie "The Way" and was also reading about personal experience of a man who had done the walk. This all inspired her a great deal that motivated her to give it a try. She had a family in Germany but she decided to walk by herself. She was a lovely companion. The journey was also made interesting by a group of young Spanish men I came across while walking, and who were singing lovely Spanish songs.
Portomarin is a beautiful village on a hill near the river Minho, 15 miles from Sarria. After walking for 15 miles, I was exhausted and drained with energy but the approaching view of Portomarin was profound. I met a Chinese girl in the Albergue who told me she had a few days off from work and this walk sounded adventurous to her that's why she had been walking for 15 days and had planned to walk even further for 20 days. She wasn't religious or soul searching, this was just a fun trip to her. A quick lunch and short nap later, I went to explore the village. It had an interesting spatial design with a big open square in the center and the cathedral, shops and restaurants around the square. The topography was a little steep with streets going up the hill towards the square.
Departing from Portomarin next morning, I began walking towards Palas de Rei, my next destination for the journey. This time, the route led me towards hill top and the view from there was breathtaking. The hill top was surrounded by open tracts of grasslands, trees and other hills with patchy farmlands and clusters of settlement at places. I could gaze at the view for hours if I stayed. Halfway through my destination, I was reunited with Wiebke, the German woman. That's the remarkable thing about this journey. You see the same faces, who you started the walk with, at different instances of the walk. Apart from the signage that make one feel associated with the feeling of a pilgrim, the wish "Buen Camino" becomes a delightful tradition that you follow whenever you pass a pilgrim/pilgrims on the way.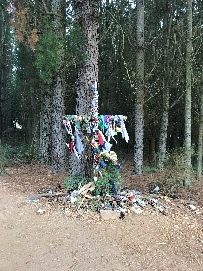 Palas de Rei was a bigger town than the previous two. The evening mass at the cathedral used to be the perfect way to end the day even though I didn't understand what they said in the mass. I would always see lot of familiar faces showing up at the mass and it became an important pilgrim ritual for me. The next day, I left for Melide that was 12 miles from Palas de Rei. This part of the walk was mostly thorugh forests and farms. Even if I would walk alone, I never felt lonely or vulnerable in my pilgrimage. Beautiful rolling landscapes and Spanish villages felt safe.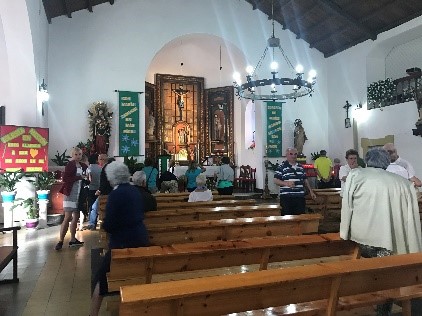 Melide was more developed and bigger than all the previous ones. The streets were busier, there were more shops, restaurants, café and a commercial center. There were local markets and streetside vendors for clothes, food, shoes etc. that made the local galician ambience more vivid. I met two Spanish girls in the Albergue as we shared a room. They had come from Seville to walk the last 100 kms as they had graduated and wished to get a job. Through walking, they believed that they are paying respect to God who would fulfil their wish. One of them translated the evening mass for me in the Cathedral. The priest praised the pilgrims and congratulated on their journey so far. He said with each step, we were reaching closer to God. The small town square was enlivened after the mass with restaurants and coffee shops with pilgrims dispersed and explored their options.
The next destination was Arzua. What was surprising about one of the bars on the way was it had a slot machine. After reaching Arzua, I explored the town and local food, highlight of which was spicy fried green chillies. The next morning, I began walking towards Amenal. With reaching closer to Santiago each day, my curiosity was increasing to see the final destination. The spatrial fabric of the landscapes was slowly transitioning into more urban from country as the walking paths became wider, even the ones next to highways. Amenal wasn't really a village but an extremely small settlement with a hotel for pilgrims to stay at.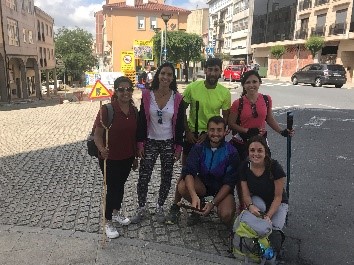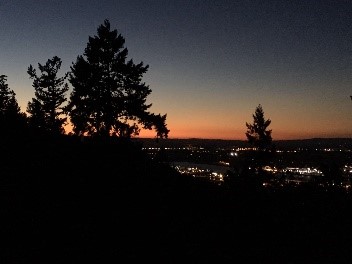 The final day of my journey towards Santiago was very exciting. I reached a hill while walking from the top of which I could see Santiago de Compostela. Each walking step towards the city was pumping energy into me and my enthusiasm levels were at its best. My arrival was anounced by decorative boards along the roadside that were decorated by embellishments from pilgrims. After reaching the town square, I made my way towards the cathedral through through fervent crowd in the narrow streets. The first sight of the Cathedral was eternal. Beautiful scupltures carved all over on the walls described the story of years and years of pilgrimage the cathedral has witnessed and it stood as a palimpsest of built material and pilgrims' emotions. The inside was equally beautiful. Main chamber was adorned with glitterinmg gold sculptures of Jesus, angels and other saints. The whole aura was quite heavenly. The evening mass was in Spanish and I could ony understand a handful of words but it still gave me goosebumps and I felt proud as a pilgrim. After collecting my certificate of pilgrimage, I started exploring the town that felt as if it belonged to a different era, with talented musicians giving a wonderful background score on the streets, local ice cream shops and restaurants with authentic flavors and a charming pink sunset sky. I felt light as air, melting slowly in the cool winds, absorbing my journey into my soul.
Saloni Chawla
Graduate Teaching Assistant
Department of Landscape Architecture
University of Illinois at Urbana Champaign
References