SPECIAL GUESTS
Dr. Will Patterson
University of Illinois at Urbana-Champaign
Symposium Keynote Speaker
Dr. Patterson is a lecturer in the College of Engineering at the University of Illinois at Urbana-Champaign. Dr. Patterson focuses on preparing students of various Hip Hop generations to be civic-minded urban global leaders in cultural innovation, entrepreneurship, engineering, business, art, and technology. He is a fellow of the Academy for Entrepreneurial Leadership and an Adjunct Assistant Professor in the Department of African American Studies. His current research and action interests concentrate on urban STEM pedagogy development, organizing community code trainings, community sustainability, and entrepreneurship.  Additionally, connecting university students with indigenous community organizations is central to his areas of focus.
---
Mother Nature: T.R.U.T.H. and Klevah
Symposium Guest Presenters and Performers
Guest Instructors: Writing Workshop
The Chicago emcee, T.R.U.T.H has made it a point to not only expose her own demons through masterful lyricism, but create a dimension free of facades and artificiality. Using brutal honesty, self-empowering messages, along with a captivating stage presence, she keeps her audience at attention. Speaking on tough subjects like patriarchy, politics, police brutality and sexuality it is safe to say T.R.U.T.H is not for the faint of heart. She proudly boasts about melanated women, nappy hair, full lips and curves prompting ladies of similar descriptions to love themselves. T.R.U.T.H wants all her sistas to feel free to express their genius in all their illustrious forms. T.R.U.T.H is a take-control, no-holds-barred wordsmith, art activist and musician. Love is her ingredient of choice that the world is sure to want more of. The universal language of Hip-Hop coupled with her love-centered philosophy allows T.R.U.T.H to reach the core of anyone brave enough to listen.
Champaign-born emcee, Klevah is the epitome of Hip-Hop. With the mic as her weapon, Klevah embodies her ninja persona, taking the listener by surprise with razor-sharp delivery and mind-defying lyrics placing her in a class all her own. A true student of the culture, Klev speaks, creates and lives through Hip-Hop. She uses her gift to speak bluntly about her less than picture-perfect background and spread knowledge on the troubles that haunt us today. Klevah exposes her complete self in her music prompting her audience to be just as free. Vulnerability juxtaposed with a gritty, nonchalant demeanor are the two sides of this Gemini. When effortlessly weaved there is no stopping this 5ft powerhouse. Backed by two collectives, The Gr8Thinkaz and Mother Nature, Klevah is still able to illuminate her own unique GLDN aura. Contemplating in the Forest of her mind we can only imagine what she does next, but it'll definitely be worth the W8.
---
We Levitate: Dr. Ruth Nicole Brown, Jessica Robinson, Blair Smith, and Dr. Porshe Garner
Symposium Guest Presenters and Performers

We Levitate is a sonic force of Black girl sounds that reverb Saving Our Lives Hear Our Truths (SOLHOT) vibes whenever we are together. SOLHOT is now everywhere but began in Champaign-Urbana in 2006 as a sincere organizing effort to celebrate Black girlhood with Black girls. SOLHOT homegirls and forever bandbaes, Dr. Ruth Nicole Brown (of Chicago's south suburbs), Jessica Robinson (of Chicago and St. Louis), Blair Smith (of Richmond, VA), and Dr. Porshe Garner (California born, Chicago raised) experiment with music-making, ritual, and celebration to feel ourselves loved through each other's voice, rhythm, and (heart) beats and offer our music to you as another way to listen to how Black women in relation to Black girls sound when they keep choosing each other, again and again.
Check us out:
https://soundcloud.com/solhot-next-level
https://welevitate.bandcamp.com
---
INSTRUCTORS and PRESENTERS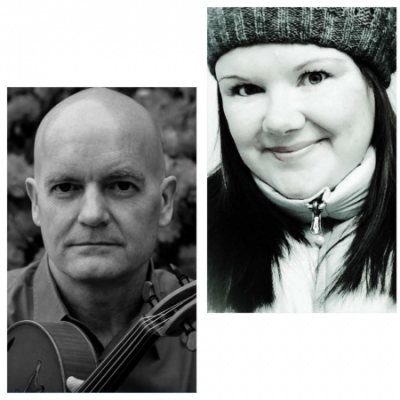 Veronica Bjorkman
Berkley College of Music
Northern Illinois University

Rudolf Haken
University of Illinois at Urbana-Champaign
Symposium Presenters
Veronica works at the University of Illinois Urbana-Champaign in the Illini Union for Student Programs and Activities. She is a doctoral student studying Adult and Higher Education at Northern Illinios University, and is also pursuing a 2nd bachelor's degree in Electronic Music Production and Sound Design from Berklee College of Music. She has followed electronic music for over 20 years, and it is truly her passion.
Rudolf is Associate Professor in the College of Music at the University of Illinois Urbana-Champaign, is an internationally renowned composer and violist, and he is the Director of Hip Hop Collective.
---
DeAngelo Brown (Blackmage)
Instructor: Writing Workshop
---
Miles Comiskey
Lane Tech High School
Symposium Presenter
Miles Comiskey teaches Sound Engineering, Hip Hop, and General Music at Lane Tech High School, a selective enrollment school of 4500 students in Chicago. Outside of school, he also works as a composer, producer, and singer around Chicago and is the Music Director of The Happiness Club, a youth outreach group made up of kids from all over Chicagoland. He grew up in the Milwaukee suburbs and got his Bachelor's in Music Education from the University of Wisconsin-Madison.
---
Patrick K. Cooper
University of South Florida
Symposium Presenter
Patrick K. Cooper is a native of Mesa, Arizona working on a Ph.D. in Music Education at the University of South Florida, and winner of the Outstanding Emerging Researcher Award from the Center for Music Education Research. Prior to moving to Florida, Cooper completed his B.M. and M.M. in Music Education at Arizona State University. His primary teaching experience includes elementary and middle school general music, music technology, orchestra, and music theatre. At USF, Cooper currently teaches Foundations of Music Education, Technology for Music Educators, Survey of Hip Hop, and leads the USF Honors Orchestra for non-major student musicians.
---
Lamont Holden (The Letter L)
ISYM Hip-Hop Camp Coordinator
Instructor: Writing Workshop and Beat Lab
Lamont Holden is an educator, urban music producer, videographer and urban content creator. He earned a Master's degree in education at National Louis University in Chicago and his Bachelor's degree from The University of Illinois at Urbana-Champaign. Lamont began implementing hip hop principles in his middle school classroom while teaching reading skills and was recognized by the Champaign News-Gazette in December of 2015 for his outstanding work. Currently, Lamont serves as a Social Media Content Creator for platinum producer WLPWR (credits: Eminem, Yelawolf, Wiz Khalifa, The Game, Big K.R.I.T., Tech 9ine, Skye Morales) in Atlanta, GA.
---
Dr. Adam J. Kruse (Kahntext)
Symposium Coordinator
ISYM Hip-Hop Camp Director
Instructor: Beat Lab
Adam Kruse is Assistant Professor of Music Education at the University of Illinois at Urbana-Champaign where he teaches graduate and undergraduate music education courses primarily in areas of popular music and music technology. Kruse has presented sessions at numerous international and national conferences and symposia and published in many of the field's leading journals. His scholarship engages issues of diversity, justice, and vernacular musicianship in music education. Kruse's current research focuses on Hip-Hop music education, including teaching and learning relationships; related technologies; and intersections with race, gender, and sexual orientation. Kruse also produces sample based Hip-Hop beats and engineers Hip-Hop albums in his home recording studio.
---
Marcelo Boccato Kuyumjian
University of Illinois at Urbana-Champaign
Instructor: Beat Lab
Symposium Presenter
Marcelo Kuyumjian is a DMA candidate in the Jazz Studies program at UIUC and 2018-19 Graduate Fellow at the Illinois Program for Research in the Humanities for his dissertation "Performing Samba: Aesthetics, Transnational Modernisms, and Race". His research focuses on transnational practices of black music between Brazil and U.S., having presented his work at the conferences of organizations such as Latin American Studies, International Association of Popular Music Studies and Jazz Education Network. He incorporates performance and research in innovative artistic projects and is an active educator, exploring the connections between jazz and other genres of popular music.
---
Dr. Joyce McCall
University of Illinois at Urbana-Champaign
Panel Discussion Moderator 
Joyce McCall, Assistant Professor of Music Education, was appointed to the faculty of the University of Illinois this year. Prior to her appointment at Illinois, she served as a postdoctoral scholar and visiting assistant professor of music education at Indiana University. McCall earned a Ph.D. in Music Education from Arizona State University and a Master of Music Education and Bachelor of Music in Clarinet Performance from The University of Southern Mississippi. McCall's research centers on the race, class, and culture in music education, as well as repurposing digital music platforms to create more inclusive and equitable spaces. She has proudly served as a clarinetist in the United States Army Bands from 1999 to 2013. She is also a member of Sigma Alpha Iota International Music Fraternity for Women.
---
CJ Seymour (CJ Run)
University of Illinois at Urbana-Champaign
Instructor: Writing Workshop
CJ Run is a rapper-singer songwriter born and raised in Germany and the UK respectively. As a self-proclaimed omnivore, they draw inspiration from Grime, RnB, Pop and Indie Rock, citing Lily Allen as one of their biggest inspirations.
Although a musician since 13, it wasn't until their arrival at the University of Illinois that they began seriously pursuing a career in music. Having performed at venues around Champaign-Urbana such as Canopy Club, Cowboy Monkey, IMC and joining big names at the annual Pygmalion Festival, CJ has solidified themselves as a prolific of the C-U music scene.
You can find all of their music on Spotify, Soundcloud, Apple Music and other streaming platforms!
---
Jarritt A. Sheel
Berklee College of Music
Symposium Presenter
Jarritt Sheel is currently an assistant professor of Music Education at the Berklee College of Music, where he teaches various education courses, applied trumpet, and works with Dr. Toki Wright in developing their hip-hop Studies program. He has toured internationally, worked with thousands of students in high school band programs. He previously taught in the Music Education program at NYU-Steinhardt, as well as Critical Theory, Art History, and Democracy courses for the CUNY system. He is currently an Ensemble Director for the high school jazz academy at JALC. He is a doctoral candidate at Teachers College, in the Music & Music Education, and his research focuses on hip-hop, CRT and culturally relevant practices in music education.
---
Pete Shungu (Afro D)
Instructor: Writing Workshop
Pete Shungu (Afro D) is a trumpet and piano player, Hip-Hop MC and spoken word artist who uses music as a tool to build community, protest injustice, and strive for positive social change. He has released two jazzy, soulful Hip-Hop albums, 'Elevation' and 'Strength in Numbers,' and has been featured on countless more albums with artists of all styles. He currently works at the University of Illinois and plays trumpet in a local R&B band called Nucleus. Pete is a lifelong educator who has worked with youth in a variety of capacities: as a classroom teacher, college counselor, mentor, and workshop facilitator on topics ranging from challenging isms to writing rhymes.