ARCH 572: Realizing a Healthy "Heart of Peoria" –  Spring 2016
Graduate Students: Elisa Laurini, Claire McDermott, Kristen Reifschneider, and Elsa Reifsteck
DESIGN FOR THE SMALLEST RESIDENTS
Re-scaling of the South Side neighborhood to the unit of the child
The goal of this proposal is to address the lack of resources presently affecting children in the South Side neighborhood of Peoria. Currently, most children do not have access to any community resources outside of their schools. This lack of available resources combined with a high perception of crime results in most children being confined to the indoors.
---
---
CAN YOU PLAY IN PEORIA?
Making fun accessible in the city
These diagrams illustrate that many things are currently out of reach to the children of the South Side neighborhood. Rescaling the community into smaller, walkable pieces ensures that children have access to everything they need while maintaining a safe distance to home. Thus, the idea of this proposal is to create a catalog of options where the community can easily identify the ingredients of their own desired healthy neighborhood.
The intersection at Lincoln and Western has been identified as a potential place for an Active Core promoting future commercial and community development. Locations for new and existing retail and services would incorporate healthy food and grocery options, retail and market opportunities, health clinics and pharmacies, as well as public services such as banks and post offices.
In order to make these amenities accessible to the entire South Side Community, improvements to surrounding streets and sidewalks will connect the Active Core to various Nodes within the neighborhood. Narrower streets and generous sidewalks with vegetated medians and buffers promote safe movement for pedestrians of all ages. Additionally, the Active Core will serve as a transit hub for the neighborhood by incorporating bus lanes and shelters for commuters. Places will be created in the Active Core that incorporate flexible street furniture and lighting to enable community members to linger and spend time together.
---
COMMUNITY HOUSE
A place to gather
The community houses provide the neighborhood with a safe place, where community members of all ages can come together. The two types of community houses presented are the daycare center and the communal home. The community houses offer programming for both children and adults which can be customized by the residents to fit their individual needs. Some examples of programming for children include: crafting, cooking classes, homework help, tutoring, game nights and movie showings. Programming for adults includes: GED classes, cooking classes, computer classes and movie nights. In addition, the community houses can act as places to host block parties, birthday parties and family reunions.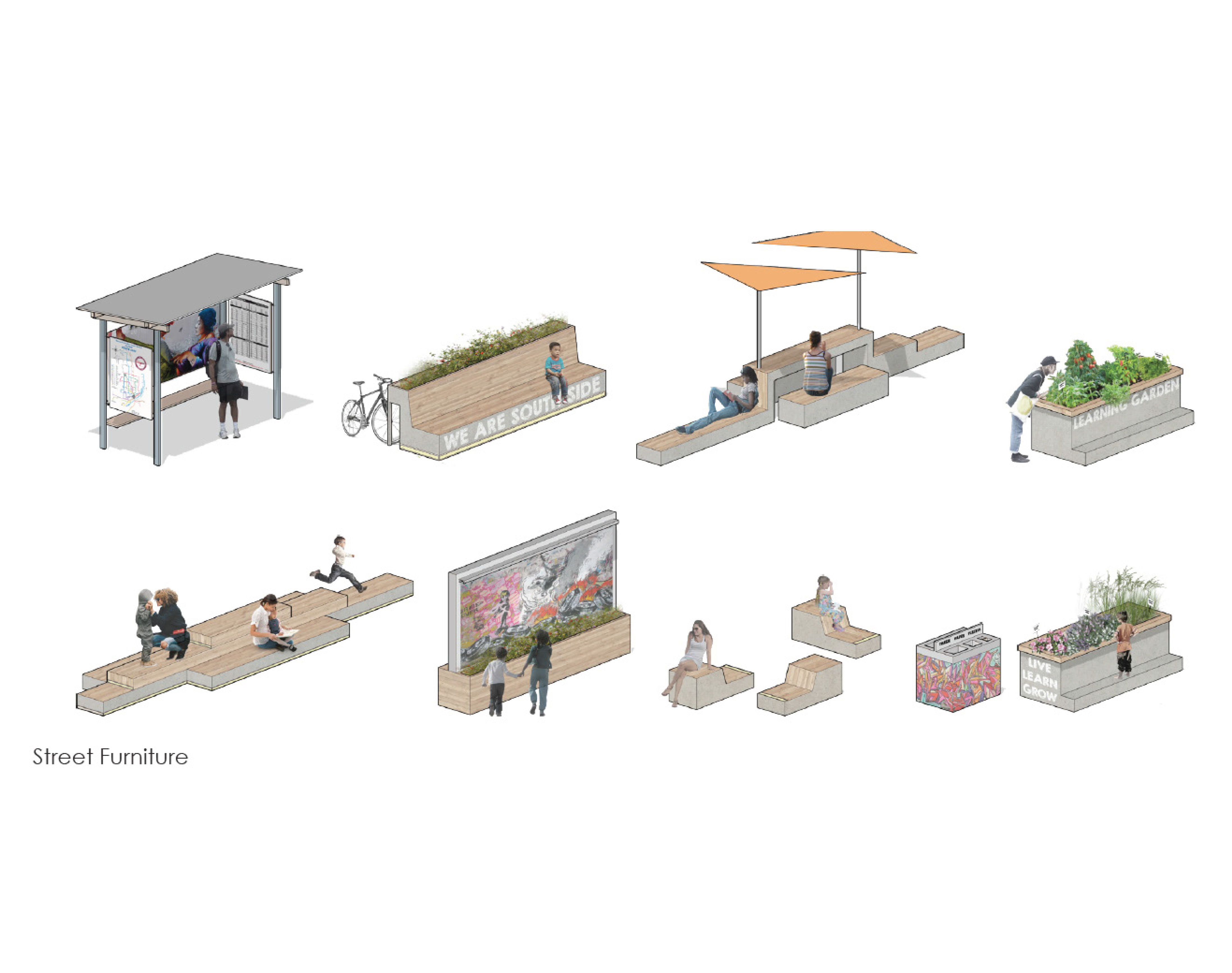 ---
NODES
Bringing life and purpose to Peoria's vacancies
Five node categories will be incorporated into vacant lots throughout the neighborhood. This transforms vacant lots, which are plentiful in the South Side, from community nuisances to community assets. The potential programs for these facilities include community homes, art, food, parks, and play. This range of activities seeks to stimulate every aspect of a child's daily life by encouraging children to go outside to engage in various activities together, under the watchful eye of neighbors. These activity nodes range from low to high development opportunities and offer the children of South Side a range of new stimulating destinations within walking distance to their homes and schools.