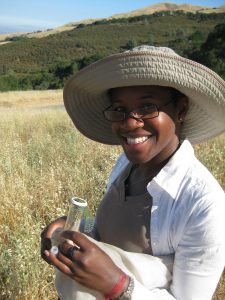 Alexandra Harmon-Threatt, Ph.D. 
Dr. Harmon-Threatt is broadly interested in asking ecological questions with conservation implications. This has included questions such as:  Do the breeding systems of invasive plants differ from close native relatives? Do pollinators prefer higher quality plant resources regardless of origin? How do invasive plants set seed? Do bees make preference decisions based on nutrition? This has included assessing the effects of invasive plant species on preference, nutritional analysis of plants
Listen to an interview with Dr. H-T here.
---
Graduate Students
Nick Anderson 
Nick joined the lab in June 2014 and is working on understanding how chronic exposure to neonicotinoids might affect bee survival, fecundity, and behavior. For more information check out his website: https://nicklanderson.com.
Scott Clem
Scott joined the lab in the fall of 2016 as a PhD student. He received his bachelor's degree in zoology with a minor in entomology in 2012, and a master's degree in entomology in 2015 from Auburn University. He is currently interested in investigating the overwintering and dispersal/migratory dynamics of hover flies (Family Syrphidae).  These are lesser-known pollinators that often mimic bees and wasps.  While the adults are important pollinators, the larvae are voracious predators of soft-bodied arthropod pests like aphids.
Jon Tetlie
Jon joined the lab in the summer of 2017 and is working on a project focused on the behavior of female ground-nesting bees particularly in regard to agricultural neonicotinoid input residues found in the soil of both agricultural fields and bordering natural habitats.
Marissa Chase
Marissa joined the lab in the fall of 2019 as a PhD student. She received her bachelor's degree in Molecular Environmental Biology with a concentration in Insect Biology from UC Berkeley. Using geospatial data, she is working to understand how forest management, through its effects on structural complexity, influences bee functional groups, plant-pollinator interactions, and ecosystem functioning.
Kat Coburn
Kat joined the lab in the summer of 2020. She is interested in how anthropogenic activity and alteration affect pollinator communities, particularly in recreational areas. Her goal is to better understand how humans and pollinators can both benefit from land management practices. Beyond research, she has a passion for community building and representation for women and minorities in the sciences.
Annaliese Wargin
Annaliese joined the lab in fall 2020. She received her bachelor's degree in entomology with a minor in comparative literature from UC Davis. She is interested in the ecology of pollinators in restored landscapes, species interactions, and insect behavioral responses to abiotic change.
---
Undergraduates
 Benjamin Chiavini
Benjamin, a junior at UIUC, joined the lab in the spring of 2018, and his research looks at the possible effects sub-lethal levels of neonicotinoids have on pollinating behaviors and patterns in insects. As a whole, he is interested in behavioral entomology through a chemical and neurological lens and he hopes to pursue a career in this field.
Justine Macalindong
Justine is currently a junior majoring in Integrative Biology with a minor in Informatics. Her research is focused on how changes in soil organic carbon affect floral resource quality and if this has an effect on anti-predator foraging behavior in pollinators. After she graduates, she hopes to go to graduate school for bioinformatics and pursue a career in the field.
---
Lab Members
From left to right: Joshua Villazana, Dr. Alexandra Harmon-Threatt, Jon Tetlie, Scott Clem, Morgan Mackert, Ben Chiavini, Kat Coburn, Annaliese Wargin, Marissa Chase, Nick Anderson.