(Field work at Philips Tract, 2021 – Left to right: Nick Anderson, PhD; Jon Tetlie; Brian Charles; Marissa Chase; Vi Aldunate; Kristine Schoenecker; Virginia Roberts; Alexandra Harmon-Threatt, PhD.)
---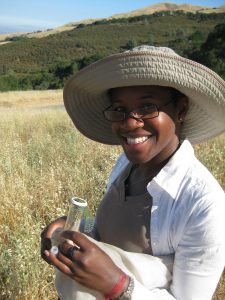 Alexandra Harmon-Threatt, Ph.D. 
Dr. Harmon-Threatt is broadly interested in asking ecological questions with conservation implications. This has included questions such as:  Do the breeding systems of invasive plants differ from close native relatives? Do pollinators prefer higher quality plant resources regardless of origin? How do invasive plants set seed? Do bees make preference decisions based on nutrition? This has included assessing the effects of invasive plant species on preference, nutritional analysis of plants
Listen to an interview with Dr. H-T here.
---
Post-Doctoral Researchers
Nick Anderson, Ph.D.
Nick joined the lab in June 2014 and is working on understanding how chronic exposure to neonicotinoids might affect bee survival, fecundity, and behavior. For more information check out his website: https://nicklanderson.com
---
Graduate Students
Jon Tetlie
Jon joined the lab in the summer of 2017 and is working on a project focused on the behavior of female ground-nesting bees particularly in regard to agricultural neonicotinoid input residues found in the soil of both agricultural fields and bordering natural habitats.
Marissa Chase
Marissa joined the lab in the fall of 2019 as a PhD student. She received her bachelor's degree in Molecular Environmental Biology with a concentration in Insect Biology from UC Berkeley. Using geospatial data, she is working to understand how forest management, through its effects on structural complexity, influences bee functional groups, plant-pollinator interactions, and ecosystem functioning.
Kat Coburn
Kat joined the lab in the summer of 2020. She is interested in how anthropogenic activity and alteration affect pollinator communities, particularly in recreational areas. Her goal is to better understand how humans and pollinators can both benefit from land management practices. Beyond research, she has a passion for community building and representation for women and minorities in the sciences.
Annaliese Wargin
Annaliese joined the lab in fall 2020. She received her bachelor's degree in entomology with a minor in comparative literature from UC Davis. She is interested in the ecology of pollinators in restored landscapes, species interactions, and insect behavioral responses to abiotic change.
Crissy Gallick
Crissy works with citizen scientists across the state in an effort to understand pollinator visitations to ornamental flowers through the I-Pollinate project. Home gardens and ornamental species may provide important floral resources to pollinators, but preferences for ornamental species is not fully understood. Understanding the nuances of how these gardens provide for bees opens the door to informed and pollinator-friendly gardening decisions.
---
Undergraduates
(Left to Right) Jamilyn Martin, Kristine Schoenecker, Vi Aldunate
Kristine Schoenecker 
Kristine is a junior in Natural Resources and Environmental Sciences. She began working in the Harmon-Threatt lab in June of 2021, when she began researching the effects of neonicotinoids and fungicides on butterflies. In her career she hopes to attend graduate school and establish herself in conservation research. Outside of the lab, Kristine enjoys travelling, reading, and her position as secretary for Illinois' MANRRS Chapter (Minorities in Agriculture, Natural Resources, and Related Sciences).
Vi Aldunate
Vi is a senior, double majoring in Integrative Biology and in History. He joined the lab June 2021, with a project exploring dispersal of soil fungi in the prairie by ground-nesting bees. He endeavors to continue studying insect ecology in graduate school, to learn to teach, and to contribute to prairie restoration in Illinois throughout his career.
Jamilyn Martin
Jami is a senior majoring in Natural Resources and Environmental Science. She joined the Harmon-Threatt lab in summer of 2021. Her research project focuses on methodologies for plant injections, and understanding how pesticides such as clothianidin are translocated in plant tissues.
---
Research Technician
Virginia Roberts
Ginny graduated from The College of Wooster in 2021 with a degree in Biology and a minor in Earth Sciences. Their senior thesis examined how local plant resources and woody habitat influence communities of cavity-nesting wasps. Ginny's career interests include plant and insect ecology research and horticulture, and they hope to attend graduate school in the near future.
---
Lab Members
From left to right: Joshua Villazana, Dr. Alexandra Harmon-Threatt, Jon Tetlie, Scott Clem, Morgan Mackert, Ben Chiavini, Kat Coburn, Annaliese Wargin, Marissa Chase, Nick Anderson.