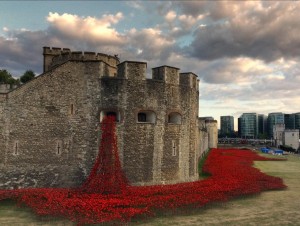 The First World War began on July 28, 1914 and did not officially end until the signing of a ceasefire that went into effect on November 11, 1918 at 11:00 a.m.  Over the course of this time, 888,246 soldiers from Britain and its Commonwealth were killed in conflict.  To commemorate this loss, Paul Cummins and Tom Piper were commissioned to create this impressive installation of ceramic poppies flowing out of the Tower of London and into the surrounding moat.  To put this into perspective, 116,378 American military personnel were lost in this conflict. (Leland, 2010)
In the United States, Armistice Day was first officially commemorated in 1918 through a Presidential Proclamation by Woodrow Wilson.  In 1938 an Act was passed to create a legal holiday, Armistice Day.  In 1954 in the United States, the word "Armistice" was changed to "Veterans" in order to recognize the sacrifice of American soldiers involved in all conflicts.  After being designated as a federal holiday on the fourth Monday in November in 1961 as part of the Uniform Holiday Bill, the official celebration was changed back to the original date effective in 1978 .  For more on the history of this holiday in the United States, the Veterans Administration provides a brief History of Veterans Day.
This fall, the University of Illinois remembers "The Great War: Experience, Representations, Effects" with a calendar of events.  Come learn more about the War to End All Wars.