Each first-y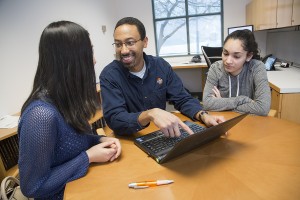 ear MF3 Fellow is assigned a second-year Fellow to serve as a mentor. MF3 mentors are there to ask questions and seek advice. Mentors and mentees must sign the Mentor-Mentee Agreement form by September 15.  Please watch for emails from your mentor regarding networking opportunities with other MF3 Fellows.
All Mavis Fellows will secure a faculty mentor to meet with on a regular basis throughout the year. The faculty mentor is another resource to seek advice when completing the requirements of this program. Fellows must complete the Mavis Faculty Mentor Form by September 15.  Both mentors will be a great resource in helping fellows build their academic portfolio and skills.
Lastly, all Mavis Fellows will mentor a less experienced graduate or undergraduate student.
2016-2017 MF3 Second-Year Mentors