Follow English Department communities on social media
upcoming ESA events
first-generation day events
Laila Lalami at Authors' Corner
Authors' Corner
Illini Union Bookstore
Nov 8, 2023   4:30 pm
Laila Lalami was born in Rabat and educated in Morocco, Great Britain, and the United States. She is the author of five books, including The Moor's Account, which won the American Book Award, the Arab-American Book Award, and the Hurston/Wright Legacy Award. It was on the longlist for the Booker Prize and was a finalist for the Pulitzer Prize in Fiction. Her most recent novel, The Other Americans, was a national bestseller, won the Joyce Carol Oates Prize, and was a finalist for the National Book Award in Fiction. Her essays and criticism have appeared in the Los Angeles Times, the Washington Post, The Nation, Harper's, the Guardian, and the New York Times. She has been awarded fellowships from the British Council, the Fulbright Program, the Guggenheim Foundation, and the Radcliffe Institute at Harvard University. She is currently Distinguished Professor of Creative Writing at the University of California at Riverside. She lives in Los Angeles.
dinner & development
The final event in the Dinner & Development series is coming up on November 8: "Leading with Empathy" with Joy Das at the Illinois Leadership Center (290 Illini Union), 6:00-7:30pm. Dinner is provided!
Register today: https://go.illinois.edu/wrc_DD
explore careers in human resources
spring 2024 course for neurodiverse students
Is your differently-wired brain causing extra stress, frustration, and difficulty surrounding your academic work? Consider signing up for HDFS 199, Section JK (Academic Strategies) this spring. This course will use the assignments from your current classes to teach executive function strategies that will promote success this semester and throughout the rest of your academic and professional career. You will learn effective strategies to improve difficulty getting started, staying organized, remembering due dates, paying attention, planning projects, managing stress, study skills, and more. Lab time will be used to complete course assignments, build social networks, and provide a quiet study space with structured accountability. This course is for students who have or suspect they have a neurodiverse brain. Instructor approval required. Contact Dr. Jeanne Kramer (jjkramer@illinois.edu) for approval to register.
scholarship opportunity
To learn more or apply, visit:
For questions regarding the scholarship criteria that are not answered on the website above, please contact Kasey Umland at umland@illinois.edu
writers workshop events
Don't Forget These!
career event for seniors
Seniors: Get Direction!
November 7, 4 to 5 pm
113 Greg Hall
Seniors: this is the second in a mini-series devoted to you, as you prepare for life after graduation, whether that will involve a job, grad school, or a gap year. Connect with other seniors facing similar challenges, get answers to your questions, and figure out some next steps to make the most of your senior year. If you attended the first session, we will not be covering the same topics.
book event with Luis Alberto Urrea
volunteers requested!
For the above book event at the Alice Campbell Alumni Center on November 8 with the author Luis Alberto Urrea, Ryan Ross will need some assistance. Ryan is one of our own magnificent alums (BA '08, English, MA '10, LIS) and is now the coordinator of the history and traditions programs for the University of Illinois Alumni Association. If you're interested in library science, history, archival work, museum studies, and/or event planning, you'll enjoy getting to know Ryan! Specifically, he needs help with the following:
Two people at the registration table to cross names off the registration list (During the book signing later in the evening, those registration workers will help audience members form a line.)
Two people to be "runners" during the audience Q&A session, taking microphones to people who have questions.
One person to stand in the lobby before the event to answer questions and help guests find the restrooms.
The event starts at 7, so he would like the registration helpers to arrive no later than 6:15. The two "runners" and one helper in the lobby should show up by 6:30.
The event should be over by 9, though if there are still guests in the book signing line, it may be slightly later than that. If you're interested, please email Ryan at rross2@illinois.edu!
DEADLINE APPROACHING!
Spend your summer conducting research that makes an impact on our local community through the Community-Academic Scholars Program. This 10-week summer undergraduate research experience empowers Illinois students from any major to work with an Illinois researcher and community organization on a project designed to directly benefit the community. Hear from past scholars and learn more at a virtual information session Nov. 9 at 6:30 p.m. Register for Zoom details and a link to the recorded info session
truman scholarship DEADLINE APPROACHING!
Are you concerned about issues facing your community, campus, or country, and are you actively working to make change?
The prestigious Harry S. Truman Scholarship is available to College juniors who are U.S. citizens with a record of strong academic work, leadership, community service, and commitment to a career in public service. The scholarship awards $30,000 for use toward a graduate degree in public service fields. Public service includes government, uniformed services, public interest organizations, non-governmental research or educational organizations, public and private schools, and other non-profit organizations. Truman Scholars have pursued many fields of study, such as agriculture, engineering, economics, education, government, history, international relations, law, political science, public administration, and public health. Recipients of the scholarship are required to work in public service for three of the seven years following completion of a Foundation-funded graduate degree program; this is non-negotiable condition of receiving funding.
Application Deadline
The campus deadline for submission is November 6, 2023, at 12:00 pm (noon).
Application Preparation
Please contact the scholarships office at topscholars@illinois.edu to schedule an appointment with us. Appointments are generally scheduled for 1 hour and can be either in-person or Zoom meetings. Our office is located at 514 Illini Union Bookstore Building.
Material Review Policy
If you are wanting your scholarship materials reviewed, we require that those materials be submitted to us as email attachments along with a few dates and times you would be available for an appointment no earlier than 2 business days after your submission.

For more information, visit our website at www.topscholars.illinois.edu
great new spring courseS!
How to schedule a registration appointment
Here's an abbreviated version of the email we recently sent out about advising processes during the registration period. If you didn't read the email, please read this!
First-semester students (whether first years or transfers) are required to meet with us. Continuing students are not required to meet with us but we certainly recommend that you check in one way or another; email is fine for quick questions or confirmation of your plans, but longer conversations are best had in real time either in person or over zoom.
When you are ready to schedule your appointment call 217-333-4346 during the hours 8:30-noon or 1:00-4:30 to request an appointment (we do not schedule via email).
Here are some things you can do ahead of time to make your registration appointment more productive:
Run your degree audit and see what you can make of it. Even if you find it a little confusing, try to get a sense of what requirements you have left to fulfill, and then when we do your registration appointment we can confirm (or correct) your interpretation of the audit and help explain anything that's confusing.
Think about what you want to accomplish in the spring. What major/minor/Gen Ed requirements would you like to complete, and what other areas would you like to explore?
If you are thinking of adding a major or a minor, do you know what you need to do to get started? If you've already begun, can you figure out the next step? You can explore major and minor requirements listed here: http://catalog.illinois.edu/undergraduate/
Consult Course Explorer and be sure to read the course descriptions in full. Remember that if a course is called "Topics in X" then you must click through to see the individual sections and find out what topics are available. It's also worth clicking through on any 199 (usually called Undergraduate Open Seminar) because there you may find some interesting and unusual topics being piloted, and they're usually unrestricted.
Consult the resources available on the Planning Coursework section of the advising site. You'll find checklists of major requirements and a "cheat sheet" that tells you which variable topics courses satisfy which requirements in the coming semester.
We need just two more focus group participants!
As part of our ongoing assessment of the undergraduate program in English, we are hoping to conduct another small focus group at some point in the coming month. Participants will be asked to talk about their general learning experience in the major and their answers, which will remain anonymous, will help us gauge and strengthen the program's goals and learning outcomes. Students who participated in the last focus group are not eligible this time around (but we thank you once again for the feedback you gave us). We plan to hold this meeting at lunchtime (noon to 1pm), and will provide lunch in the form of empanadas from Manolo's!
If you are willing to help out with this, please do let us know. Just email englishadvising@illinois.edu ASAP.
Social Group for Neurodiverse Students meets every wed!
new tutoring resource
Here's a message from Brian Becker (academic outreach specialist at OMSA and an alum of our department!):
On behalf of the Office of Minority Student Affairs, I am thrilled to share our new partnership with NetTutor®! Through this partnership, the OMSA now provides FREE 24/7, 1:1 online tutoring across over 350+ subjects and disciplines. Each tutoring session is facilitated by professionally trained, degree-holding NetTutor staff who are committed to providing a welcoming, accessible virtual learning experience! Thanks to our integration with the NetTutor platform, students can conveniently log in using their Illinois credentials at:
NetTutor Student Log-In: https://go.illinois.edu/OMSANetTutor
All of the information pertaining to our partnership with NetTutor, including a comprehensive User Guide, quick Log-in button, and accessibility options can be found on our dedicated OMSA Online Tutoring landing page.
critical language scholarship program
The Critical Language Scholarship, provided by the U.S. Department of State, is a fully funded, intensive overseas language and cultural immersion program for undergraduate and graduate students. A list of eligible languages is available here.
The CLS institutes cover one academic year of university-level language coursework in 8 to 10 weeks over the summer, and include cultural programming, local language partners, and excursions. Participants receive academic credit at their U.S. institutions. Applicants must be U.S. citizens at least 18 years of age and enrolled in a degree-granting program at the undergraduate or graduate level. For more information about this scholarship, please visit: http://www.clscholarship.org/.

If you'd like to talk to an advisor about preparing your application, contact the National and International Scholarships Program at topscholars@illinois.edu or visit our website at www.topscholars.illinois.edu
get involved with montage
new RSO
There's a new RSO in town and it's called Uplift! Uplift's mission is to foster a community of pre-professional students at the University of Illinois at Urbana-Champaign dedicated to collaboration, unity, and mutual support. Our RSO will serve as a hub for students of all backgrounds. We are committed to fostering an environment wherein members feel seen, heard, and empowered to pursue their goals. The RSO will provide resources for pre-professional students to prepare for their future careers and professional or graduate schools. We will also enable students to pursue their goals through study hours and access to review resources. Check out their site and sign up for email notifications if you're interested.
apply now to be a golden apple scholar!
Resource for our LGBTQIA+ Students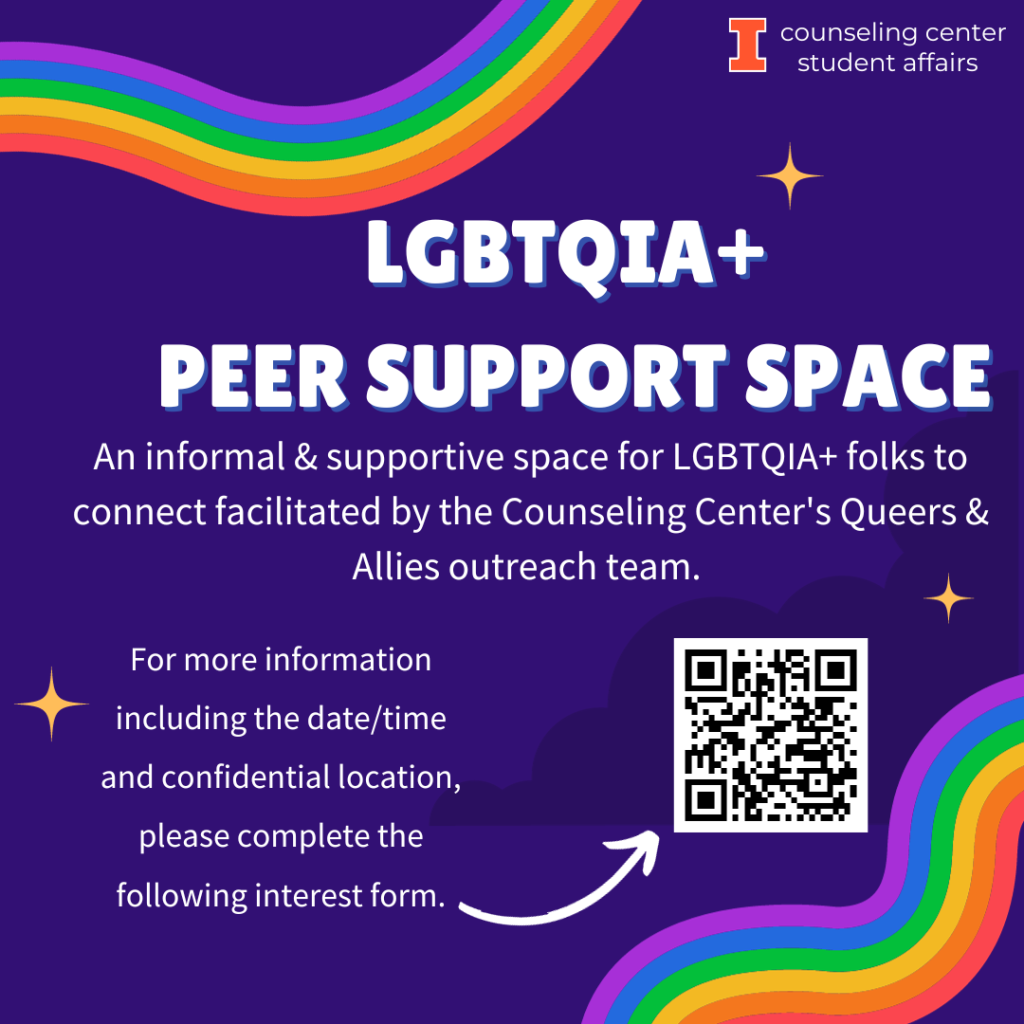 Lisnek Hub
The Hub is open again! Stop by Tuesday- Thursdays from 10 am to 3 pm. Under the Lincoln Hall theater is the Lisnek Hub where you can chat with peer mentors.
find a workshop for you!
If you're struggling in one or more of your STEM courses, perhaps there's a workshop that could help. Check out the LAS Success Workshop Schedule, and be sure to click on "see more" at the bottom for the full list of options.
Tuesday@7 Workshops
Each week, undergraduate Counseling Center paraprofessionals offer interactive workshops on various topics. Please visit our website for login information and upcoming topics.
writers workshop
Writers Workshop drop-ins are available beginning 4-9 p.m. Sunday-Thursday, 100b Main Library. These sessions are best for brainstorming, specific questions, or shorter documents (1-3 page papers, application materials, etc.). These sessions are first-come, first-serve.
UNDERGRADUATE RESEARCH OPPORTUNITIES
Want to keep up with research-related opportunities and events hosted by the Office of Undergraduate Research (OUA)? Subscribe to OUA's monthly newsletter and you won't miss a thing!
You might also want to learn more about the Humanities Research Institute (HRI), particularly opportunities for undergraduates (did you know that they hire student interns and that some of them are English or creative writing majors?) in which case you should check out the Undergraduate section on the HRI website.
ACCESSIBLE COUNSELING RESOURCES
It can be hard to take the first step when you're in need of counseling, so for ease of access the College of LAS has its own embedded counselor, Andy Novinska and you can contact him directly to schedule an appointment at anovinsk@illinois.edu.
Students can also access Counseling Center services by calling 217-333-3704 between 8 a.m. and 5 p.m., Monday – Friday to set up an appointment via the same-day scheduling system. There is also an online scheduling system (please note that appointments are limited via this option so if you try to schedule online and cannot find anything that works please call the office or email Andy).
Workshops for Test Anxiety, ADHD Symptoms, Perfectionism, Body Image, etc. can be found here.
PSA–HEARD ABOUT 211?