Current Lab Members
Lab Group June 2021: (Left to right; Top row: Bridget Dwyer, Lincoln Taylor, Ed Hsieh, Nathan Beach, Ashley St. Clair. Lower row: Ben Chiavini, Gyan Harwood, Madeleine Shapiro, Sreelakshmi Suresh, Tristan Barley, Adam Dolezal.  Not pictured: Brittney Bailey, Hannah Salzberg)
Principle Investigator
Prof. Adam G Dolezal
Adam is an Assistant Professor in the Department of Entomology and the University of Illinois Urbana-Champaign.  He teaches courses in Physiology (IB 202) and Genes and Behavior (IB 432) in the School of Integrative Biology. He studies how pollinators, mostly focusing on honey bees, respond to the different stresses they encounter in their environment. These studies have centered heavily around the impacts of virus infection and the nutritional and chemical stresses associated with Midwestern row-crop agricultural systems.  Adam received his Ph.D. from Arizona State University, where he studied the behavioral physiology of harvester ants and honey bees; he then did postdoctoral work at Iowa State University.
Dolezal Publications (with pdf links)
Dolezal Google Scholar Publication List
email: adolezal@illinois.edu
Postdocs
Dr. Gyan Harwood
Gyan Harwood is a post doctoral scholar at the University of Illinois at Urbana-Champaign where he studies the behavioral, physiological, and genetic effects of viral infections in honey bees. Viruses, along with other pathogens, continue to threaten global honey bee populations, and these studies aim to better understand virus-host interactions. Gyan received his PhD from Arizona State University, where his research focused on honey bee immune system physiology and characterization of a novel transcription factor.
email: gharwood@illinois.edu
Dr. Ashley St. Clair
Ashley St. Clair is a postdoctoral research associate at the University of Illinois Urbana-Champaign where she studies honey bee health in agroecosystems by investigating the interactive effects of insecticide and nutritional stress on honey bee queens and her attendants. By studying how these stressors interact to affect worker bees, worker-queen care interactions, and queen health she hopes to elucidate the mechanism by which queens are exposed to environmental stressors, which can inform conservation decisions for honey bee management in agricultural systems as well as support stress tolerant bee strains. Ashley received her Ph.D. from Iowa State University where she studied wild bee and honey bee response to crop production, farm diversity, and native habitat in an agricultural landscape. Ashley received her Bachelors in Biology from Murray State University.
Curriculum vitae – Ashley St. Clair
email: astclair@illinois.edu
Graduate Students
Edward Hsieh

Edward is currently a PhD student at the University of Illinois at Urbana-Champaign where he is co-advised by Adam Dolezal and May Berenbaum. He received his bachelor's degree in biology from Grinnell College in 2016, where his work focused primarily on evolutionary ecology rooted in insect systems including Hawaiian damselflies and supercolonial ants. He developed an interest in honey bees while working as a technician in Amy Toth's lab at Iowa State University, and soon transitioned to completing his master's degree in entomology at the University of Illinois. There, he examined the effects of phytochemical supplementation on honey bee susceptibility to viral infection and is now interested in expanding upon that work by studying the broader dynamics of interaction between various honey bee health stressors. Edward has served as the Outreach Coordinator for the Entomology Graduate Student Association for several years and has racked up many hours of feeding cockroaches and holding tarantulas. In his spare time, he enjoys playing board games, wildlife photography, and buying books faster than he can read them.
email: emhsieh2@illinois.edu
Lincoln Taylor
Lincoln is currently a Master's student in the Dolezal lab. He graduated in 2020 from the University of Illinois at Urbana-Champaign with highest distinction with a bachelor's degree in integrative biology. Lincoln started researching honey bees during his undergraduate; he worked in Gene Robinson's lab before moving to the Dolezal lab to complete his senior thesis, which investigated the effects of Israeli acute paralysis virus on honey bee nursing behavior. Currently, Lincoln is building off from the project he started during his undergrad, further exploring the relationship between honey bee behavior and bee viruses. Additionally his research interests include disease ecology and general behavioral host-pathogen interactions
email: lnt3@illinois.edu
Tristan Barley
Tristan is currently a PhD student in the Dolezal lab. He received his bachelor's degree in environmental science and biology from Manchester University in 2018, where he worked on assessing macroinvertebrate communities in restored wetlands. He then moved to Miami University, where he received his master's degree in environmental science in 2020. His thesis focused on the effects flower patch density in prairie restorations could have on pollinator visitation rates, including how competition among native bees could result in changes in foraging behavior. His current research interests include investigating the effects habitat restorations can have on pollinator communities and examining the effects of competition between native bees and honey bees.
email: tbarley2@illinois.edu
Sreelakshmi Suresh
Sreelakshmi is currently a technician in the Dolezal lab, but will begin as an MS student in Fall 2021. They started research in the Reed Johnson lab at the Ohio State University in 2015, studying the foraging preferences of honey bees using digital dance analysis and also working as a curatorial assistant in the OSU Herbarium. In 2017, they graduated with a bachelor's degree in Evolution and Ecology, with a minor in French. Sreelakshmi moved to Fujisawa, Japan for 1.5 years post-graduation, where they taught English. In 2019, they moved back to the US to became the lab manager for Dr. Johnson. Sreelakshmi moved to Urbana-Champaign in 2020, and they are anticipating starting their Master's program in 2021. Sreelakshmi's research interests include learning more about honey bees' foraging preferences and bee behavior. They have had experience with in-vitro rearing of bees, queen rearing, peseticide toxicity, varroa mite treatments, floral preference in honey bees, and many other related topics.
email: ssuresh@illinois.edu
Benjamin Chiavini
Ben is currently a Master's student in the Dolezal Lab. He graduated from the University of Illinois, Urbana-Champaign with distinction in a bachelor's of science degree in the entomology program. During his undergraduate research in Dr. Alexandra Harmon-Threatt's lab, he worked primarily with neonicotinoids' effects on plant-pollinator interactions at Phillips Tract, found just outside of Champaign, IL. He was able to present this research in the 2019 Entomological Society of America (ESA) Conference. He now looks to delve into Israeli acute paralysis virus (IAPV) and its effects on honeybee behaviors towards small hive beetles and one another.
email: bec2@illinois.edu
Bee Lab Manager
Nathan Beach

Nathan is the manager of the Honey Bee Research Facility at the University of Illinois at Urbana-Champaign. Nathan joined the University as a research technician for Dr. Gene Robinson in 2017. Prior to that he worked as a research technician and beekeeper for Dr. Keith Delaplane and Jennifer Berry at the University of Georgia. He has been fascinated with honey bees for as long as he can remember and has been a beekeeper since 2006. He's thrilled for the opportunity to support the groundbreaking honey bee research taking place at the University and enjoys sharing his knowledge with others and learning from fellow beekeepers and researchers.
email: njbeach@illinois.edu
Undergraduates
Bridget Dwyer
Hannah Salzberg
Madeleine Shapiro
Bella Keys
Brittney Bailey
Dolezal Lab 2019 
(L-R) Vincent Prayugo, Jake Torres, Ed Hsieh, Adam Dolezal, Lincoln Taylor, Ali Sankey (bee lab manager) Not pictured: Gyan Harwood (Postdoc)
Former members:
Vincent Prayugo
Jacob Torres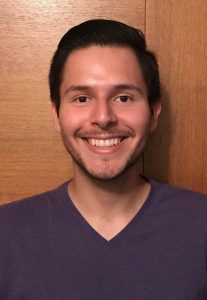 Jacob is a Ph.D. Graduate student in the Dolezal lab. He began his Ph.D. in August 2018 after obtaining a bachelor's degree in biology from Augustana College and a masters degree in biology from Western Illinois University. Jacob has worked on a number of insect systems including the emerald ash borer, aquatic macroinvertebrates, saturniid moths, tiger beetles, and pollinators with a focus on bees (Native bees and honey bees). His research interests are focused on pollinator health and the environmental factors that impact pollinators, insect microbiomes, insect conservation, landscape ecology, and urban ecology.
Jacob was awarded the GAANN Fellowship for graduate students with excellent academic records for the 2018-2019 school year and was ranked as "Excellent" by the students in his class sections for the Fall semester in 2018. Early into the fall semester (2018) Jacob was also elected to serve as a senator representing the Graduate College in the Illinois Student Government as well as for the Senate of the Urbana-Champaign Campus. On his free-time Jacob enjoys spending time with his wife Kendall, who is also a bee biologist, and their two miniature schnauzers Delilah and Opal.