In this critical response assignment, students were to use an essay by Howard White, "The Power of Hello" along with the University of Illinois's student code to answer the following questions:
Although this assignment received a relatively high score (9.83/10), I can add more content and support to improve my thesis's argument.
I did a good job of connecting Howard White's essay to my thesis. However, I failed to introduce Howard White to my audience. Without knowledge of Howard White, the essay lacks the ethos portion of the argument.
In his essay, there is a small portion that describes his background and success.
Using this information, I scratched out some of my introduction.

And replaced it with this:

My conclusion lacks substance. Let's change that: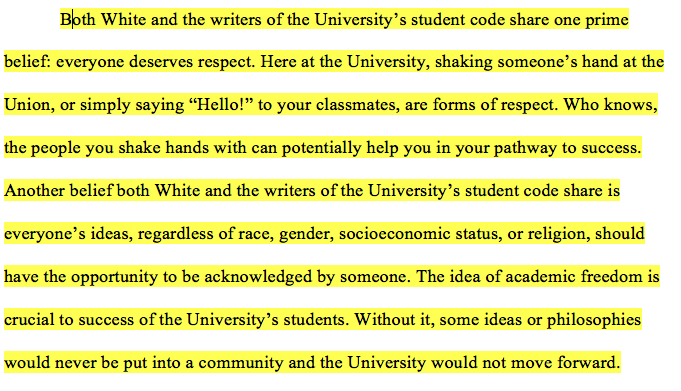 Additionally, there were words in my essay that were redundant and unnecessary. For example,
The word "continued" brought no real meaning to this sentence so I deleted it.


Other revisions have been made to the essay, you can view them below.