Day 1
Today has been a LONG day for the CEE 449 travel team. Our venture to Ecuador-Guayaquil started at 3:45 am in Newmark.
With our hard hats on, and bags stuffed full we were ready! Our bus arrived around 4 am and then we were off to O'Hare international airport. The bus ride excitement lasted about ten minutes before everyone dozed off.
Once we got to O'Hare we had a long wait at group check in.
But as all great college kids do, we just keep chugging along (some of us running on minimal hours of sleep!). Once we got through check in and TSA we all met up at nine other than… the big glowing Illinois "I"
Again… hard hats on!
Fun fact: an alumni took this picture for us!
After getting settled we all got breakfast and finally sat down. Most of us working on homework!
The fun was just beginning.
We left O'Hare around 10 am and arrived in Miami at 2 pm. From there we had a two hour layover.
Soon enough the time came to board yet another plane. We hopped on the 737-800 and made our way to Guayaquil!
Our flight was good, we got sandwiches and most of us slept. We landed in Guayaquil around 9 pm. Once we landed we had to go through customs and then attempt to find all of our bags. Of course we each had our own, but we also have all of our equipment. We were fortunate and all of our luggage made it in one piece! From the airport we hopped onto a bus where we met up with Professor Benito and our guide for this trip Juan-Pablo.
We took a short bus ride to our hotel. Once w walk got our keys and rooms we had to get all of our equipment to one room. From there we were all able to relax a bit and hang out.
Today has been long yet exciting… who knows what fun awaits!
– Kylie Burkett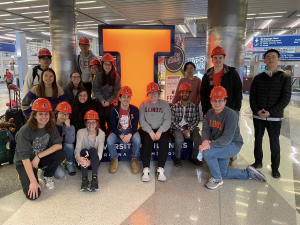 \
Day 2
Wow! What an exciting and fascinating second day it was for the CEE 449 travel team's expedition to Ecuador. After a tiring flight, we were fortunate enough to sleep in and have a relaxing morning. This consisted of an enjoyable breakfast from the hotel in Guayaquil. After breakfast, some students went for a swim in the hotel's swimming pool while others went for a walk outside the hotel.
At 12 PM, we checked out of our hotel in Guayaquil and boarded a bus shortly after. The bus dropped us off at the port where we would board our boat to Puna Island. We saw an iguana roaming around while we waited and also had the opportunity to meet and talk to some local people.
The boat ride itself took about an hour.
Once we arrived, we entered our hotels, with the girls staying in one hotel and the boys in another around the corner.
After getting settled into the hotels, we began walking around the island. Juan Pablo showed us the location of the desalination plant and the location of a well which is also used to provide water.
We then had a fantastic meal at one of the houses on the island, consisting of meat, rice, and beans. After we were well fed, we went over our notes on what we had learned earlier today, and also went through potential questions to ask community members. The last event of the night was calibrating some of the equipment that we will need to use to test our water samples later in the week. After this, it was time to shower and get some sleep!
Our plan for tomorrow is to visit two communities on the island, Tabor and Concordia, that do not have access to the desalination plant. We plan to interview residents of those communities and take samples of their water to analyze. Until then, it's time to relax and get excited for the rest of this trip!
-Ethan Heidrich
Day 3
We started our first full day at Puna island with breakfast at Mercedes's house. She owns a restaurant and is cooking for us this entire trip! After a good meal we head off for the big day. Today we are visiting two local communities to interview them and collect water samples: Tabor y Concordia. We walk to the bus and head off!
We arrive near Tabor, but the road to gain direct access to the community is in bad condition from last night's rain so we park the bus and hike to the community entrance. It is a quick hike (10 minutes) and once in Tabor we immediately notice the elevated water tank and the beautiful large tree with orange flowers in the center of the roughly 7 house community. 
We interview a handful of the houses and ask about how they store the water. What it tastes like, what it smells like, how they feel about the water and their supplier, education, family, societal structure, sanitation, and more. They are really friendly!!
Luisa has two reservoirs and when they empty, the well pump is run and it refills her reservoirs. She is overall happy with her water and said her most pressing needs are a road to Puna and better healthcare. To treat her water, Luisa only covered her indoor barrel with a piece of wood to keep the bugs out. Her outdoor tank has no cover and is featured below:
After we interviewed various houses, we went to look at the wellhead and storage tank and talk to the operations manager. The manager says the well has been active for 5 years and has shown no signs of running dry. The well is not pressurized, however, and for only being 5 years old the structure supporting the tank seemed to see considerable weathering. 
After we collect samples we begin to do some lab experiments and hang out with the local dogs. Because this is our first field lab of the trip, it takes a little while and after some work we take a break to eat guava from the orange tree. 
We said goodbye to Tabor and headed back into Puna to eat lunch and plan our trip to Concordia. Concordia is a little bit further away (20 minute drive), is larger than Tabor, and allegedly has worse water quality. We arrive late afternoon and the tide has already started rising. We talked to the community leader and many of the residents and then split up into groups to maximize our productivity.
There are 5 wells in Concordia and an experimental well. We collected samples from 3 of the 5 wells, the experimental well, and a house water reserve. Some of these wells were constructed by the elderly men in the village and have been in operation for over 30 years. 
We leave Concordia and head back to Puna for some sweets from the local bakery, dinner and a long night of lab work! Yay team!
– Julia Schultz
Day 4
Our TA's gave us a small blessing this morning to help us start our day. Instead of a 7:15 start like Monday, we got an extra 5 minutes of sleep and had a 7:20 start. As soon as we stepped outside, it was already hot, foreshadowing for some of the day's events. After a short and groggy walk to breakfast, we got to dig into some food. We had a classic breakfast sandwich with croissant bread, hard-boiled egg and a banana. Julia came up with a little trick to spice up the sandwich by putting the sliced-up egg on the sandwich for some extra flavor. We also got some much-needed coffee. Normally I detest instant coffee but for some reason, I love it in these early mornings on Puña.
We arrived at the hotel and Juan Pablo told us some of the rules for the desalination plant. We needed three things in order to be allowed to be safely in the plant: Hard hat, boots, and long pants. In addition to safety, these items all had one thing in common, they all made you very hot. On our walk to the plant, we took a new path to get there and got to see some new parts of the town.
We were greeted at the plant by a safety officer. We signed into the plant and went upstairs to the lab to drop off our equipment. Immediately upon entering the lab, we could feel the air conditioning but alas, we had to make our way back outside in order to begin our plant tour. I won't bog down this post with the details, but one thing sticks out about plant. It is so much more modern and is in stark contrast the rest of the island. There's this multi-million-dollar plant and mere kilometers away, we talked to some family that wakes up every morning and carries a bucket of water to and from the local well to get their water for the day.
After the tour, it was time to get to work. We were already working up a mean sweat from simply walking around the plant and now we had to collect some samples. We began by collecting a sample from the well that the plant currently draws it's influent. The well was housed in a small building a couple hundred meters away from the plant. In addition to a pump, this building acted as a storage facility for some of the various treatment chemicals used. As we were checking out the pump and gathering our sample, Benito began asking us about what each chemical in the building was and what it was used for. Being the young students that we are, we had a very difficult time of figuring it out. In fact, it was mostly Benito noticing that we had no idea what each chemical did and then explaining to us the processes while we frantically took notes.
On our walk back to the plant, the heat really started to set in. It felt as if every piece of fabric on my body was soaked like I had just jumped into a pool. If I recall correctly, I had probably had about 2 liters of water at this point and I was still thirsty. It wasn't even noon yet. We got to the plant and began taking samples at a couple of points throughout the system. Unfortunately for us, the next two samples were going to be taken right in direct sunlight. As we collected our samples, we transported them back to the lab so that the other team could get some data. After we had gathered our three samples, it was time to break for lunch.
I felt bad for the family who was making us lunch. We all walked into their house all drenched in sweat and smelling terrible. Fortunately for us, she was about to make us an amazing meal. We had an appetizer of some bean and potato soup. Then a main course of seafood fried rice with plantains. Now I can't comment on whether it was good of not because I'm not able to eat it, but it looked exceptional. We wrapped up our meal, ready to finish up our data collection at the plant.
A couple of us headed back to the hotel to get what was left of our water to bring back to the plant. We didn't bring as much water to the plant as we needed initially. The heat, confounded with the fact that we need to use bottled water to rinse the equipment, and we were piling up empty bottles. It seems kind of ironic that we came to the island to solve a water crisis and sort of ended up in a mini water crisis of our own. I just wish that the island's problems were as easy to solve as our own.
We quickly wrapped up the second half of our sampling which was much easier than the first half. Most of the collection sites in the second half were out of the sun which made it easier on us. We then departed back to the hotel. Some of us very excited to ditch our hard hats, take off our boots and put on some shorts.
After the desalination plant we planned on heading over to the local clinic to talk to one of the head doctors on the island. That plan was delayed a bit due to unexpected circumstances. We first had to get some ice cream. This ice cream of course served a purpose, to cool us off. Once we finished our ice cream. We departed over to the clinic where we asked the doctor some questions with Juan Pablo translating for us. We learned a lot about the common ailments of the island's people as well as some of the sanitation practices people have.
As we were departing from the clinic, a soccer game had begun at the soccer court outside. Not ones to pass up some free entertainment, we watched about five minutes of the game as Benito and Juan Pablo wrapped up with the doctor. To our surprise, we saw someone who has been serving us dinner as one of the goalies in the game. Unfortunately, as we were on our way out, we had to watch him get scored on, but we pretended we never saw that. Dinner was a simple meal of rice, beans, fried plantains and for dessert we had this fruit that was reminiscent of a cherry but was a lot sweeter. After dinner, we headed back to the hotel for a much-needed shower before we began our lab work. We finished up the lab work around 11:00 pm, ready for another 7am start
-Alex Hanskat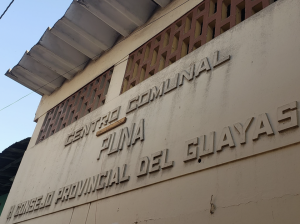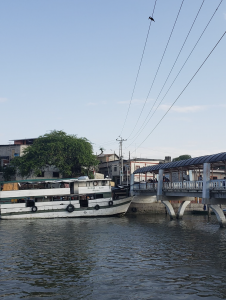 Day 5
¡Buenas dias de Puna Island! ¡Me llamo Abby Iuorio, y voy a escribir el blog hoy! He practicando mi español en este viaje. 
Good morning from Puna Island! My name is Abby Iuorio, and I am going to write the blog today! I have practiced my Spanish in this trip. (I didn't use google translate, so I hope that's right.) 
Today is our last day on the island before we return to the city. They say if you love something, let it go, and this last day on puna island has reminded me of why this saying rings so true. It was a shock to arrive at an island without consistent water, Internet, or air conditioning, and I often wished I was at home, cuddled up in my bed in my apartment. But now, as I'm about to leave, I'm getting sentimental. These people have been so kind to us. I hope to savor this last day. 
We woke up tired, as we have every day, but ready to work hard. Returning back to the plant, we got to work. My biggest job was to walk around and survey the community about their water and how they use it. With the sun beating on our backs, we began our journey. In total, we talked to 4 homes, and received a wide variety of answers. This community was served by a well before the current plant started operation, and many drank this water even though it wasn't treated. Even though their water is now better, no one drinks it anymore because they don't think they can. Problems in the distribution system have given the water occasional sediments and discoloration and lost the residents trust. They're wary of the new system, so they spend lots of money and waste plastic buying bottled water. The conversations reaffirmed my conviction that this community needs a better solution. We continued testing water in the afternoon and evening, even collecting samples from the homes to test for differences. 
After we were done testing, it was time to go to our last night dinner with Mercedes, the woman who had been cooking for us, and her whole family. When we walked into the home, we were greeted with balloons and streamers all over. They had prepared for a party, and it warmed my heart. Just when I thought it couldn't get better, Mercedes put down a beautiful homemade cake. We had a delicious meal with rice and shrimp, complete with dragonfruit, candies, and delicious cake. The kids finally got the courage to talk to us, and I used my broken Spanish to become friends with Mercedes' sister. She is 16 and just graduated high school, and she's planning on going to university in Guayaquil to become a doctor. There are so many people on this island with such bright ideas and dreams, and they just need the resources to achieve them. 
We exchanged gifts and appreciation all night long. We wanted to sing a song, but it wasn't actually anyone's birthday, so we sang "Baby" by a Justin Bieber to them. As we finished cake, we stayed late taking pictures and swapping WhatsApp contact info. I could barely speak to these people, but they left such an imprint on my heart. I left that house with a big smile. It was honestly the best party I've ever been to.
– Abby Iuorio
Day 6
This morning was our last time waking up on Isla Puná. While our luggage was being stacked onto the bike carts, the team looked sad to be leaving. Actually, now that I think about it, the appearance may have been due to waking up before 6 A.M.  Once all the luggage was loaded, we walked along side the carts to the dock. While waiting, Mercedes came out of her home to offer us breakfast sandwiches and coffee with sugar for the ride. Most people fell asleep or came close to it on the boat, then we transferred into the bus and drove back to the Wyndham.
Back at the hotel, breakfast was still being served so we all ate a "brunch."  Our luggage and equipment were stored since we could not check in yet and we loaded back into the bus to head to a National Park. Isla Santay, un Área Nacional de Recreación, is an island located between Guayaquil and Durán. We had to walk across a very long bridge which we passed under to get to and back from Isla Puná. We walked the Ecoaldea trail which was 1.8 km one way. It was a boardwalk along the edge of the island with beautiful views of marsh and the occasional very large palm trees. The end of the trail was a rest area with drinks and crafts to purchase as well as cabañas to rent. There were also crocodiles in captivity not too far from the rest area. A local told us that the crocodiles are endangered in Ecuador so they are raising as many as they can there. He said there were 15 in captivity in total. And then there was a short trail to el mirador Huaquillas, a lookout at an inlet for el Rio Guayas into the island.
Eventually, we returned to the hotel where we split into two groups. One group worked on lab work while the other group got ready for dinner. The groups switched and then we met in the lobby to head to what was described as a "fancy" dinner with members of Interagua. People wore the best clothes they packed, but no one was expecting what was arranged for us. We were taken to the top floor of the Banker's Club where we socialized with trainees of Interagua who were a couple years older than us. Once seated, we were welcomed with a speech from an executive member of Interagua as well as a speech and gratitude from Benito Mariñas. Everything was amazing from the food, decor, and spa inside the bathroom, to the Spanglish conversation about our work and theirs. Juan Pablo described it as polar opposites going from Isla Puná to the top floor of the Banker's Club. We concluded with a photo on a staircase that is famous for taking pictures at the Banker's Club. Numbers and What's App info were exchanged before we loaded on the bus to head back to the hotel to end our day.
Attached pictures: Banker's Club, National Park sign (below)
– Nick Bartuce
Day 7 
Our Valentine's Day started with a few of us enjoying the rooftop pool of the Wyndham. It was the first day in some time that we were able to wake up at a reasonable time, and most of us took advantage of that.
After breakfast, we hopped on a bus and headed to the markets, to buy gifts for our friends and family, but mainly for ourselves, to remember our trip to Ecuador.
Many of us practiced our bartering skills, others our Spanish, and the rest walked around with just a "¿Cuanto cuesta?" up their sleeve.
We bought all sorts of things, from hammocks, to pants, and from bracelets, to fanny packs, begging the question, "How are we going to fit all this in our carry ons?"
We returned to the hotel, had lunch, and began compiling all our notes from Puna Island.

After this, we headed to Oro Verde hotel for the debriefing, where Professor Marinas presented how our trip went to the top folks at Interagua.

Interagua surprised us with the news that they would fly their plant engineer, Aracelly, to Illinois to listen to our final presentation. Additionally they told us they would fly one of us back down to Ecuador to present our findings to Interagua. We were delighted to hear this news.
We said our goodbyes to Juan Pablo, who was incredible to us the entire journey. Him and his wife presented us with tokens from their home town, Cuenca.
We headed back to the hotel, and finished off the last of the in-country lab work we had to do.
When work was over, we headed to dinner and enjoyed a Valentine's meal together. After that, many of us gathered, including Teresa from Interagua, to go out and experience the night life of Guayaquil and celebrate our time together in Ecuador.
– Sam Kottoor
Day 8
This morning we all got wake-up call texts on WhatsApp at 7am to checkout of our rooms & eat breakfast. Some students helped the TA's with taking down all the equipment and most of us were downstairs by 7:40 am. We were supposed to leave for the beach no later than 8:15 am, because last night Benion thought it would take 1-2 hours to get to the beach. Well, it actually took us 3 hours to get to Salinas Beach.
On our way there, some of us saw interesting things along the road like a building full of clowns, a theme park of roller coasters and many shops on the main road. During the trip, we stopped at a gas station about two hours into the trip and the girls had to take in their own toilet paper.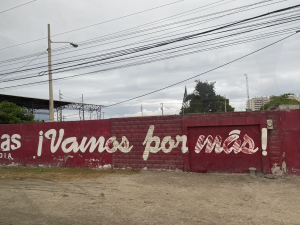 When we arrived at like 12pm we were very surprised to pull up to a resort. We met with profesor benito's friend, Hugo and his wife, and sat for lunch. Initially, we (students) had no idea who we were meeting prior to the moment we saw each other. I think the TA's may have been in touch but as for the students that was the first time we realized. It was really funny because Hugo kept taking about terzaghi, and the professors from cee 480 (professor stark), 483 and 484. He knew many of the geotechnical engineering professors. He helped some of us decide what we wanted to eat by getting us many appetizers. Our menus were completely in Spanish.
We had many dishes made of plantains so many of them thy we started to give them away to the other table (we were split in half) because Eddalee liked them so much. We started laughing at how big the ceviche came out in its container and how it looked like a mixed drink. Hugo took a video of us and sent it to Benito to update him on our well-being. Hugo also told us to go crazy on trying as much food as we wanted which we very quickly regretted. After being completely stuffed by the appetizers, weirdly trying to share a fried egg and finding out that the resort had showers we went off to the beach.
Initially, the resort didn't have lockers, so Hugo had offered us to use his car keys but warned us not to take our phones or any identification with us. Luckily, we had two people from our group stay back with our things at the tables from lunch so nothing had to go in the cars. After layers of sunblock we walked out of the resort and to the beach. There were some inflatables on the beach, but you had to pay to use them so we just stayed in the ocean. We wish we brought a ball to pass around. Some brought goggles, some caught sea shells, some dug "wells" and got their feet stuck in them, some created a labyrinth for a crab we thought initially was a shell, and finally others tanned, played cards, built sand castles, floated into the abyss and practiced their swim skills. There were so many people and tents and families on the beach. We went to the beach that you could not see from the resort but which was recommended by Hugo.
For those who stayed back, Lu being one of them, they were able to have more conversations and get to know Hugo. Lu talked with Hugo about her hometown, education, family, future plans and his son and his education and Hugo's education. His son got a masters degree at Stanford and is going to northwestern for PhD in civil engineering. Hugo was really proud of his son and a decent conference he presented at.
Those of us on the beach went back to the resort at 4:30 pm and took ourselves some showers. The resort let us loan out towels and some of us had shampoo packed so this was our last shower before getting on our flight later tonight. The shower room was great and Hugo's wife helped us with getting towels. Then, Hugo followed us as we walked out of the resort for like 2.5 blocks through a park to our bus. Before boarding the bus, we said our final goodbyes and took a group photo in front of a mural.
On the ride back, most of us knocked out. It was surprising because on the way to the beach it had been raining all morning even during breakfast but we had warm water in the ocean and a bit of sun come out with no rain. On the way back, we were very content with our last day in Ecuador. The beach was well worth the wait and travel time but we were ready to go home. Oh yeah, Jingling and Gabby saw a pelican at the beach because they swam up to it and then it stared at them and they watched it dive into the water!
Back at the hotel by 7:30, we caught up with Benito and made sure to be sitting at dinner in the hotel by 8pm. This was our final dinner before the flight, but we had to be out by 10pm so the TA's and professor benito were trying to multi task as much as possible by trying to get our baggage early, trying to get the check early and trying to check out early. I guess Benito had met with Juan Pablo while we were all at the beach, so Benito gave him an Illinois UIUC helmet that he asked for at the debriefing yesterday. After doing so, they went out for ice cream where it's all made by hand in the store and they use liquid nitrogen which Benito never saw before in a store.
Weiqii kept trying to get all of us to get our hand written letters ASAP because she wanted to put them and make origami with them into a box as a gift for Benito. The TA's wanted a gift for him to celebrate his stepping down as the cee department chair officially as of today. Here's some inside scoop — there are new faculty that were hired for all levels of the civil department for the following year (fresh blood). Also, our group selfie took multiple attempts and a timer!
Dinner came out after an hour and 20 mins so they gave us some complimentary fries and appetizers. The food was incredible and Professor Benito treated us to a very luxurious life in Ecuador in the hotel Wyndham. Most couldn't finish more than half their food (but I definitely did). After dinner, we put all of our things from the beach back into our bags – scattered all over the downstairs of the hotel in the lobby, completely taking over the space. We got our items ready for the flight and boarded our bus for the last time.
At the airport, Benito left us to "find out" how to check-in, checked in without us and then got in line without us and was then wayyy ahead of us. Also, Abby, Nick and Xiaokai were interviewed by narcotics at the Guayaquil airport about our checked bags. They were asked about what was in the bags and what we were doing there with all the technology. Weiqi lost her Swiss Army knife she bought specifically for the trip, because sadly she did not put it into her checked bag.
We got to Texas by 6:30 am. For this flight, most of us were completely separated and not sitting by each other at all. Before boarding the TA's gave us all a water bottle in the airport and Kylie got Benito to give her a bunch of $1 coins because of the different presidents on them. Some of us played cards while we waited for our flight. During the flight, we had free access to movies, music, etc. Weiqi accidentally left her ID on the plane but other than that we all made it to Dallas safe and sound! We landed early, and although some of us didn't get to sleep at all due to the more confined space than those (especially the lucky ones in the emergency exit). Benito is taking a different flight from us so while we go to O'Hare, he's going to Champaign.
And that's a wrap! Abby had to chug her orange juice through Texas security, we had a meal between flights to O'Hare and our flight to Chicago got us back at 10:30 am. We're ready to get back to snow and 22 F weather vs 81 F in Guayaquil and look forward to another great year of ideas from you CEE449 team.
Group pep talk on using the skywalk without Benito 🙁
– Isabel Diaz