Thursday, February 18, 2016 (by Joseph Chang)
After three hard days of field work, we departed Kigali at 4:30 am to embark on a day-long safari trip in Akagera National Park. While all of us were very exhausted from the early departure, we were extremely excited for the opportunity to see the local wildlife and landscape. Our drivers did a great job driving through the early-morning traffic en route to the park, which we arrived as the sun rose above the surrounding hills.
Following a light breakfast, we embarked on our adventure. Some of the first animals spotted included waterbucks, water buffalo, bushbucks, impalas, and warthogs.
Then we started seeing more iconic African animals. First we spotted the first of many zebras, along with a few giraffes.
We proceeded to make a quick pit stop, where Peter Luswata pointed out a makeshift hand pump that visitors could use to wash their hands.
Then we encountered an elephant drinking water at a lake, along with a few hippopotamuses in the background. One of the hippopotamuses even opened its mouth for a moment, showing us its large and incredibly thick teeth
Our utensil-less lunch presided next to three hippopotamuses in the lake, which enthralled some and scared others. However, sweet apple juice was served, which delighted many in our group.
Following our meal, we encountered perhaps the most iconic African mammal of all, the lion. A female lion lounged in the shade of a tree, while the male lion, startled by our sudden presence, rose to keep tabs on our location. As our vehicles steadily approached, the male, perhaps guarding its territory let out a shallow growl, which indicated to us that it was time to go. However, as one of the vehicles turned to leave, one of its passengers spotted a third, older lion, lounging in a nearby shrub.
Following the lion, with the initial thrill of seeing new animals gone, the energy level was kept up with plenty of fun games and conversations, including one particular Teaching Assistant declaring himself to be the second coming of Nigel Thornberry.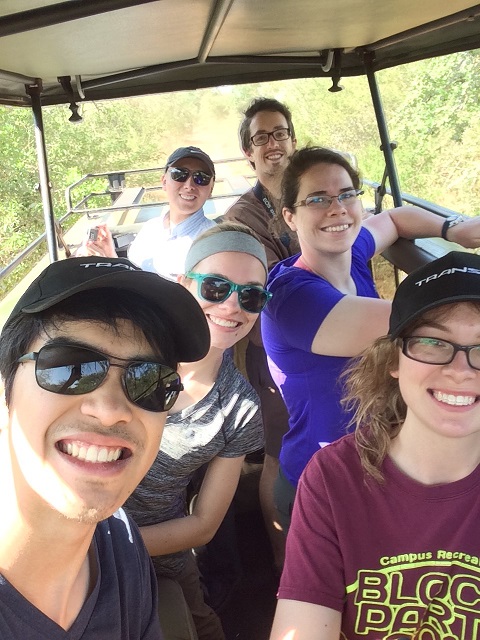 Overall, everyone was thrilled to see so many animals, and agreed that it was a once-in-a-lifetime experience. We could not be more thankful for our drivers, who knew the right locations to see as many animals as possible, as well as our esteemed Professor Marinas, who worked hard to organize the event for us.
The day ended with a dinner back at our hotel in Kigali, and some microbiology work with our excellent advisor Bernardo. Overall, it was a fantastic day and one full of traditional African culture.