This morning we all got wake-up call texts on WhatsApp at 7am to checkout of our rooms & eat breakfast. Some students helped the TA's with taking down all the equipment and most of us were downstairs by 7:40 am. We were supposed to leave for the beach no later than 8:15 am, because last night Benion thought it would take 1-2 hours to get to the beach. Well, it actually took us 3 hours to get to Salinas Beach.
On our way there, some of us saw interesting things along the road like a building full of clowns, a theme park of roller coasters and many shops on the main road. During the trip, we stopped at a gas station about two hours into the trip and the girls had to take in their own toilet paper.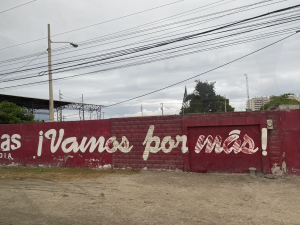 When we arrived at like 12pm we were very surprised to pull up to a resort. We met with profesor benito's friend, Hugo and his wife, and sat for lunch. Initially, we (students) had no idea who we were meeting prior to the moment we saw each other. I think the TA's may have been in touch but as for the students that was the first time we realized. It was really funny because Hugo kept taking about terzaghi, and the professors from cee 480 (professor stark), 483 and 484. He knew many of the geotechnical engineering professors. He helped some of us decide what we wanted to eat by getting us many appetizers. Our menus were completely in Spanish.
We had many dishes made of plantains so many of them thy we started to give them away to the other table (we were split in half) because Eddalee liked them so much. We started laughing at how big the ceviche came out in its container and how it looked like a mixed drink. Hugo took a video of us and sent it to Benito to update him on our well-being. Hugo also told us to go crazy on trying as much food as we wanted which we very quickly regretted. After being completely stuffed by the appetizers, weirdly trying to share a fried egg and finding out that the resort had showers we went off to the beach.
Initially, the resort didn't have lockers, so Hugo had offered us to use his car keys but warned us not to take our phones or any identification with us. Luckily, we had two people from our group stay back with our things at the tables from lunch so nothing had to go in the cars. After layers of sunblock we walked out of the resort and to the beach. There were some inflatables on the beach, but you had to pay to use them so we just stayed in the ocean. We wish we brought a ball to pass around. Some brought goggles, some caught sea shells, some dug "wells" and got their feet stuck in them, some created a labyrinth for a crab we thought initially was a shell, and finally others tanned, played cards, built sand castles, floated into the abyss and practiced their swim skills. There were so many people and tents and families on the beach. We went to the beach that you could not see from the resort but which was recommended by Hugo.
For those who stayed back, Lu being one of them, they were able to have more conversations and get to know Hugo. Lu talked with Hugo about her hometown, education, family, future plans and his son and his education and Hugo's education. His son got a masters degree at Stanford and is going to northwestern for PhD in civil engineering. Hugo was really proud of his son and a decent conference he presented at.
Those of us on the beach went back to the resort at 4:30 pm and took ourselves some showers. The resort let us loan out towels and some of us had shampoo packed so this was our last shower before getting on our flight later tonight. The shower room was great and Hugo's wife helped us with getting towels. Then, Hugo followed us as we walked out of the resort for like 2.5 blocks through a park to our bus. Before boarding the bus, we said our final goodbyes and took a group photo in front of a mural.
On the ride back, most of us knocked out. It was surprising because on the way to the beach it had been raining all morning even during breakfast but we had warm water in the ocean and a bit of sun come out with no rain. On the way back, we were very content with our last day in Ecuador. The beach was well worth the wait and travel time but we were ready to go home. Oh yeah, Jingling and Gabby saw a pelican at the beach because they swam up to it and then it stared at them and they watched it dive into the water!
Back at the hotel by 7:30, we caught up with Benito and made sure to be sitting at dinner in the hotel by 8pm. This was our final dinner before the flight, but we had to be out by 10pm so the TA's and professor benito were trying to multi task as much as possible by trying to get our baggage early, trying to get the check early and trying to check out early. I guess Benito had met with Juan Pablo while we were all at the beach, so Benito gave him an Illinois UIUC helmet that he asked for at the debriefing yesterday. After doing so, they went out for ice cream where it's all made by hand in the store and they use liquid nitrogen which Benito never saw before in a store.
Weiqii kept trying to get all of us to get our hand written letters ASAP because she wanted to put them and make origami with them into a box as a gift for Benito. The TA's wanted a gift for him to celebrate his stepping down as the cee department chair officially as of today. Here's some inside scoop — there are new faculty that were hired for all levels of the civil department for the following year (fresh blood). Also, our group selfie took multiple attempts and a timer!
Dinner came out after an hour and 20 mins so they gave us some complimentary fries and appetizers. The food was incredible and Professor Benito treated us to a very luxurious life in Ecuador in the hotel Wyndham. Most couldn't finish more than half their food (but I definitely did). After dinner, we put all of our things from the beach back into our bags – scattered all over the downstairs of the hotel in the lobby, completely taking over the space. We got our items ready for the flight and boarded our bus for the last time.
At the airport, Benito left us to "find out" how to check-in, checked in without us and then got in line without us and was then wayyy ahead of us. Also, Abby, Nick and Xiaokai were interviewed by narcotics at the Guayaquil airport about our checked bags. They were asked about what was in the bags and what we were doing there with all the technology. Weiqi lost her Swiss Army knife she bought specifically for the trip, because sadly she did not put it into her checked bag.
We got to Texas by 6:30 am. For this flight, most of us were completely separated and not sitting by each other at all. Before boarding the TA's gave us all a water bottle in the airport and Kylie got Benito to give her a bunch of $1 coins because of the different presidents on them. Some of us played cards while we waited for our flight. During the flight, we had free access to movies, music, etc. Weiqi accidentally left her ID on the plane but other than that we all made it to Dallas safe and sound! We landed early, and although some of us didn't get to sleep at all due to the more confined space than those (especially the lucky ones in the emergency exit). Benito is taking a different flight from us so while we go to O'Hare, he's going to Champaign.
And that's a wrap! Abby had to chug her orange juice through Texas security, we had a meal between flights to O'Hare and our flight to Chicago got us back at 10:30 am. We're ready to get back to snow and 22 F weather vs 81 F in Guayaquil and look forward to another great year of ideas from you CEE449 team.
Group pep talk on using the skywalk without Benito 🙁
– Isabel Diaz