Today has been a LONG day for the CEE 449 travel team. Our venture to Ecuador-Guayaquil started at 3:45 am in Newmark.
With our hard hats on, and bags stuffed full we were ready! Our bus arrived around 4 am and then we were off to O'Hare international airport. The bus ride excitement lasted about ten minutes before everyone dozed off.
Once we got to O'Hare we had a long wait at group check in.
But as all great college kids do, we just keep chugging along (some of us running on minimal hours of sleep!). Once we got through check in and TSA we all met up at nine other than… the big glowing Illinois "I"
Again… hard hats on!
Fun fact: an alumni took this picture for us!
After getting settled we all got breakfast and finally sat down. Most of us working on homework!
The fun was just beginning.
We left O'Hare around 10 am and arrived in Miami at 2 pm. From there we had a two hour layover.
Soon enough the time came to board yet another plane. We hopped on the 737-800 and made our way to Guayaquil!
Our flight was good, we got sandwiches and most of us slept. We landed in Guayaquil around 9 pm. Once we landed we had to go through customs and then attempt to find all of our bags. Of course we each had our own, but we also have all of our equipment. We were fortunate and all of our luggage made it in one piece! From the airport we hopped onto a bus where we met up with Professor Benito and our guide for this trip Juan-Pablo.
We took a short bus ride to our hotel. Once w walk got our keys and rooms we had to get all of our equipment to one room. From there we were all able to relax a bit and hang out.
Today has been long yet exciting… who knows what fun awaits!
– Kylie Burkett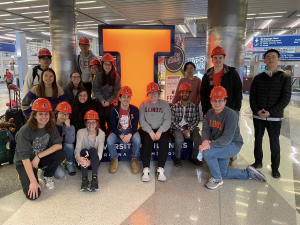 \