2021 Illinois Beef Experiential Learning and
Industry Exposure Fellowship (I-BELIEF)
Our overall goal is to increase the number of female and economically disadvantaged students who are ready to solve existing problems in the beef industry to meet global demand for high-quality protein foods. Each fellow will be mentored by Dr. Josh McCann or Dr. Dan Shike from the University of Illinois, Urbana-Champaign as well as industry professionals, extension beef cattle specialists, and the research specialists at each research center.
The I-BELIEF program will train students from four Illinois institutions to achieve 3 objectives during a 12 month fellowship program:
Conduct an experiential beef cattle research project to address problems related to beef cattle nutrition, reproduction, or management.
Develop students' critical thinking and communication ability related to their research project and career goals.
Enhance understanding of beef industry careers and develop a career action plan to achieve fellows' desired career path.
If you are a sophomore or junior majoring in agriculture, you are strongly encouraged to apply! The summer internship will be offered at multiple locations, including Dixon Springs Agricultural Center (Simpson, IL), Orr Research and Demonstration Center (Baylis, IL) and University of Illinois at Urbana-Champaign.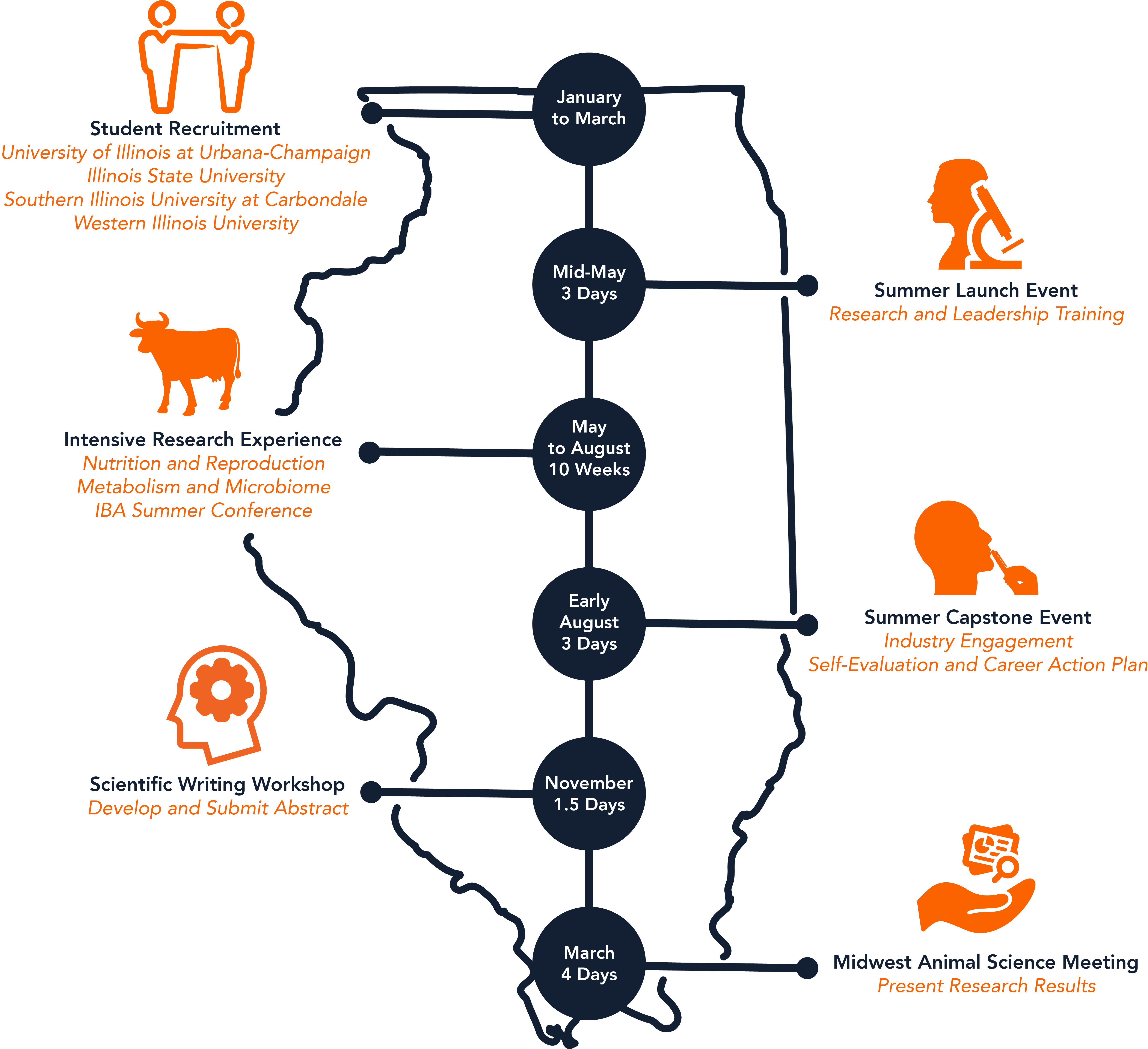 Learn about the I-BELIEF experience on Instagram  @i_belief_illinois, the blog https://ibeliefundergraduateprogram.wordpress.com/, and Facebook https://www.facebook.com/Ibelief18
and the website
https://publish.illinois.edu/beef-cattle-nutrition/i-belief/
PROGRAM OVERVIEW
2021 I-BELIEF Program Announcement
Summer Launch Event
Leadership training and team development: May 26-28, 2021
Intensive Research Experience
10-week beef cattle nutrition research internship: June 1 – August 6, 2021
Summer Capstone Event
Recap summer research experience, interact with industry professionals, and develop a career action plan: August 4 – August 6, 2021
Scientific Writing Workshop
Write and submit abstract for scientific meeting: October, 2021
Midwest Animal Science Meeting
Attend scientific meeting and present research: March, 2022
COMPENSATION
You will be paid an hourly wage of $12 on a bi-weekly basis. Total compensation will not exceed $4,800 (gross) for the service period. As a student intern, you will work 40 hours per week. Housing is provided at no charge.
***For more information regarding the internship program, contact Dr. Josh McCann at jcmccan2@illinois.edu or Dr. Dan Shike at dshike@illinois.edu
APPLICATION PROCESS
For full consideration please submit: cover letter, resume, two listed references, and application to: Dr. Josh McCann (jcmccan2@illinois.edu) by 5 p.m. on Feb 5, 2021.
I-BELIEF_Student_Application_2021
The Illinois Beef Experiential Learning and Industry Exposure Fellowship (I-BELIEF) is supported by Food, Agriculture, Natural Resources and Human Sciences Education and Literacy Initiative grant no. 2018-67032-27709 from the USDA National Institute of Food and Agriculture.