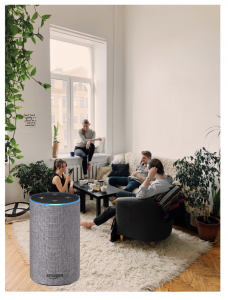 The EchoXL is a large format Alexa-powered smart speaker as part of TEC's Alexa program. Based on the current market offerings, it would be the largest of its kind. It's form and features will be modeled after Amazon's Echo speaker, to keep branding consistent and to also exemplify a potential line expansion. While small Bluetooth speakers still hold the largest market segment in audio, the market for larger sound systems has been steadily increasing over the past few years (as evidenced by new products from LG, Samsung, Sony, and JBL). Currently, Amazon does not have any products in this category. 
The speaker will be used as a public demonstration piece to exhibit the current technology incorporated within smart speakers, such as the implementation of microphone arrays as wells as internal room correction capabilities. The novelty factor of a scaled up Echo speaker will also be useful for press for the group's research.
Features
The EchoXL should feature standard Alexa capabilities, with IoT integration including wireless connectivity options. Since the Alexa portion requires a microphone array, this array will perform double duty. It will also be used to provide room correction in conjunction with a speaker array and DSP. This is found across the market in products like the Apple Homepod and the Beolab90 to compensate for room shape, placement of speaker within the room, and reflections from nearby from materials within the room.  
The major draw of the EchoXL will be its "HiFi" sound quality. This is broken down into the following goals: smooth extended frequency response from 40hz to 20khz (41 is the lowest note on bass guitar and should be appropriate for most music genres), high output (110db+) to allow for full dynamic range, and stereo separation for proper imaging. 
Overall Construction
The enclosure will be constructed from ½ MDF, with the subwoofer section using  ¾ thick MDF and 18" diameter Sonotube concrete former. The overall dimensions will be approximately 18×31", keeping the proportions of the Amazon Echo.  
Electronics
Class D amplifiers will be used due to their efficiency and small size. For the Mains section, a 6×100 watt amp will be utilized (Sure Electronics AA-AB34181). A single 1×600 watt amplifier will power the subwoofer (Sure Electronics AA-AB31241), as this particular model is stable at 2 ohms. Each amp will have its own dedicated power supply (Mean Well MW LRS-350-36 36V 9.7A 350W Regulated Switching Power Supply and MW SE-600-48 48V 12.5A 600W Regulated Power Supply).
The Dayton DSP-408 will be the "brains" of the system, with features such as adjustable active crossovers, equalization, delay, phase control, mixer capabilities, and customizable presents. These can be set to modify sound characteristics based on room placement and use (critical playback versus a party setting). 
Mains
The Dayton Audio B452-AIR speaker was chosen due to it's particularly low price point of $36 per pair. At this price you get a two way speaker (4 ½" woofer, 1" tweeter), crossover, and binding posts. Most impressive is its utilization of an AMT tweeter, usually found in speakers several times the price. The parts will be stripped from their enclosures and assembled into a hexagonal enclosure situated above the subwoofer section. The volume for the enclosure has been significantly decreased which will likely cause a peak in the response around 100-200hz, but this is something easily taken care of by the DSP. 
The drawbacks of this speaker are its efficiency (84 dB 1W/1m), but compared to the single driver alternatives this is about standard. 
Subwoofer
The Dayton Audio DCS205-4 8″ subwoofer was chosen for its reasonable extension and output in smaller enclosure. Simulations show that in a 1.4 cu.ft. enclosure tuned to 33hz, a pair of the subwoofers can reach 113 dB in half space (approximately 119 dB with corner loading) with 300 watts, while staying under Xmax above 29hz. It's f3 point is 35hz. 
Finishings
The entire assembly will be covered by a fabric sock, topped with a matte white layer of acrylic with a clear sheet of acrylic in between for lighting effects. The internal structure will be painted black. 
Alexa Integration
For the time being, an Echo Dot will be implemented to provide the speaker with Alexa capabilities. The speaker will essentially be operating as a dock for the Dot.
Soundfields
While I have yet to delve into some of the more complex variables in soundfield manipulation, I have but together a few examples based on the mixing function of the DSP.
Soundfields 1 and 2 are both aimed for dedicated stereo listening. SF1 splits the Echo into a left and right channel. SF2 utilizes a center channel to keep the listener on axis, as the SF1 settings have the listener farther off axis from both channels. Soundfield 3 is designed for parties and gatherings, with each channel of the Echo playing Left and Right summed to mono. 
Initial Impressions
Based on initial listening impressions, the midwoofers seem to be a weak link in the system. They struggle to keep up with the other drivers as the volume increases. Raising the crossover frequency did alleviate some of the strain, however. 
As Expected, the system needs some equilalization, but this will be simple enough to correct once I take some frequency response measurements. The customizable EQ settings on the DSP will take make of any anomalies in frequency response. 
Soundfield synthesis will be an important part of this project. Presently, it is very obviously the sound is coming from one source. Hopefully by implementing the delay and phase functionality of the DSP, the soundstage and imaging can be greatly improved.
What next
A route still needs to be figured out for convenient external connections. This could be a panel on the "back" of the speaker, or the inputs could just be accessed when the fabric sock is removed since the aesthetic isn't as important when it's being used for research. 
A method for easy disassembly must also be determined. Once fully assembled, the electronics will no longer be easily accessed. Troubleshooting will need to take place before all of the pieces are put together.
Frequency response measurements need to be taken, preferably in acoustically treated situations and locations where it would actually be used (living room corner placement, outside on a patio, etc.). These measurements will be used for overall EQ, creating specific settings based on placement, and seeing the effects of drivers mounted in a hexagonal enclosure (e.g. comb filtering)
Research will need to be done on soundfield synthesis and the interactions of different variables such as delay and phase. 
I am currently working on an additional list of parts to be ordered for the next steps in construction. Odds and ends include lights, cables, adapters, etc. Aesthetic elements such as fabric and acrylic will also need to be purchased soon. 
If possible, it would be beneficial to find a more compact power supply solution. The current ones used are large and difficult to mount within the constraints of the enclosure. 
Progress Shots