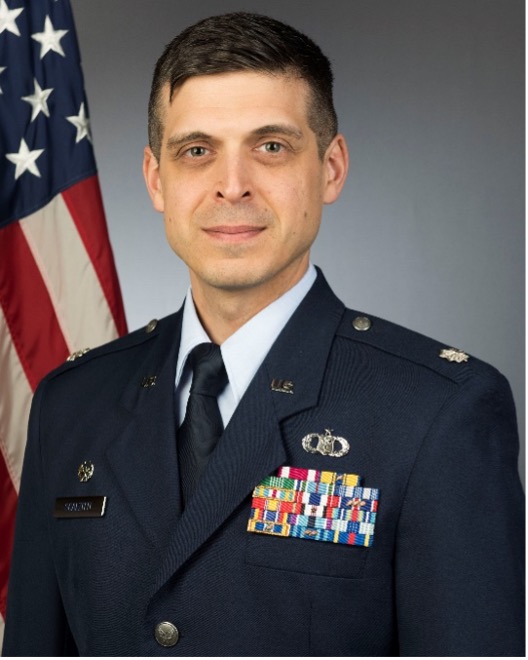 LIEUTENANT COLONEL JASON P. SCALZITTI
Lieutenant Colonel Jason P. Scalzitti is the Commander and Professor of Aerospace Studies for Air Force ROTC Detachment 190, University of Illinois at Champaign-Urbana. As the Department Head he leads a five person cadre, responsible for training, mentoring, and commissioning cadets throughout the year. The Flyin' Illini Cadet Wing is one of the original six AFROTC Detachments in the United States, chartered in 1949.
Lt Col Scalzitti earned his commission in 2005 from the United States Air Force Academy. He is a weather officer and has supported Air Force, Army, and Joint operations.  He commanded the 21st Operational Weather Squadron, Kapaun Air Station, Germany, responsible for weather support to the United States European and Africa Commands and the North Atlantic Treaty Organization.  He holds master's degrees in administrative leadership, military operational art and science, atmospheric science, and strategic studies.
Education

Assignments

2005  Bachelor of Science, Meteorology, U.S. Air Force Academy, Colorado Springs, Colo.

 

2005  Air and Space Basic Course, Maxwell AFB, Ala.

2011  Master of Arts, Administrative Leadership, University of Oklahoma, Norman, Okla.

2011  Squadron Officer School, Maxwell AFB, Ala.

2016  Master of Science, Atmospheric Science, University of Utah, Salt Lake City, Utah

2018  Master of Military Operational Art and Science, Air Command and Staff College, Maxwell AFB, Ala.

2022  Master of Strategic Studies, Air War College, Maxwell AFB, Ala.

July 2005–June 2008, Weather Team Officer-in-Charge, 17th Operational Weather Squadron, Hickam AFB, Hawaii.

August 2008-June 2010, Wing Weather Officer 78th Operations Support Squadron, Robins AFB, Ga. (January 2010-July 2010, Weather Flight Commander, Transit Center at Manas International Airport, Kyrgyz Republic)

June 2010-July 2011, Flight Commander, 78th Operations Support Squadron, Robins AFB, Ga.

August 2011–July 2014, Commander, Detachment 3, 7th Weather Squadron, U.S. Army Garrison Vicenza, Italy (May 2012-October 2012, Staff Weather Officer, 12th Combat Aviation Brigade, Camp Marmal, Mazar-i-Sharif, Afghanistan)

August 2014–March 2016, Air Force Institute of Technology Graduate Student, University of Utah, Salt Lake City, Utah.

April 2016–June 2017, Operations Officer, 14th Weather Squadron, Asheville, N.C.

July 2017–June 2018, Student, Air Command and Staff College, Maxwell AFB, Ala.

June 2018–June 2019, Deputy Chief, Weather Requirements, Air Combat Command, Joint Base Langley-Eustis, Va.

June 2019—June 2021, Commander, 21st Operational Weather Squadron, Kapaun Air Station, Germany

June 2021—July 2022, Student, Air War college, Maxwell AFB, Ala.

July 2022—Present, Commander and Professor of Aerospace Studies, Air Force ROTC Detachment 190, University of Illinois, Urbana-Champaign, Ill.

Major Awards and Decorations

Effective Dates of Promotion

Meritorious Service Medal with three oak leaf clusters

Air and Space Commendation Medal with oak leaf cluster

Army Commendation Medal

Joint Service Achievement Medal

Second Lieutenant June 1, 2005

First Lieutenant June 1, 2007

Captain June 1, 2009

Major Aug. 1, 2015

Lieutenant Colonel Oct. 1, 2018