WIE Innovate. WIE Collaborate. WIE Succeed. We are Women in Engineering!
Current Events
The 2016 GAMES Summer Camp Dates have been posted! Click here to preview camp dates and to learn more about each track offered at GAMES.
Current WIE Students Referee information for First Lego League-
Are you interested in building your resume while helping in a unique outreach opportunity? FIRST LEGO League Championship is in need of volunteers to serve as referees in November and December. Volunteers are needed for the following dates at the following tentative locations:
November 13th, Scrimmage at Mechanical Engineering Lab, UIUC
December 5th, Tournament at Parkland College
December 19th, Batavia and Rockford
December 20th, Crystal Lake and Palatine
For directions on how to apply for the volunteer role as a referee, click here.
For the 2015-2016 Referee and Judge training schedule, click here.
For an example of the TrashTrek Score sheet, click here.
If you have any questions about First Lego League or volunteering, please feel free to contact Bob Smith at rasmith@Illinois.edu.
We hope you are having a great start to your Fall 2015 semester! Check out the Calendar tab for more Women in Engineering events!
Our Mission
The Women in Engineering (WIE) program is dedicated to provide a welcoming and supportive environment for women students in the College of Engineering. The wide range of WIE programs include student recruiting, workshops and seminars, undergraduate advising, orientation for new students, and a residential camp for high school girls.
Check out our YouTube video here and learn how WIE can make a difference.
Contact Us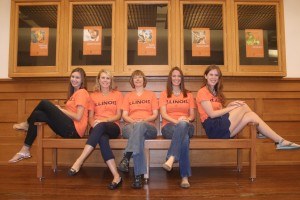 Women in Engineering
210A Engineering Hall
MC-272
1308 West Green Street
Urbana, IL 61801
(217) 244-3517
Fax: (217) 244-4974
Email: wie@illinois.edu