WIE Innovate. WIE Collaborate. WIE Succeed. We are Women in Engineering!
We hope you are having a great start to your Fall 2015 semester! Check out the Calendar tab for upcoming events!
Past Events
The Women in Engineering 2015 Freshman Orientation has made the news! Click here to read all about it in the I-STEM article.
Our Mission
The Women in Engineering (WIE) program is dedicated to provide a welcoming and supportive environment for women students in the College of Engineering. The wide range of WIE programs include student recruiting, workshops and seminars, undergraduate advising, orientation for new students, and a residential camp for high school girls.
Contact Us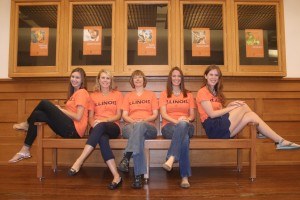 Women in Engineering
210A Engineering Hall
MC-272
1308 West Green Street
Urbana, IL 61801
(217) 244-3517
Fax: (217) 244-4974
Email: wie@illinois.edu